Gary Sparks - Cover Boy
[EF]

Gary Sparks is on the current cover of American Randonneur, RUSA's newsletter. The photo is from SIR's Glacier 1000 ("Seattle to Glacier"). Both Gary and Ed Person finished the ride.
Gary tallied an impressive 4600 km below the 49th this year, including the 3 ultras: Texas Rando Stampede (1200), the Glacier 1000 and the Colorado Last Chance 1200. Ed Person also had a big international ride year - 2500 RUSA plus LEL 1400.
Thanks to Ed Person for forwarding the photo, to the photographer (and fellow Glacier 1000 finisher) Chris Heg for his permission and also to the American Randonneur editorial team for their permission to republish the image.
It's an amazing photo. Here is the fuller screen version. Click...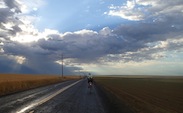 ---
Go to: RUSA Home


October 8, 2013