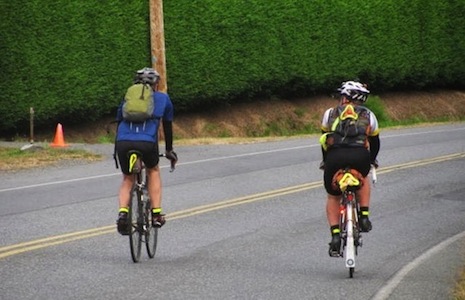 Ripple Rock Ramble 600
Organizer's report
(Ride dates: August 17-18, 2013)
by Jim Runkel

7 riders set out at 5am on Saturday. At KM 16 Brian Pearce hit a deer. He was bruised and scraped and his bike was beyond repair so he DNF'd. I retrieved him from the route and after getting cleaned up and a band aide or two applied, he volunteered with me at the first control in Chemainus.
Carol and Stephen Hinde opened up their house to the riders as the control point in the out leg through Nanaimo.
8 riders finished successfully including two volunteer pre-riders.
This was Michael Tilitzky's very first 600 and with it he became a first time Super Randonneur (SR)...congrats to Michael!
Thanks to Team Croy for hosting many of the off island riders at their home Friday night. It was great to have a few mainland riders come and enjoy our fabulous island roads.
Jim Runkel RRR 600 organizer 2013.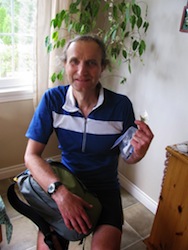 Michael Tilitzky
BC newest first-time Super Randonneur
---
August 18, 2013