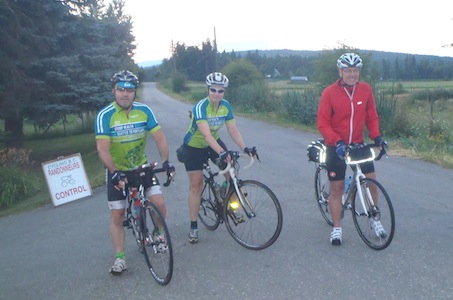 600 km Starters
Photos: Bob Goodison
Interior Make Up Brevets Organizer's Report
by Bob Goodison

Not counting the organizer, there were no Interior riders at the Interior make up rides. This was due to a number of factors- common sense, other interests and commitments, plus a few injuries. But seriously, Richard, if Tyler Hamilton can win a stage of the Tour de France with a broken clavicle, how hard can a brevet be? You just need the right pharmasist. If this were the end of the story, it is unlikely the make up weekend would appear on the 2014 schedule. As it happens, there were a number of riders from the Lower Mainland and Vancouver Island regions who decided to swap traffic lights for heat and cattleguards for the weekend. The result was a total of two riders for the 300 km, and seven for the 600 km. There were no takers for the 200 or 400 km options. The 200 route is a new favourite of mine and will be offered again unchanged next year.

Cheryl Lynch and Nigini Abilio rode the 300 km route, which was a repeat of last year's Pillar Lake route. Despite the heat (not quite as hot as last year), they finished with a time of 13:50. This was Nigini's first 300 km, and he looked a little tired at the end. Nigel and I had enjoyed a nice 42 km ride while it was still cool before he was sent off to man his secret control.

The 600 km riders had it a little tougher. All was well until Kamloops, but upon turning onto Highway 5A, they were met with headwinds similar to those we faced on the 2012 Williams Lake 600. Only able to maintain 16 kmh on the flat sections, Eric Guillemot, Dave Robar and Cynthia Wood arrived in Merritt with energy reserves somewhat depleted. Faced with the possibility of not making the control cutoff times in Princeton they decided to call it a day at about 185 km. John Oswald and Malou Ignacio took advantage of their tandem's greater efficiency in the wind, and seemed to breeze through the event (was their tandem air conditioned?). They finished in 36:13. Nigel and I had done it the previous weekend, minus the headwind, in 28:40. We had attempted to do it without sleep, but a nap on the gravel shoulders of Westside Road had proven necessary.

Two important milestones (kilometerstones?) were reached on this weekend. Cheryl topped the 40,000 km mark about 100 km into her 300, earning her the 40,000 award. Malou, with her first 600 km, earned her first Super Randonneur award. More importantly, John and Malou, who are planning to be married this fall, are STILL engaged, more than 600 sweaty kilometers later. They are an extremely strong team, both on and off the bike.

I'm looking forward to seeing everyone again next year. Maybe even a few Interior riders?
---
August 2, 2013