Concrete Seahorse Pre-ride
...Route Info
by Will Danicek

Next weekend will be the Concrete Seahorse 400. A few familiar roads & places coupled with a few more new ones is the theme of this years Summer 400. The start/finish on the Burnaby/Coquitlam border should be central for most. Unfortunately the Patullo Bridge will be closed for this weekend, so I had to add some additional km's to the start.
The route makes its way through Surrey to the Aldergrove border crossing, stay to the left and enter the building with your bike through the Commercial entrance. While Edaleen Dairy is not a control stop, the soft icecream is well worth the time, at $1.25 for a small (pretty fair size iyam). Who says you have to wait til noon for icecream anyways. The first control is Deming at the Nooksack Market, they have some awesome coffee concoctions both hot and cold. Off to the Chuckanut by way of a short gravel path to cross I5, brings you towards Bellingham and onwards to Edison. Many good places here for lunch.
South through Burlington we go. Be careful about the traffic after the Riverside Bridge. The next control is Big Rock Cafe & Grocery. The food is pretty good and my timing was between the lunch & dinner rush. There are a few small stores in Clear Lake, and then not much at all until Concrete. The big climb of the day is right ahead, and while you may be cursing me, the view of Mt Baker is stunning near the top. I hope you have as clear a day as I had on the preride.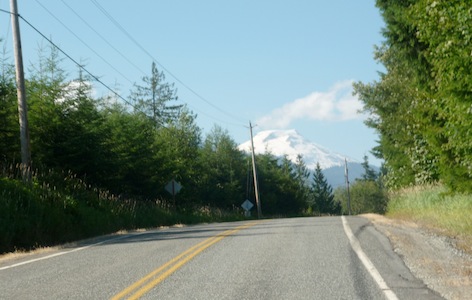 Then its off to Sedro Woolley by way of Lyman, many places to resupply for the run back to Deming. The Nooksack Market ( round 2) in Deming is open 24hrs on the weekend, but the coffee & pizza counter closes at 11pm, most riders should beat that time. Not much at all is open from here to Sumas. After crossing the border we continue north to Mission. Be cautious and follow the bike paths over the bridge and negotiate the contruction worksite as you get closer to the Lougheed. Tim Hortons is your penultimate control. The route to the finish has a good shoulder and bike lane to cross the Pitt River bridge. The small gap in the concrete barrier at the end of the down ramp off the bridge does make for a better approach to highway (just close eyes at the no bicycle sign ) The Mariner Way climb has no real cycling lane, but at that hour there is very little traffic and 2 full lanes up gives you plenty of safety. Then its all downhill to the finish.
RandoPony is all setup for you to preregister.

---
Go to: Route & Info page
August 2, 2013