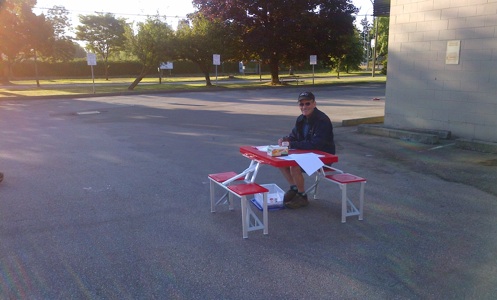 Gary with his little red table
Photos: Rick den Braber
Triple 'S' Organizer's Report
by Gary Baker

As the brevet organizers we (Gary and Rick) want to thank all the riders who rode the Triple 'S'. It was a perfect day sunny and warm, not too hot with surprisingly clear blue skies. The views of Mtn. Baker and towards Langley and the North Shore from the heights of Sumas Mtn. were spectacular! At any distance randonneuring is a challenging sport and this route was designed with two particular challenges in mind: climbing and navigation. It was intentional hilly, not long grinders like the Malahat or the Coquihalla but shorter steep climbs and endless rollers. They all wear you down, but in very different ways. Navigation in many ways is the forgotten, or perhaps an underrated skill in a randonneur's playbook; particularly with the advent of GPSs. In the confines of the Fraser Valley and the Lower Mainland, an area we think we know so well, we often take this critical skill for granted. One just has to ride in a foreign country ( i.e France -PBP) or in urban settings that in area makes Vancouver and the Fraser Valley seem sparsely populated by comparison( say South Korean cities) to know that learning how to follow and interpret a route sheet is critical to a successful ride. Our club route sheet format is one of the best I've used anywhere.With turn directions, compass direction, leg and total route distances, plus cautions and descriptive notes a very comprehensive trail leads one along or aids in correcting errors a tired rider can make.
There is little doubt that riders found the hills and the total elevation gain on the challenging side.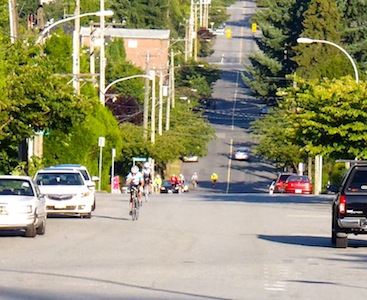 Kevin said he found the climbing on this route harder than those encountered on his Ridiculous -200 with it's BIG, LONG climbs. The Aug. 17 - 200 he is organizing is a variation of the Ridiculous. It will be interesting to compare the two. As for navigation, Cheryl L. and Eric F. , both seasoned rando riders, said this was a route that required constant attention and was great training for challenges like PBP and LEL. Interestingly Rick den B. rode it ( as he does on so many brevets) with no cycle computer. He uses his watch and his sense of speed ( flat/fast, uphills/slow, dowhills/ very fast), the route sheet details and visual clues to follow the designated route. His mantra is 'trust the route sheet'. He doesn't commit to a turn unless he is damned sure he is doing the right thing. This is not foolproof and when he then finds himself in doubt he rides back to the last turn he was absolutely certain was correct, he reassesses then moves on. It works for him!
We asked for and appreciated feedback and comments on the route and the route sheet. There were suggestions that made great sense, at least we think so. Before this course poted to the Route Archives we intend to note these recommendations. For riders wanting to do a challenging permanent or just ride where most randonneurs have likely not gone before this route will be posted to the Permanent Route list.
---
July 16, 2013