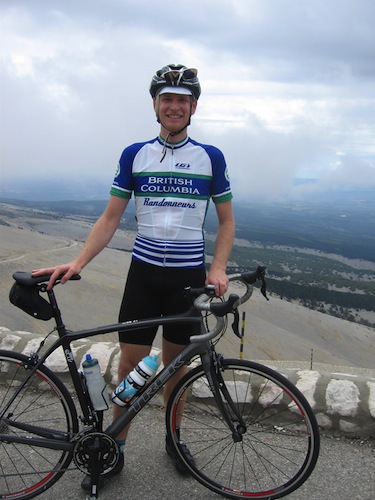 (click)
Chris on Mont Ventoux
EF

Chris Cullum's mountain campaign (Mt 12 Challenge - Jan 30, 2013) has apparently moved on to Europe. The new jersey sure looks great on top of Mont Ventoux! More photos here: Chris' Mont Ventoux Photos (flickr).
June 12, 2013
---
I asked Chris about the bike. He provided some more details about his day out [EF]:
"Yeah I rented a Trek Domane in Bedoin from La Route du Ventoux. It was 40 euro for the day if anyone is interested. I considered doing the ascent from a couple different sides but went from the steepest side in Bedoin. Instead of doing multiple ascents I continued the ride out along the Gorges de la Nesque which was really stunning. The ride I did was 120km with 4300m of elevation gain. That's almost half way to the 10,000m required for the Super 600 permanent in only 120km! We were racking our brains to find 10,000m in 600km here in BC, I guess it's easier to find in France.
Here is link to the GPS track of the ride:
http://www.strava.com/activities/53306545 "
June 16, 2013