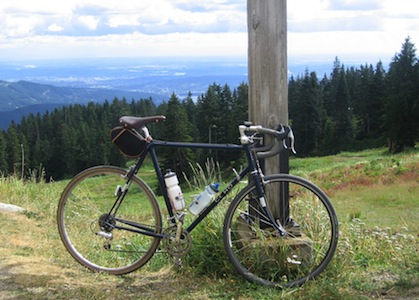 Mountain 12 Challenge
by Chris Cullum
A nice day in February my girlfriend asked me if I wanted to go up skiing at Cypress Mountain. I am never too keen to ski on the North Shore and prefer to make a big day of it and go to Whistler. I noted that it was a clear day and I would probably go for a ride instead. She suggested that I ride up and meet her at the lodge for lunch. Initially I didn't think it was the greatest idea. There is a fair bit of snow up there and I wasn't sure of the condition of the road for the climb and especially the descent. In addition I generally don't do a tremendous amount of serious riding in the winter preferring to take a bit of break and do other things. My thoughts turned to how much more difficult minor climbs like the UBC hill seem in the early season. On the other hand I had been riding a bit more in the off season by doing the BC12 series of permanents. I figured what the heck, give it go.
The climb up that February was uneventful. The road was fine for riding and the effort of the climb meant I had no issues with the cold on the way up. It was definitely more of an effort than usual but I just went slower. I was able to meet her at the top and all in all it was a pleasant ascent. The decent was cold of course but actually no worse than a wet spring day. When I got home I got the idea that it was entirely possible to continue to ride the mountains all year round. Inspired by the BC12 Permanent challenge I decided to try to do at least one mountain ascent every month of the year, the Mountain 12 Challenge.
We are lucky in the Lower Mainland that we have some mountains that are very accessible on a relatively short ride (by randonneuring standards). Any of the North Shore Mountains are at least a Cat 1 climb based on international standards. I rode each of the North Shore mountains a number of times over the course of the year, including three ascents of Grouse Mountain which is only accessible by a fairly rugged gravel service road. There was everything from bone chilling ascents and extreme heat on the exposed ascents. The biggest challenge was in December and January when there was lots of snow at altitude and my riding form is at its weakest. Happily I struggled my way up Cypress on a cold foggy day in December. I had less difficulty with the ascent recently on a clear day in mid-January.
All in all I think it was a fun challenge. It is similiar to the BC12 consecutive permanent award in that in the winter you are basically fighting the conditions as well as your own off-season form. I recommend trying it to anyone that enjoys climbing and a bit of meaningless self inflicted suffering.
Here are a few photos from the year:
http://www.flickr.com/photos/11446716@N07/sets/72157629979863078/ (yes, I somehow deleted the photo of the April ascent, but rest assured I did it).
I recorded the worst of my suffering on Strava for the December and January rides:
http://app.strava.com/activities/32164195
http://app.strava.com/activities/37322347
January 30, 2013