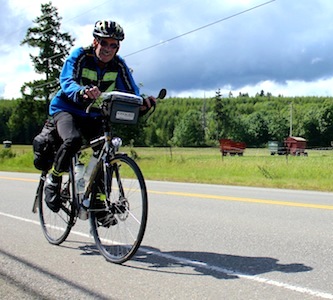 Gary looking strong at 85 km
My Hell Week 400 Experience
by Gary Baker

I love this sport for many reasons. The friendships that have developed top the list, but the constant learning process and the new surprises one encounters on rides and at distances that one has done many times before also rank right up there.
I approached the Hell Week 400 with my usual mix of confidence and preparation I've done this ride at least four times. I knew what to expect and had a proven plan. All I had to do was do it!
At the start I was relaxed and confident, and my legs were fresh unlike all the other riders who already had done the 200 and 300 km brevets earlier in the week. Off we went, but within a few kilometres, I knew something was seriously wrong. I was working my butt off, and my HR was way TOO high for what should have been a relaxed speed. The bike felt like it weighed a ton! What gives, had I incorrectly adjusted the disc brakes again? At the first info control, I felt dead. I checked that the brakes were not dragging; they seemed OK. The ride to the second control (approx. 2 ½ hrs from the start) was a slog. My HR was still way too high; it was unsustainable if I wanted to finish this ride. I backed the brakes off even more, almost to the point of having no brakes. The next 2+ hours to the third control felt much better; it must have been those bloody brakes. I left the third control with Henk, and together we made good time to the turnaround control at the Denman Island ferry terminal. He kindly did the pulling and with the wind at our back I was feeling good.
An omelette sandwich and coke restored my energy, and I was ready to go. Heading south into a strong headwind, we had a loosely formed pace line going at a decent speed, a speed I would normally have no difficulty with, and I didn't seem to be having any problems with it. Then about 20km north of Qualicum the wheels literally feel off. I just could not stay with or hang-on to the line; I got dropped like a stone. My HR dropped to a level I normally never see when I'm riding, and every effort to increase my level of effort ( get my HR up) failed. My randonneur's determination kicked in. I'd ridden this route many times alone in the past, soldier on! At the Nanoose control, to my surprise I found Mark Ford. He was about to leave. I asked if he would delay a few minutes and we could ride to Chemainus together. He agreed. I was most grateful for his company, he provided me with a wonderful psychological pull much of the way. Another surprise, considering how crappy I was feeling my ( our) arrival time in Chemainus was comparable to my arrival at this control on previous rides.
In the past this has been an information control, but I usually stopped at the hotel, changed out of my wet or sweaty clothes, had a quick meal, and was off. As in the past this was posted as an info control, but Mike and Steve decided to staff it. When I walked into the hotel, they commented I looked like hell. I knew I was not at my peak form, so I had already decided to have a good meal, get cleaned up and get 2-3 hours rest/sleep. I had loads of time in the bank. My plan was to get up (at one-ish) and head out. In the past I'd ridden this very lonely, dark and often cold loop around Shawnigan Lake alone. No big deal, right.
I had a GOOD two hours rest. I felt OK . As I was passing through the lobby on the way out, I was intercepted by Mike and Steve. I thought they intended to wish me well, wrong. They felt strongly that I should not go on. A discussion ensued about my 'state of being' and the dangers that existed along the remainder of the route. They felt that the physical state I appeared to be in when I arrived put me at personal risk and that my rando experience (coupled with rando determination) was over riding commonsense and reason.

As an individual, I considered it to be MY decision as to whether I could and should go, not theirs.
As the event and ride coordinator and organizer, it seems reasonable that they should be able, if they truly believe it to be in the best interests for the safety of the participant, to pull that individual from the event. To shorten the story, I indicated if they both could say unequivocally to me that they did not want me to ride, I'd voluntarily withdraw from the ride. They did! My ride was over.
I surely didn't want to quit, and I think I have some sense of how Mike and Steve were feeling about insisting I do so. They obviously struggled to arrive at their decision, and they surely had to have some sense of what my feeling must have been.
In the end, it was only a bike ride. They made their decision with my best interests in mind. As tough as taking the position they did was for all involved, I respect them both for doing so. They are to be commended, and it is a lesson for all event organizers. Event organizers have a fiduciary responsibility for the safety and well-being of participants and they need to exercise it when they believe the facts and situation warrant they do so.
P.S. Hindsight often adds clarity. They perhaps saw something that I didn't. By Friday afternoon my guts were tumbling and I ached all over. Saturday I felt even worse. It seems I had come down with something. That elevated HR at the start and during the early stages of the ride was likely the early warning symptoms.
---
Go to: EdH Week Results
Go to: EdH Week Photos
May 31, 2013