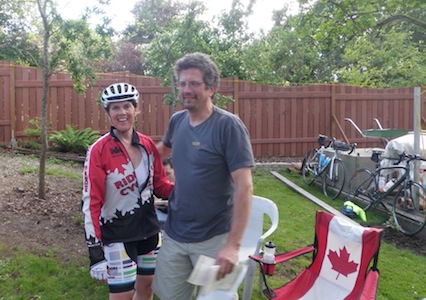 Renate Walton with organizer Steve at the finish
CRD Challenge 200
by Steve Mahovlic

The day started overcast and improved to sunny breaks. Seven riders set out - 4 experienced randonneurs and 3 new Rando's (NR).
By the second control (manned by Melissa Haynes and Lorraine Nygaard), the group was only missing Mike McWilliam (NR), who was loaded for a full day's adventure sans support of any kind.
Eric, Mark, Dan (NR) and Rob all arrived at the 4th control with tales of how Renate (NR) and Lorraine McGowan had dropped them all on the lagoon hill and were far out in front,. Thinking they may have stopped for coffee, I was surprised when they arrived with tales of a 'Costco side trip'. Even with the detour Renate and Lorraine posted a comfortable time.
Mike arrived in good spirits having conquered Munn's hill by his calculated time. He then set off determined to continue at 20 km average to ensure his completion.
Eric Guillemot unwittingly set the inaugural course record at 9:01, Mike managed to maximize his pleasure by lantern rouging to 12:52. Considering the elevation gains, 2465 m of climbing, I was pleased that all riders completed. Everyone enjoyed burgers, etc. in the sun.
---
June 6, 2013