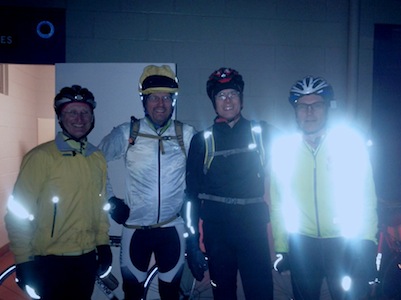 "The Hills Are Alive" 300 Pre-ride / Route Tips
by Jim Runkel

Go to: Route & Info Page or Pre-ride Photos
There were 4 riders who set off on a day which most people would look outside and then curl up in bed with a good book (wind, rain, cold temperatures). But Graham, Steve, myself (Jim), and just descended from on high, our own guardian angel, Philip, took off into the morning with a light drizzle and brisk ocean breezes.(In the end we actually avoided most of the nasty weather, seeing showers, and sun, and clear evening skies)

This ride is a classic, going from Victoria to Sydney to Duncan to Sooke and back to Victoria. The route is mostly nice scenic roads…nice scenic HILLY roads that is. And what ride that includes hills would not also include the most famous 'hill" … the Malahat.
Information for riders to consider on this ride:
- Most controls will be Staffed.
- There is one INFO control so make sure you have a pen
- Good lights are essential…From Sooke back to Victoria the roads are very dark, with heavy tree cover…turn your lights off and you cannot even see your hand in front of your face! ( Rando rules also require you have a front light and tail light)
- Because of the amount of climbing involved (11500 ft of UP) your average speed may be less than you are used to…so manage your time well.
- The Malahat has lots of construction taking place. PAY ATTENTION. There are cones along the shoulder and sometimes you may not have enough room to take the inside line, and so may need to move into the lane where cars and trucks are moving VERY fast. Do not just move over before looking carefully. The usual warning about rumble strips remains. Watch for rocks and other winter debris too.
- There are 4 deviations from past routes, so if you have ridden this 300 before…don't assume you know the way.
1 - When you arrive at the roundabout in Duncan, you now take Jaynes Rd across to Lakes.
2 - On Herd Rd you now turn off at NORCROSS.
3 - The Duncan control is staffed and will be in the parking lot of the BC Forest Discovery Centre. Tim Hortons is across HWY # 1 and if needed, only go there AFTER visiting Graham at the control
4 - In Colwood, do not visit the Lagoon and Fort Rod Hill. Stay on top and follow the route sheet
- Clothing is always a challenge, and as evening comes temperatures drop. On our pre-ride it got down to 2.5C. You also spend time along the ocean which is usually colder, but on the climbs it can get hot. Be prepared for both conditions.
- There is lots of food choices along the way. Sooke has a Subway, but it closes at 10p. There will be a manned control in Sooke, so if you want extra food available I can take it with me to Sooke…clothing too.

Again the biggest CAUTION on this ride is the construction on the
MALAHAT…Stay alert and be very careful around the many cones.
April 17, 2013