Oregon Coast 1000 km Brevet
June 22-25, 2013 K
by Bob Koen

Go to: Oregon Coast 1000 Route & Info Page

This will be a wonderful ride. You don`t want to miss it.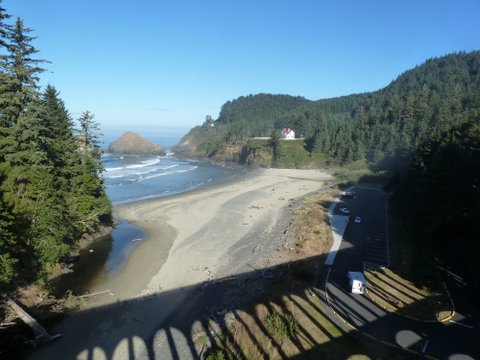 Getting there

The ride leaves from Thornton Park across from the Vancouver train station on Station Street near Terminal Ave at 5 am on Saturday, June 22. Parking near here for 4 days could be a problem, so plan ahead. There is some street parking near the playing fields on National Ave one block north and east from the train station, but I don't know if it's safe or allowable to leave a car there for a long time.

Please, no late starts. The organizer is riding, so if you show up late you will be out of luck.

Day one
Vancouver to Montesano, Washington. 385 km

The route leaves Vancouver on the Ontario St. Bike route, goes over the Skytrain bridge to Richmond, then over the Alex Fraser bridge to Delta and Surrey. There is a short stretch of gravel after the AF bridge that many will want to walk. It's only about 100 meters but the last part is ridiculously steep. Then residential streets through Delta lead to another stretch of very good gravel. We then ride along Colebrook road in Surrey, AKA Dead Body Lane. Bring some flagging tape to mark any bodies you find.

The route crosses into the US at the Peace Arch border. Bring your passport / Nexus card. After this familiar roads are followed through Birch Bay, Bellingham, and on to Whidbey Island. After that there is a ferry crossing from Keystone to Port Townsend. The ferry times are shown on the route sheet. There is never more than an hour wait between ferries, and the crossing takes about 30 minutes. No extra time is given for the crossing. The riding is fairly easy to this point so I expect that most people will have sufficient time in the bank to not be unduly distressed by the break. There is a control at the ferry, and then the next control is 178 km further along in Montesano. There will be lots of opportunity to make up time in that stretch if you fall behind.

There is a cafe at Keystone and nothing else, nor is there any food available on the ferry. Many opportunities for ingesting calories exist in Oak Harbour and Port Townsend.

After Port Townsend the route gets much less populated. I have not (yet) pre-ridden the stretch from the junction of Hwy 20 and Hwy 101 to West Dayton Airport Rd. But I expect it to be relatively free of good opportunities to restock. I have pre-ridden the route from there to Montesano, but only in the depths of night. There ain't much out there either. Plan accordingly.

The recommended overnight motel is the Monte Square motel in Montesano, 360-249-4424. Make your own reservations! If you want to carry on you might find lodging in Raymond another 41 km further along. After that its 72 very empty kilometers to Astoria.

Day two
Montesano, Washington to Lincoln City, Oregon. 320 km

Day one is very scenic. Day two is simply awesome.

Raymond has a 24 hour gas station, a McDonalds that opens at 6 am, and a restaurant a few km further on in South Bend that opens at 7 am. The food is good in the restaurant, the service is pretty slow, and the coffee is abysmal, but then so is the coffee in gas stations and at McDonalds. Your choice. Don't expect any further options for calories until Astoria.

The bridge across the Columbia River is quite amazing, but has a very narrow shoulder which was last cleaned when the dinosaurs roamed the earth. Be careful.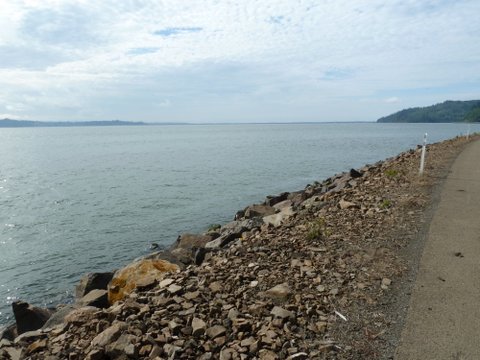 From here remote country roads lead out to the coast at Seaside. There is a bike store in Seaside.

Now the fun really begins. The next 330 km stretch follows Hwy 101 with some detours, along the edge of the continent. There are a number of 'Capes' along the way. Cape is an Oregon term for what we would simply call a hill. None are that big, none are overly steep, but there sure are a lot of them. Most are about 100 – 150 meters in height but expect at least one to gain 250 meters of elevation. Enjoy.

The second recommended overnight stop is at the Econolodge in Lincoln City. (541) 994-5281. It's cheap and has a 24 hour desk. There are lots of other motels along the Oregon Coast but beware, this is high season so don't expect to be able to stop anywhere and get a room without an advance reservation.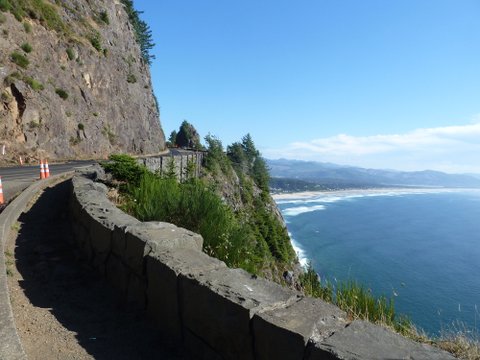 Day three
Lincoln City to Eugene, 300 km

There is a recommended breakfast restaurant, the Sunset Grille, in Depoe Bay. The food is amazing but the coffee is more of the same paint thinner on offer in South Bend Washington. The entire Oregon Coast seems to be a Starbucks free zone, but there are some espresso joints to be found.

This day features more cape climbing as far as Florence, then through the Oregon Dunes National Recreation Area to Reedsport, then a high speed run up the Umpqua River to Elkton. From there the route goes through the unfortunately named town of Drain, Oregon and on to Eugene. This last stretch could be hilly.

The ride finishes at the Campus Inn and Suites in Eugene. 514-994-5281. Once again, make your own reservations. Finish time is 8 am on Tuesday, June 25.

Getting back

Amtrak is the recommended option for returning to Vancouver. The finish is 1 km from the Amtrak station in Eugene.

There are two options: There is an Amtrak train from Eugene to Portland that leaves at 9 am, and there is an Amtrak bus to Portland that leaves at 11:25 am. Either will connect with a train from Portland at 2:30 pm that arrives back in Vancouver at 10:50 pm. Amtrak has limited space for bicycles on their trains. But you can buy a bike box at the station and ship your bike and it will (should) go on the same train as you are on. The bike box costs $20 and is HUGE. You need to turn your handlebars and remove your pedals. The bike will then roll into the bike box. Allow extra time for boxing your bike. It might take all of 15 minutes. Once I know how many people are coming I will contact Amtrak and give them the heads up to make sure they have enough boxes in Eugene.

Book your trip with Amtrak early. Do it now.

The return trip on the train can be one of the highlights of the whole journey. Not everyone rides together, but everyone will be together on the train. It's pretty cool.

Special considerations

Randonneuring is long-distance unsupported endurance cycling. This is the RUSA definition, which I prefer to the BC Rando definition of "can mean something a little different to every rider".
I want to level the playing field and make this ride a cleaner, simpler, and more elegant ride than some I have been on. I am strongly encouraging everyone to do this ride unsupported. That means no drop bags will be organized, and please no pre-arranged support even at the controls. If you want clean bike clothes on day 2 and 3, then bring them with you on day 1. Carry your own tooth brush. Leave your significant others, mothers, masseuse, and paid support crew at home. Let's all do this ride on an even basis. I would like to simply declare that support is not allowed on this ride, and that receiving pre-arranged support would result in disqualification, but I cringe at the thought of the consternation that will cause among some people. I will however put an asterisk of shame on the published results list next to the name of any rider who arranges for support at a control. If anyone wants to organize drop bags for the finish I am OK with that. The ride is over by then.

I will publish the results but will not publish the finishing times. Those that finish within the time limit get an F. Those that finish beyond the time limit get an HD. Those that don`t finish get a DNF. And there is a DQ for anyone that disqualifies for any reason.
April 16, 2013