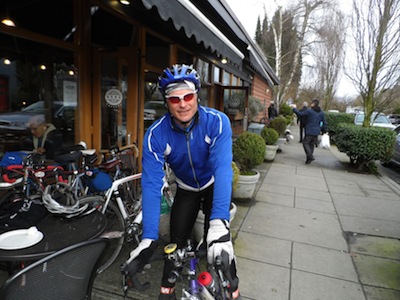 Early Bird 200
Organizer's Summary by Sylvia Lee
22 hardy riders showed up to the start in spite of the unfortunate weather forecast for the day. The day started off with a steady drizzle.
Mother Nature proved to be a fickle beast during the first few hours of the ride, alternating between heavy showers and no rain. Riders couldn't figure out whether they should remove their rain jackets during the several brief periods of time where there was no rain. Likely, this affected the times of riders coming into the first control at Whytecliff Park.
Shortly after the Whytecliff Park control, we had 4 DNFs.
There would be one more DNF in New Westminster due to mechanical reasons. 2 women, Kathleen and Andrea, (whom the other riders described as "those two fast women") were participating in their first brevet. Their coach had assigned them a 160km ride to do, and they decided to use a portion of a brevet for this 160km. Ever faithful to their coach, they stopped their ride at 160km on the dot, and thus we were now up to 7 DNFs for the day. Hopefully, we'll see all 7 riders out on future brevets this year.
The early afternoon gave way to some sunshine (you can sort of make out the sunshine in this picture. Of course, the sunshine was short-lived, and decidedly location-specific. As the organizers lounged in the sun at the Finish Control, riders started pouring in with stories of how heavy rains followed them through Port Coquitlam. One rider even reported hail in East Vancouver!
Riders reportedly enjoyed delicious cake at the Diplomat Bakery in Steveston - not to be missed if you are ever riding that way.
In spite of our efforts to encourage unhealthy eating habits by purposely placing the POCO control at the Five Guys Burgers & Fries, riders opted for healthier fare and enjoyed free Subway sandwiches, courtesy of the Subway across the way from the Five Guys (it was the grand opening for that Subway location).
---
Go to: Results
Go to: Photos (Sylvia's flickr)
March 21, 2013