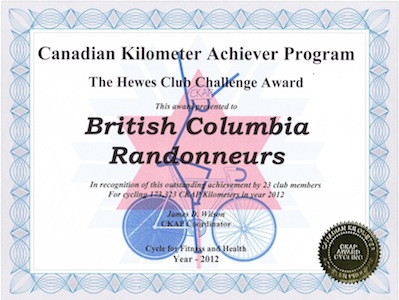 BC Randonneurs Win C-KAP's Hewes Award
Editor
For the ninth consecutive year BC Randonneurs has won the Hewes team award. Ken Bonner was the top individual rider (though he assigned his distance to another club), Henry was 5th, Graham 10th and Barry 11th. Congratulation all! Here are the stats for your winning team:

Henry Berkenbos      20,739
Graham Fishlock      16,230
Barry Chase          14,821
Craig Premack        12,303
Rick den Braber      10,047
Gary Baker            9,905
Roger Holt            9,635
Dug Andrusiek         9,398
Bob Goodison          9,229
Larry Voth            8,603
Ali Holt              7,795
Dave Gillanders       7,307
Nick J. Parker        7,301
Alex Pope             6,747
Manfred Kuchanmuller  6,259
Karen Smith           4,341
Mike Croy             3,870
Wim Kok               3,604
Dave Macmurchie       2,942
Brynne Croy           2,536
Ivan Andrews          2,257
Robert Frankham       2,208
Mike Poplawski        1,362
      

Just for fun here are the 5 BC C-KAP riders who are not BC Randonneurs,
plus Ken:

Ken Bonner           28,660 Victoria
Ed Dixon             12,350 Victoria
Jim Fiddler           8,432 Victoria
Dan Devlin            8,284 Victoria
Victor Pearson        6,535 Parksville
Deborah Chamitoff     5,873 Victoria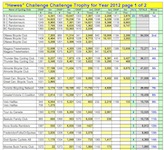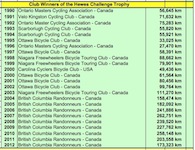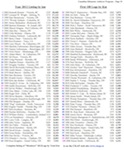 2012 Standings - History of Hewes Award Winners - 2012 Individual Distance Figures
Special congratulations to Ken Bonner who receives three individual C-KAP distance awards: the Les Humphreys Canadian Olympic Goal Trophy (highest distance Canadian), the Woody Graham International Olympic Goal Trophy (highest distance over all) and the Bruce Timmermans 300,000 km award for riding 300,000 km of C-KAP recognized distance.
---
Go to: C-KAP Home

March 23, 2013