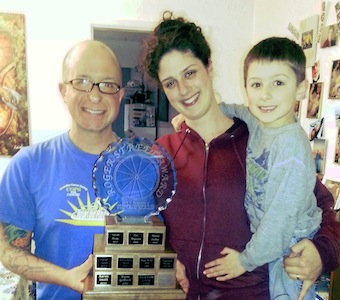 Mike, Brynne and Steven Croy
Photo: Jim Runkel

Brynne & Mike Croy Win Roger Street Award
Awarded for making an "outstanding contribution to the club."
by Jim Runkel and Sylvia Lee
Mike and Brynne certainly deserve the Roger Street award, but because they were not at the Spring Social I was given the award to take back to Victoria. I hatched a plan with Steve Mahovlic, and we rounded up as many local Randonneurs as Steve could contact. Under the guise of a meeting related to the Vic Pop, we descended on the Croy house hold on Thursday evening. I read out to the group the email from the Sylvia, and presented the award to Mike and Brynne, We then had an impromptu celebration.
So the Roger Street award is now safely and rightly in the Croy house.
Jim Runkel
------
The 2012 recipients of the Roger Street Award are the duo – Mike and Brynne Croy. While, the award is intended to be presented to a single recipient, Mike and Brynne can be considered one unit – never without the other at any event.

During 2012, Mike and Brynne organized 5 brevets. They successfully lured many riders from not only the local VI contingent, but also from the mainland. No doubt, this probably had something to do with their generosity in opening up their home to riders both before and after brevets in addition to their home cooked meals. In addition, they also were control captains at the Armstrong control for the Rocky Mountain 1200.

To share their extensive ride organizing experience, Mike and Brynne acted as mentors to countless other rider organizers. Indeed, this will only help grow the pool of ride organizer volunteers for many seasons to come.
Sylvia Lee
---
Go to: Roger Street Award page
March 19, 2013