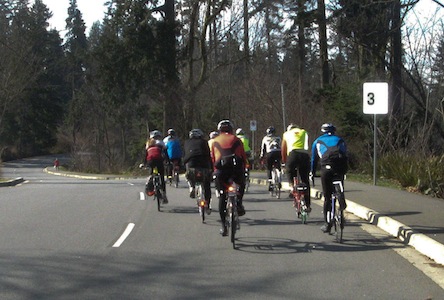 2013 Social Ride - Vancouver Bakeries and Cafés
by Deirdre Arscott
Blue skies made for a spectacular social ride. We could have cycled almost anywhere and done anything and the riders would have been happy. We took the "tourists in our own town" approach, following the Seaside bike route along English Bay, a trip around Stanley Park, followed by lunch at Musette Caffe. Located in the alley near Burrard and Drake, this café is filled with bicycle memorabilia.
After lunch we followed the shoreline to UBC, dropped off some bike parts at the Bike Kitchen, and visited the blue whale skeleton in the Beaty Biodiversity Museum. It was really cool! Susan Allen took us on Old Marine Drive, a quiet stretch with a great lookout. From 41st and Camosun we followed Salish Trail for some easy "off-roading" back to Marine Dr hill, took in the beautiful views along Spanish Banks and finished with pastries from La Baguette & l'Échalote on Granville. It was wonderful day!
Bakeries and/or Cafes recommended by the riders:
Bean Around the World – Main and 22nd
Stevenston Bakery – No. 1 Rd and Moncton
Uprising Breads Bakery – Venebles near Commercial
Savory Island Pie Company - Marine Dr and 15th St, West Vancouver
Grounds for Coffee – 10th and Alma
Beard Papa – Robson near Seymour (carrying Paris-Brest pastries)
Parthenon Greek Super Market – Broadway near Balaclava
Sweet Obsession – 16th near Trafalgar
Musette Caffe – Alley behind Burrard near Davies
La Baguette & l'Échalote – Granville Island
Notte's Bon Ton Bakery – Broadway near Balaclava
The Seagull – Carrall near E Cordova
Fratellis – Commercial near 3rd
Patisserie Bordeaux – 10th and Alma
Elysium – Ash and Broadway or 5th and Burrard

Rider List:
Malcolm MaCauley
Ron Himschoot
Cheryl Vickers
Deirdre Arscott
Bob Koen
Alex Koen
Barry Bogart
Jacques Bilinski
Steve Clark
Michel Richard
Doug Jeffery
Maciej Szarecki
Paul Whaley
John Oswald
Paul Krueger
Susan Allen
Kevin Bruce
Chris Cullum
Mireille Pare
Eric Fergusson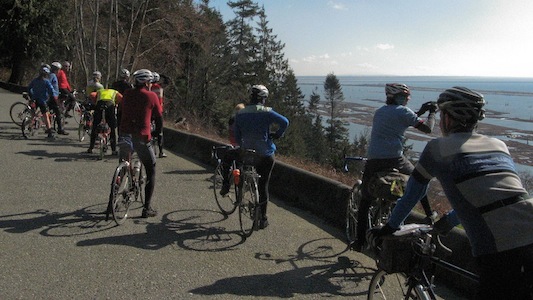 ---
Go to: Photos
March 12, 2013