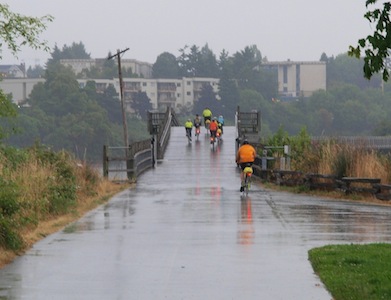 Renfrew Ramble & More
Island 300 km (& 600 km) Organizer's Report
by Stephen Hinde
The Island makeup weekend featured a new version of the Tsunami for both the 300 and 600 rides. Starting in Victoria, both rides followed the goat track past Sooke to Port Renfrew, then over the mountains to Lake Cowichan, and on to Chemainus. From here, the 300 returned to Victoria, while the 600 detoured north to Courtenay before finally heading home. 8 riders started the 300, and 2 riders started the 600. While the organizers arrived at the start under dry (if dark) skies, the riders arrived a few minutes later with the rain. And it did rain, and rain, and rain some more. Except for the foggy bit in Sooke when you couldn't see the road for the steam. Did I mention it rained?
Despite the weather, the riders braved the hilly, winding, and narrow route. Bears, cubs, and deer were seen, along with the occasional glimpse of the ocean. Port Renfrew offered a warm meal (the soup was quite good), and the rain slackened for a while. It is a long climb over the crest of the Island mountains, but the descent on the other side is pleasure. Along the way, riders saw river canyons and giant spruce trees. And yes, more rain. After a latte in Lake Cowichan, it started to really rain. The organizers found it difficult to drive, so they stayed for another latte. Nathan, who had lost the group just before Port Renfrew actually missed the worst rain, suffering only a steady drizzle. At Chemainus the rain was so heavy that traffic pulled over, but our gallant riders slogged on. Shortly after that, the weather began to improve. Gary Sparks, on day 2 of the 600, even saw the sun! There were 2 rain casualties: an ailing Ken Bonner who was too waterlogged to continue north, and Nathan Dick, whose lights shorted out with the wet, and had to stop before tackling the Malahat in the dark.
Spirits were mostly cheery at the finish, but everyone disappeared for warm showers and bed very quickly. Congratulations to all riders for surviving some of the worst rain I've seen on Vancouver Island.
---
July 21, 2011