Backroads 400
Island Make-up 400 km Organizer's Report
by Jim Runkel
"Why are you guys riding today?" the lady at the first control at Subway in Chemainus asked me as 5 soggy cyclist left puddles of water on the floor where we sat, "tomorrow is suppose to be nice and sunny" she continued. "It was scheduled today and the rules say we ride today" I answered her...
Back in the spring, I looked ahead and thought a 400 in July would be a safe bet for nice warm weather and sunshine, so I signed up to organize this ride. But the trend this year continued...rain on every ride and this was no exception even in July (supposedly summer). 5 riders gathered at Tims in Mill Bay.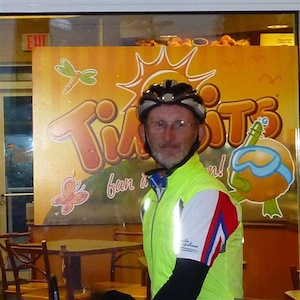 This would be the ONLY sun Grahams head would see for this ride and so it was that he, Mark, Jeff, Philip and I set out at 6am from Mill Bay.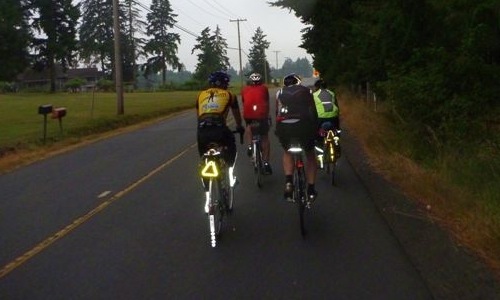 A light drizzle greeted us shortly after starting, and by the time we reached Maple Bay the rain came down in buckets off the ocean. The first control took us into Chemanius and the Subway.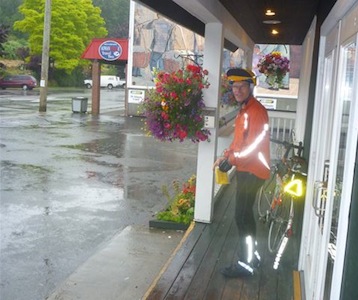 It was pouring. We had a short break, and some food, and then pushed on into the deluge. This ride is characterized by HILLS. Every side road has hills...short, long, gentle, steep, and many of them. Graham was heard saying at the start that he feels this is one of the hardest 400's he has ever ridden. And so we made our way up to the Nanaimo Lakes area. Even the downhill sections, which are short rewards for all the climbing, were made unpleasant by the rain, which hurt as it hit your face going down! The route through Nanaimo is a great one, as you miss the down town core. Then past Horseshoe Bay, with more hills we headed out to Lantzville. On Northwest Bay Rd, the route turns off to "Fairwinds" but there was nothing FAIR about today. The second control is at the Dockside Cafe. At Nanoose Bay, a marina complex once existed. Since last year, this complex , including the Cafe has be shut down. Fortunately, an office for the marina was open, and we got our cards signed...but the lunch we were expecting to have had to wait until Parksville, as there is now no food at this spot.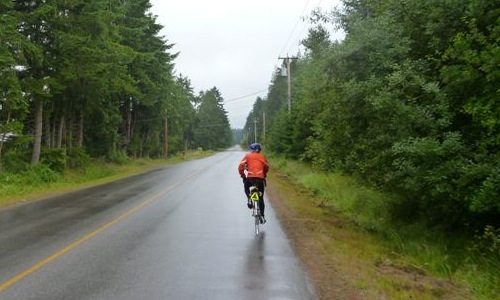 The rain did ease around Parksville and up behind Coombs things actually dried out for a short section of road. We then headed into Qualicum hopeful the rain was over.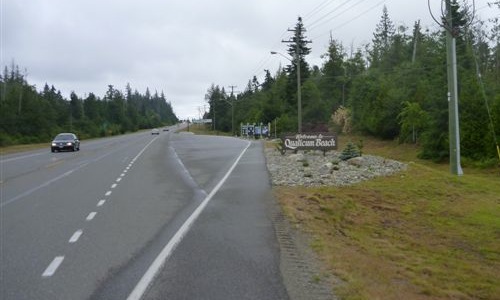 IT WAS NOT. In fact once on the 19A toward Buckely Bay, we had some of the heaviest rain of the day. It was also on this section that both Philip and I almost ended our existence and ride, when we attempted synchronized crashing! Philip just ahead of me attempted to cross this rail crossing.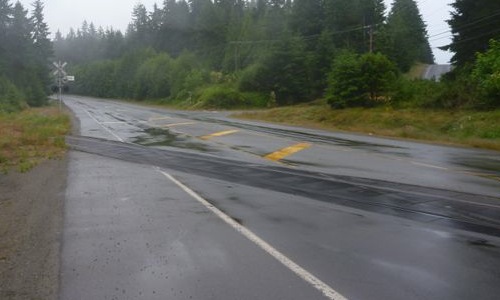 He went out into the road to line up as did I and then down he went and I followed. We both hit the road hard. I slid about 10 feet onto the shoulder and my bike stopped in the middle of the road. Although the road was very busy, at this moment not a car was around so I quickly grabbed my bike and camera in the road and headed to the side to evaluate. I had hit my head (helmet saved my life!) and my right hip hard. Philip had a bloody elbow and sore hip too. My rain pants were ripped through, as was my right shoe cover. We checked each other and the bikes over, and since nothing appeared to be broken we only hurt slightly we did the only thing we could...keep calm and carry on! After all we only had 200 kms left to ride!

So off to the next control we went. In Buckley Bay we greeted Graham, Mark and Jeff as they were packing up to leave. It was also here that the weather turned for the better. After 12 hours of rain, and with night approaching, the rain eased and then stopped. By Qualicum Beach on the return we actually saw the sun set.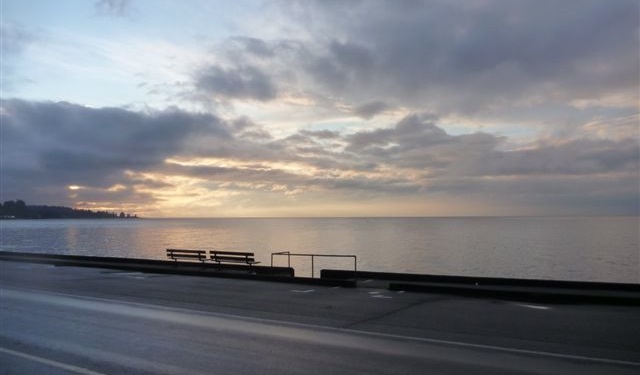 Parksville Tims was the next control and Northwest Bay rd took us back toward Nanaimo. This section of the ride likely has the steepest hills of the route with grades reaching 12-15% on some short ups. Roads like Doumont and Jingle Pot undulate like the best roller coasters. In South Nanaimo, at the Tims we saw the other three riders for the last time before the end. After a short food stop, off into the back and beyond around Cedar and Yellow Point we headed, then down to Ladysmith and the last control. Just after passing through Chemanius we both got a serious case of the "sleepys". Fortunately, a covered porch, with a nice warm wooden floor, at the Crofton junction, provided the bed where we slept soundly for 15-20 mins. Sominos road was avoided on this 400 as sections were closed due to construction. Instead the route took us up the highway from Mt Sicker Rd, and into Duncan via Canada Ave. The familiar route picked up in Duncan with Koksilah Rd taking us toward the Highway and Cobble Hill.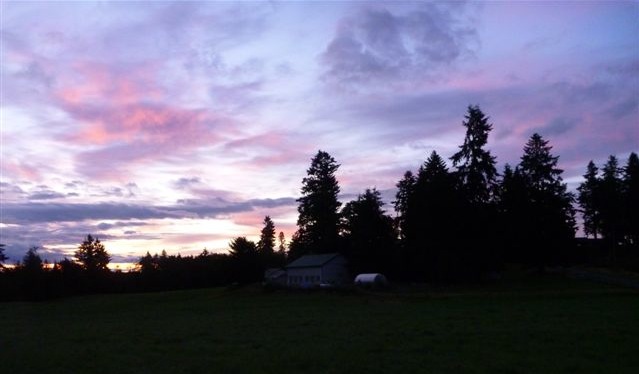 Finally with the sun coming up we passed down Cameron-Taggart and on to Mill Bay. Jeff and Graham were just finishing up some Tims when we arrived. So ended our soggy, hilly ride and I wish we had seen more fun in the sun ...! but maybe next time.

Photos: Jim
---
July 21, 2011