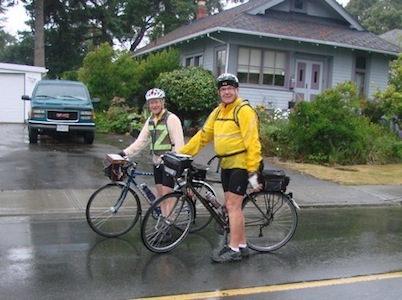 Somewhat Familiar
Island Make-up 200 km Organizer's Report
by Lorraine Nygaard
July 16th sounds like a wonderful time to be riding a bike in the Victoria region, but our two participants, David Lach, from Vancouver, and Neil Stuart, from Cobble Hill, were greeted with rain and clouds. There was only one brief sunny period in the mid afternoon that would have them believing that this was actually a mid-summer ride.
I had wanted to do the ride in July and as no one was organizing it, I stepped up to the plate. Thank you to Lee, Jim and Martin for being so willing to help as I learned the ropes. A big thanks to Stephen who sat with me and showed me how to work the excel spreadsheet for the route mapping, and was always open and helpful when I called with my frantic questions. Eric was pretty patient with me too! Thank you to Carol who entertained my guests while I made preparations for the ride. Organizers in BC Randonneurs are probably not getting paid enough for their time. Now, back to the ride:
David came in happily under the time limit, and with a hint for the route controls that would have shaved time off of his ride: he did a few extra kilometres in an area where more thorough directions should have taken place, so that will be edited immediately. Congratulations David for being the first successful finisher of a somewhat new route on VanIsle.
Neil rode just over the time limit, having had to change a tire at Mount Doug park. Then fighting a slow leak for the rest of the way, he had to stop several times to re-pump it. He realized after the 3rd check-point, at 146 kilometres, that he was not going to make it back to the final in time, so called it a day, and took a leisurely scenic route that avoided Gillespie Road and added 40 kilometres to his ride. He came in with a big smile, knowing that he can now tackle a 300 at any time. Neil has done a permanent 200 every month this year, and we wish him continued success with his Permanent Round the Year goals.
By having the Randonneur Sign in front of the house, we saw Luke Galley pop in to see what's happening. Turns out that Luke is a neighbour, so he became part of the support crew as we waited for riders to come in.
A final very big thank you to Sophia Leblanc, an acquaintance from my workplace, that was eager and willing to help out on ride day. She did her best to sign control cards of our riders, but they didn't think she had anything to do with their activities. That would be my fault for not providing Sophia with bigger signage, so If I get the chance to organize another event, I'll make sure that all control points get the "real" sandwich board sign. Sophia is willing to help out again, so if you riders see a gorgeous woman with dark curly hair and a delightful accent approach you during your ride, just submit to her and hand over your card.
Stephen with the 2 riders at the start

Luke and David

David heading to town to catch the ferry home.

Neil enjoying a well-deserved rest

Carol and Stephen Hinde, your 300K and 600K organizers, enjoying a short break after their weekend brevet involvement

Photos: Lorraine
---
Go to: Results

July 21, 2011