What Are The Odds?
by Eric Fergusson

It was 2:30 a.m. at the 700 km mark on the "Two Dam Far" 1000.
I had gone about 2 km past Windthrop when there were signs that I wasn't on Highway 20 anymore. I coasted back down in to town to figure out how I had messed up. Main Street Winthrop is a bit surreal with all buildings faced with goldrush era facades - doubly surreal in the dead of night.
I pulled out my route sheet and was beginning to realize that the left turn I had made at the "T" after the bridge was probably not the "don't miss this turn" left turn that Bob was warning about on the route sheet. Further investigation was warranted. I stood on the pedals and spun forward. Urgh, chain off again. But that wasn't it . The chain was on and I was still spinning forward - the gears were simply not engaging. I fiddled with everything. Nothing worked. I had no idea what the problem was, but it was clear that this bike was going nowhere.
Well that was it. I started walking back through town thinking through my abandonment strategy, hoping for a hotel vacancy sign and finding The Virginian Resort, with room keys trustingly left out on a table in the entrance hall.
Drifting towards sleep I wondered if there was any possibility that I could finish this thing? My drop dead moment was going to be the Mazama control, only 22 kms up the road, at 12:29 p.m. tomorrow. Is there possibly a bike shop in town? Doubt it. Does someone have an old road bike or 10 speed in their garage who would be willing to loan, rent or sell their rear wheel? How can I possibly make this, or something happen and be on the road by 11:15 a.m.?
At 8 a.m. I was at the front desk asking the proprietor and a guy named Wayne, who had dropped by for coffee, if there was a bike shop in town. Wayne tells me that not only is there a bike shop but that it is a renowned shop with a highly regarded service rep that opens at 8 a.m., and is located next to his windows and doors business at the edge of town. "Grab your bike, we'll stick it in my van."
Three minutes later I was explaining my situation to Joe at Methow Cycle and Sport. He was in early that day working through a servicing backlog. But he knew the magic word randonneur and understood the urgency of my situation. He dropped everything to work on my bike. When I got back from breakfast my bike was ready to go. Apparently my free hub had failed and he had cannibalized the part from another bike. He had also done a general servicing of the rear wheel. I was on the road to Mazama at 9:03. In all I was off the bike for 6 1/2 hours, but almost none of it was lost time - I had a great sleep and big meal. Unbelievable.
So what are the odds? On an incredibly sparsely populated route you have a catastrophic bike failure, but it happens in the middle of a town with a premium bike shop that's open at 8:00 on a Monday morning, and there's a guy with a van who happens to be going there in 30 seconds. It doesn't happen often, but sometimes luck just rolls your way.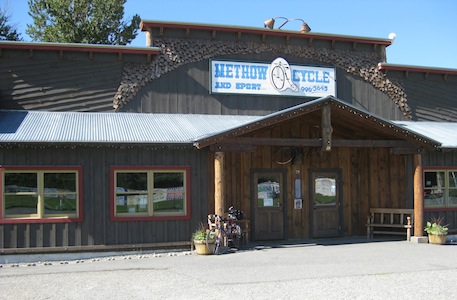 (click)
---
June 22, 2011