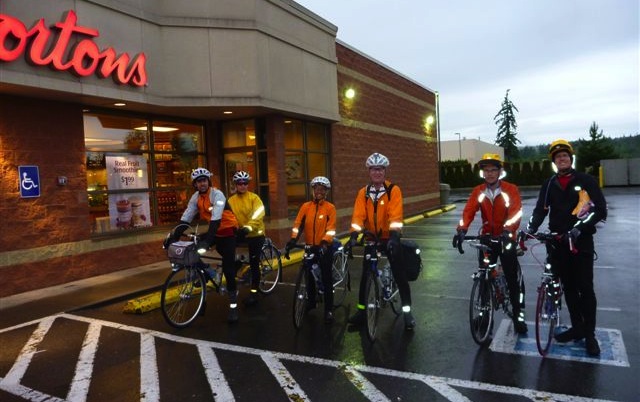 Island 1000... Again
by Jim Runkel

SUCCESS! Last years attempt, and resulting DNF due to incompatible food fights in my stomach was put behind us and Philip and I got out of WOSS intact. Now to the beginning.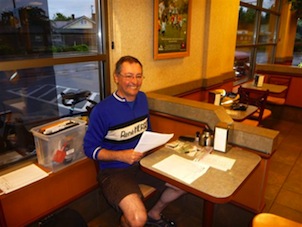 As we have come to expect this year, we started the ride in Parksville in a steady rain.
Lee had modified the traditional "Hare and Tortoise" route and so it was from this midisle spot we began our quest. 6 riders started.
We headed north toward Qualicum. The rain actually stopped past Qualicum, and for the rest of the ride we had no appreciable wet weather. Just outside of Union Bay, a sharp stone in my front tire required a quick tube replacement. On toward Courtney we headed. The wind was light but in our face. It would get a bit more aggravating as the day wore on, but not too bad. The first control at Willow Point was reached, and we met Ali and Roger, who were eating from the shelves of 7-11. We opted to move on to Tims and have a good lunch. Leaving Campbell River is like heading into the the "great beyond". There is very little in the way of "anything". No cell service either if an emergency were to require it. And from sea level you now start climbing up into the middle island wasteland. Its an up and down experience and finally Sayward Junction arrives and the second control. Again Ali and Roger were there with us.
We left them eating, and headed up the Sayward Canyon climb. It is on this section, between Sayward Jnct. and Woss that highest point of the ride is reached ~440M. Evening was approaching as we reached Woss Control.
Just outside of town, a black bear munched on the greenery beside the road as we passed it undisturbed. Philip and I had decided to try a new distance challenge. We got a motel room in Woss, had a short break, and then headed to Port Hardy. Having never ridden more than a 400kms in one stretch we were determined to get back to Woss before a sleep break (461 kms). Also, the road would be quiet making riding side by side possible. So into the night we headed. For 50 kms you are in utter wilderness...not a light, not a sign of life (it was too dark to see the bears!). Finally about 50 kms from Port Hardy a lone street lights illuminates a turn off to some ocean side village. And for the next 50 kms a few signs of life, and light exist. At 2am we arrived at the control and woke Lee from his slumber in the lobby of the Providence Inn. He signed out cards, and let us use the floor in Ali and Rogers room for a short 30 min nap. Ali and Roger arrived and so we vacated their room, back to the lobby. We stumbled around, and finally got it together for our return trip to Woss. Leaving at 3 am from Port Hardy we headed back. Lack of sleep was taking its toll for sure. And added to that, a flat on Philip's bike, in virtually the same place as last year (a section full of bears) did not help. We both needed to stop at one of the few lighted turn offs in the first 50 kms for roadside naps. We chose the lighted areas, as this part of the road is know for its wildlife. Last year we saw 6 bears off the road. Finally dawn broke, and with a bit of coffee from the last gas station we made our push for Woss. At 9am (27 hours after starting) we got into our motel in Woss. Sleep was short BUT sweet, and after a fabulous meal from the little cafe by the gas station, we headed toward Sayward Jnct, just happy to have that section done.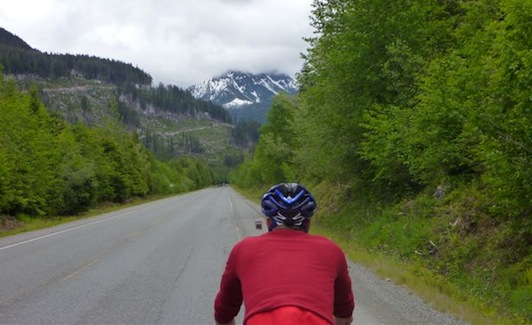 The weather was warm with sunny breaks, and the wind was sometimes a help and sometimes not! We both felt strong and rested and so we made great time. In Sayward Jnct, a nice veggie burger fuelled us for the push back to civilization and Campbell River. The rest of the trip that day was smooth sailing. We had a motel in Parksville, so after clearing the control in Qualicum, we headed for our sleep stop. Arriving at 2am, we worked out when we needed to leave and got a good 3.5 hours of sleep. The final day was 290 km of "new" route. Lee had decided not to take us over to Victoria, so instead he found EVERY steep sharp hill of grades up to 10% (Malahat is 5%) and set our legs with 700 kms on them to climb all these. We would wonder why we were going down a particular road, and then see the steep walking pace hill approach and thank Lee for this next "gratuitous hill". The roads he did choose were very scenic and did keep us away from the busiest roads so that was nice! Much of the road around Nanaimo can be found on the "Back Roads 400" route, and as we headed out to Lake Cowichan, memories of Hell Week flooded back. The jaunt to Youbou was pleasant, and one must see the best name for a liquor store ever in this town. It is around the back of the building and down in the basement so naturally its called "Liquor Down Under"!
Finally done with the out section to Youbou we headed back to Duncan and ate a nice meal in town. Then off to Cowichan Bay and more Hell Week roads. There were some interesting approach roads to Nanaimo, and a great route through the city, that brought us to Northwest Bay Rd and our end point of Parksville. So it was at 120 am we finished the ride in 67 h and 15 min...a time we were very pleased with.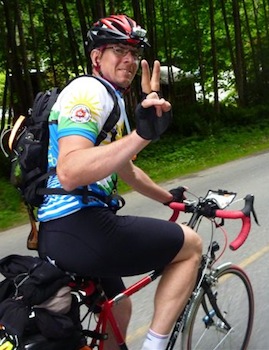 I promised Philip, we would never have to ride north of Campbell River again, and so I was glad we successfully completed this route, this year. It provided us with valuable lessons, which will help us conquer PBP. We have learned much about nutrition and what works in our bodies, and our bikes are both fitting us well, with no issues related to them. Thanks Lee for the bag drop, although for us, not staying in Port Hardy, the bag drop was less useful...Seeing a friendly face though was great! We were unsupported, but supported each other! and the cheering of our families could be heard into the dark night north of Woss...at least in our minds.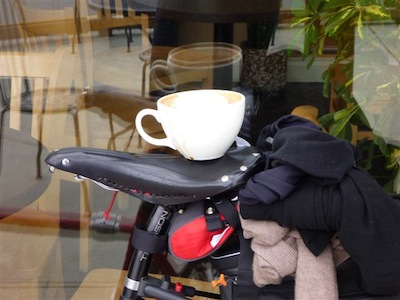 ---
Go to: Ultra Distance Results
Go to: Photos
June 25, 2011