The Week of Hell
by Jim Runkel
Last year was our first Hell Week. Philip and I thought, yes, this is very hard. It must be the distances, run so close together that caused Ken Bonner to name this week. And indeed, last year for two rookie randonneurs, attempting to complete the full series in one week, that was the case. But last year was a fairy tale week, with warm temperatures, and sun most days. Just looking at the pictures from last year tell that part of the story. But this year, I determined that no, Ken must have named this week for another reason (besides the distances) and that would be the WEATHER, for truly it was the weather this year that put the HELL in Hell Week.
Tour of the Cowichan Valley - 200 km
A nice ride this was. The weather had not come to spoil the day, and sunshine started us off. This is very scenic ride with rolling hills and pasture land, and views of the ocean and Lake Cowichan.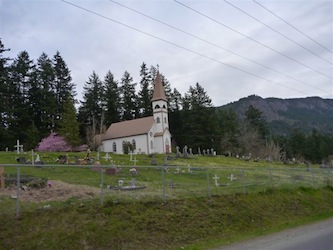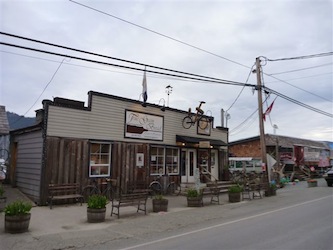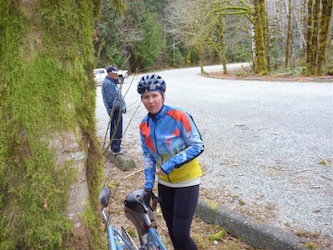 Riders seemed to truly enjoy this route with smiles all around.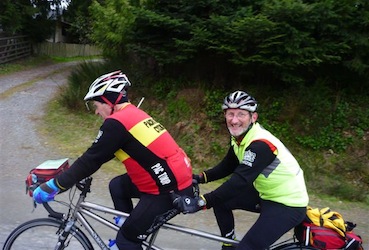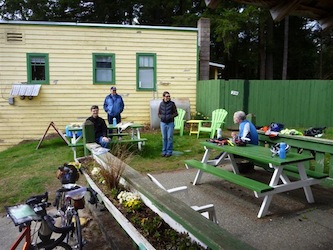 Of note for Philip and I was that we did this route in a personal best time, thanks in part to Dug Andrusiek, a faster rider than us, who kept our pace high! and rode with us...a great way to start the week.
Coast2Coast - 300 km
This was a new route for Hell Week and pushed me to my limits of clothing and temperature. It was a day of extreme weather, with rain as the constant companion, and add to that high wind, and near freezing temperatures (with wind chill). We did see both sides of Vancouver Island on this day, and from the scenery, this route would be lovely in the sun.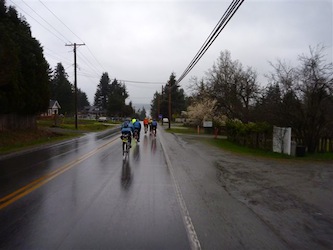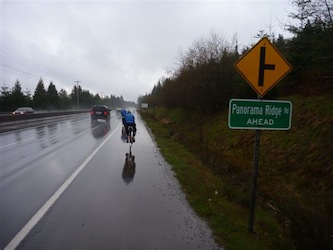 It was a wet start, and then throughout the day a struggle to regulate body temperature for me.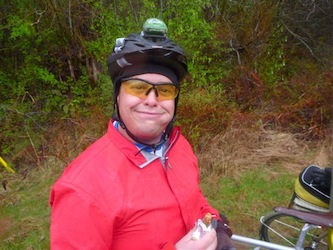 We enjoyed some good company at the beginning, riding in a pace line up to the summit of Hwy 18. But it cost us, in endurance for the last half of the ride as we gave a little too much for the first 100 kms, keeping up with the fast group. The road from Lake Cowichan over to Port Renfrew is a classic isolated corridor with no services, no cell phone, nothing but Vancouver Island wilderness.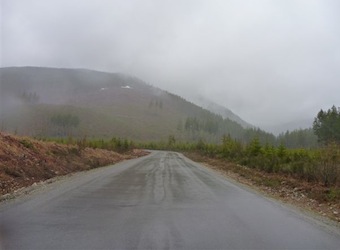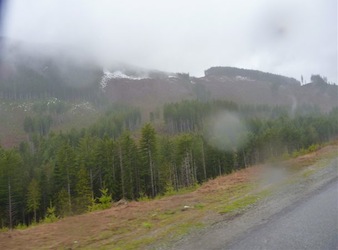 And it was a very grateful duo who came across a ride Volunteer, braving the elements for our safety!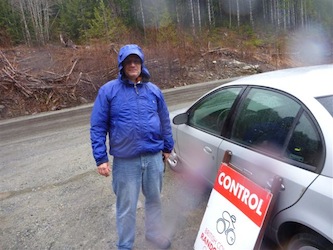 Martin was proving to be an excellent EdeH organizer and as would become even more apparent as the week progressed, went above and beyond to ensure that all riders were safe. The soup in Port Renfrew was a welcome addition, and warming up in the Coastal Cafe helped get us ready for the return trip. Rugged beauty was everywhere on the ride. The big switch back climb should be mentioned as it was a test of gearing and endurance. The way down from the summit, a welcome break from climbing, proved to be very dangerous for me, as now I was wet and already cold and the wind chill from going down, the driving rain in my face and wind, brought me very close to hypothermia. Back in Lake Cowichan, and warmed up in Subway, we said hello to Martin, who was concerned for the last two rider still struggling over from Port Renfrew. On the last leg home, both Philip and I had lighting issues, and so we were very thankful to have good "backup" lights available...never leave without them!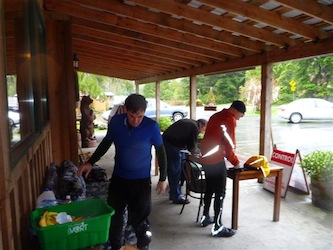 Lost But Not Forgotten - 400 km
This route was unchanged from last year. It was a good riding day, with overcast skies, and not any real rain to mention. This is hard route in that it brings you past the hotel in Chemanius with over 100kms still to ride...a temptation to just go to bed is strong! As Philip and I filled out the information control, I kept telling him... "don't even look over there." A few spots on this ride always stick in my mind. It was nice to see Graham at the Cedar control. Its so dark out there... Glenora, and Indian road just seem too lonely after the nice visit there on the 200. KOKSILAH RD...well we came up with a different name!...this is one torturous byway!@.... and seeing DAVE in the bus shelter around Shawnigan Lake...with hot coffee and a cheery smile...helps one finish this beast! For the first time, I actually "fell asleep" on the bike. It was on the last leg from Mill bay to Chemainus, and I found myself almost hit the medium as I wobbled! Then just as we turned off on Mt Sicker Rd it happened again...and this time with potentially serious consequence, because a truck had to avoid me as it turned off too...I apologized with a wave...but in the end we arrived and finished this one. Table naps, and short periods with our eyes closed, to help reset our clocks, would be in order for the 600 as not to repeat this dangerous situation!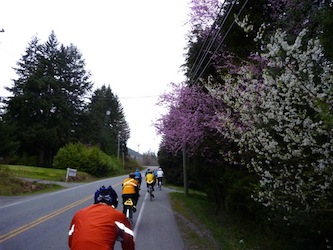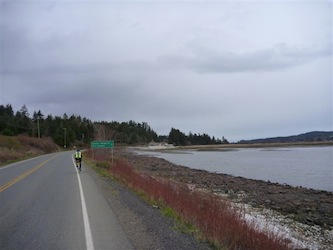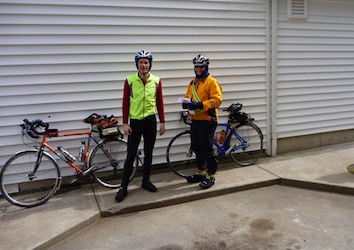 No Gold! - 600 km
And it was true...no Gold River this year because of the threat of snow on the section from Campbell River to Gold River!. Martin again, did an exceptional job of coming up with a last minute route, taking in part of the original and adding a different ending! This 600 was only marginally better weather wise compared to the 300 but it ranked as pretty bad. Starting out in nice sun, one was hopeful of a nice day (it was cold though...see how low the snow line is!).
But as we went north, through Courtney and on, the rain came in buckets and the wind was GALE FORCE! The usual lake like calm ocean around Campbell River was whipped into a frenzy by the wind and waves crashed beside us on the road.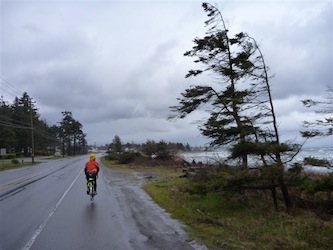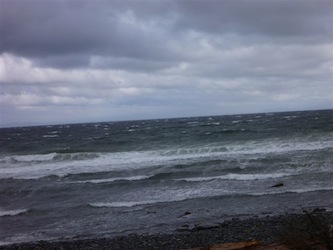 You had to ride at an angle to the wind to keep from being blown over! 2kms from the turn around control in CR, I hear a LOUD BANG. I had blown a hole in the side wall of my tire. I carry a spare, so we found a bank, and huddled under some trees and with the temp at 6 C and the wind blowing, I quickly put the spare on, with a new tube. A very concerned motorist stopped and offered to take us somewhere warm to do the repair, but we declined, sadly. We hurried to the control where a nice warm van greeted us (thanks Gary). We fuelled up and off we went. I was in good spirits and we made good time....for 2km...then the unthinkable happened....PING...a rear spoke on my fancy wheel (Mavic SL) broke. OH NO! I am done...finished...all this work and its over...no Hell Week Pin...and PBP qualification now means I have to do another 600 sometime soon! All these thoughts went through my head. Well we did the only thing we could...backed off the rear brakes, taped the broken spoke to another and set off...expecting any minute that the wheel would implode! To say the least I was stressed...I also rode with utter care and attention to my body position and weight. I even considered going to Can Tire and buying a bike so I could finish! It was too late for bike stores to be open, so getting a new wheel was not an option...Here is the real irony...I brought with my sturdy 32 spoke rear wheel, ready to go...I even said to myself..Jim you should put this on for the 600...nah...this Mavic SL has taken you on many a ride (including the Kootenay Rockies 1000)...so I left it on. In Courtney, a group of fellow Randonneurs urged me to call Martin and see if anything could be done...so I did...and to make the story short...Ali Holt, thankfully agreed to get my wheel from my room and drive it to the CONTROL in Qualicum. But getting to Qualicum meant I would have ridden from Campbell River to Qualicum ~ 100km, on this broken rim. As we left Courtney, the skies cleared and the temperature dropped below freezing. As a result, Philip took a tumble crossing one of the RR crossing which have a rubber insert. Ice had formed on the surface. He gave me enough warning and I slid across up right. We checked him over, and checked out his bike and all was good. Ali waited until after 1030 pm for us to arrive, and I changed my wheel giving her the broken one...WOW...stress relieved! Down to Chemainus we continued, had a quick 90 minute sleep and then headed out to finish the last ~225km in sunshine.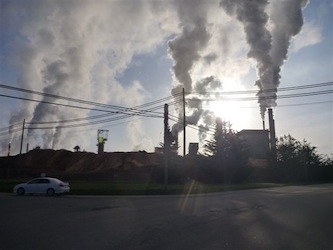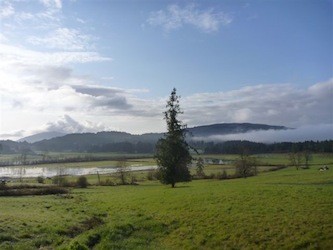 By lunch the rain came and we rode till the end in light to heavy rain. Lake Cowichan was cold and dreary and by Crofton, my drive train was so dirty, I kept sucking up my chain in the low climbing ring...I had to finish some very hilly road in my 42 T middle ring...very hard on my legs. We made the last control, where we were greeted by our lovely wives, and Martin! It took us a bit longer than anticipated, and YES we do stop a lot and EAT....but that is what is need for Philip and I to complete these ...
Thanks Martin, Ali and all the Volunteers for taking some of the HELL out of HELL WEEK! and Philip my faithful companion through all the ups and downs!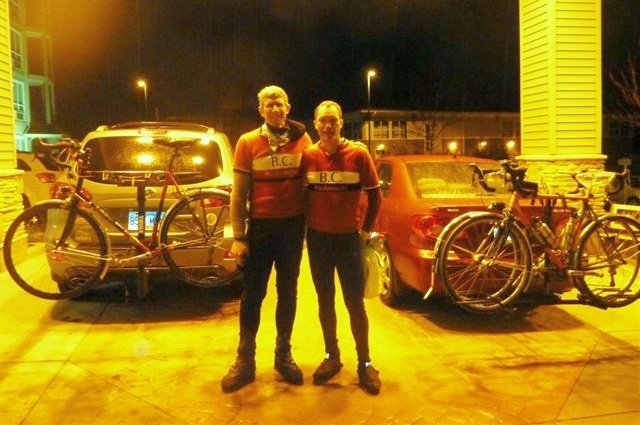 ---
Go to: Eau de Hell Week Results
Go to: Eau de Hell Week Photos
April 22, 2011