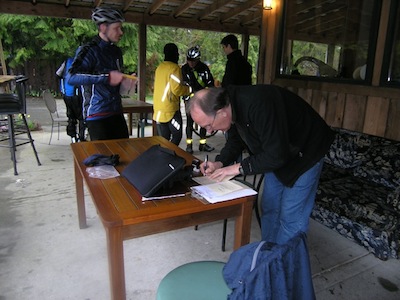 Martin at the Port Renfrew control on the EdH 300
Photo: Amanda Jones
Kudos for Martin
Messages from Ken Bonner and Lee Ringham
Following Eau de Hell week there were a string of messages on the discussion forum praising series organizer Martin Williams for his exceptional efforts. Here are two.
Just a quick note of appreciation for the extra special effort Martin and his gang of more than helpful volunteer staff for carrying out one of the best, if not THE best Eau de Hell Week, ever!
After a tantalizing pleasant 200k, Martin got down to business and dished up some very challenging weather. Martin and his Gang also provided exceptional support to riders on each of the following three brevets.
It was hell for Martin also, as not only did he seem to be practicing his sleep-deprivation techniques, but at the last minute created a new alternative 600k due to accumulations of snow between Campbell River and Gold River.
Congratulations to all the participants -- Those who found time to help Martin; and a super congratulations to Ian Fillinger who broke all the existing EdH event records; and, set a new record on the alternative EdH 600. Ian seemed to go faster the worse the weather became, so fast that he overshot the finish by about an extra 70k (apparently he was still looking or the EdH challenge!)
Cheers . Ken
Ken Bonner
Eau de Hell creator and organizer 2007-2010
I just wanted to publicly recognize Martin Williams' efforts on the latest version of Eau de Hell. Martin is a new member of our club, yet he cheerfully took on what is, logistically, one of the largest annual events we run. Not only did he serve as overall coordinator, he also organized two rides last week. And one of them deserves special mention.
A couple of days prior to the 600, Martin was concerned about the potential impacts of some bad weather on the remote road to Gold River. He called Environment Canada for a weather update and received far from settling news. He contacted me, and I was pretty busy and did not think things through, but I suggested he also talk to Ali, Roger and Cheryl about his concerns. The upshot was a cancelled GR 600 and a last minute route change. Add into the mix that this is a PBP year (and all the extra pressure THAT brings) and the fact that he was operating somewhat on the fly.
Yet he, and his volunteers, pulled things off. I think this is quite an accomplishment. People like Martin make my role, as VI Route Co-ordinator, a whole lot easier.
There were a lot of great folks involved in this years' Eau de Hell, but they need leading and guiding. All I can say is: Thank you very much Martin, you did a great job.
Cheers Lee
Lee Ringham
Vancouver Island Brevet Coordinator
April 22, 2011