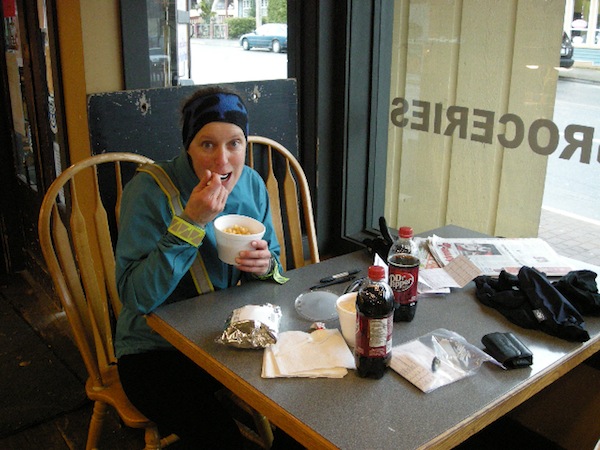 Fraser Valley Flatlander 203 km
Permanent #18 Report
by Karen Smith
A 200 is HARD at this time of year! The short days, cold temperatures, frosty roads and sand filled shoulders can all make a measly 200 quite tough. But it had been 3 weeks since our last 200 in November, and Michel and I thought we would try it again and keep our quest for the Year Rounder alive. The weather on the actual day can make or break your ride and we had been checking the forecast obsessively for days. Both Environment Canada and the Weather Network said about 0ºC with snow flurries or light rain starting in the afternoon. Environment Canada predicted winds from the east gusting at 70-90 km/hr. The Weather Network said 10-20 km/hr. Apparently the weather forecast you choose is also important. We chose The Weather Network.
We started at 7:25 am and had no time to waste as our first control was in 8.6 km. Chilliwack Lake Rd was frosty so we had to be cautious. We also had a headwind and we made it to Pointa Vista with only 6 min to spare. Then the winds helped us all the way to Fort Langley. It seemed effortless to get there. Although it was zero degrees, the effort we did put in was enough to keep us warm. We did see ice in the ditch along River Rd and we were cautious again. We made it to Fort Langley in good time and good spirits and had the best ever Mac & Cheese at the IGA.
After our turn around, the real work began. We were met with a strong headwind and it was bitterly cold on the face. That became especially evident on North Parallel Rd. Every time I looked at my spedometer along North Parallel it was between 14-17 km/hr. And that was pushing hard. If you let up on the pedals, you slowed even more. That was a tough stretch, both physically and mentally.
We probably stayed at Yellow Barn too long, and as we left, we both felt chilled for the first time. Then the rain started and it felt like the temperature dropped. As the sky went black, it felt like the temperature plummeted. I rethought the toughest part of the ride. Surely it was now - cycling in the dark, into a headwind with driving, freezing rain in your face. My cycling gloves were not keeping my hands warm or dry. I had to stop twice along Camp River Rd to wring out my gloves and try to warm up my hands. A couple of times as I tried to move my hands on the bike, my gloves made crunchy noises. I think the fabric was starting to freeze. If we had a flat or any mechanical, I don't know that our hands would have been much use.
When we finally made it to Popkum, our penultimate control, we only had 20k to go. You'd think that we would be in and out and put this ride to rest. But we took forever to warm up and thaw out. Both my hands and my feet were screaming and it took a while to calm them down. Michel offered me his dry wool gloves, with gortex lobster mits over top. He agreed to finish the ride in my cold, soggy cycling gloves. Chivalry is not dead! Merci Michel!! : ) When we eventually went back outside, the rain had stopped. Our last 20k wasn't too bad and the wind was at our back again.
We finished the ride in 11:08. We'll take it. Two down, ten to go...?
Some post ride thoughts:
- Ask Santa for some warm cycling gloves.
- I think that Environment Canada was right.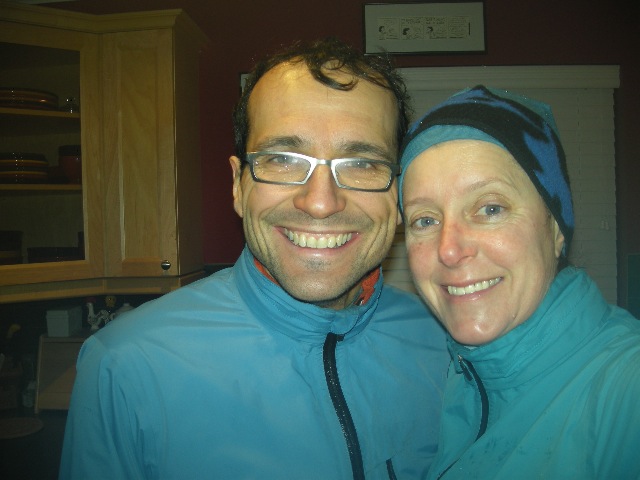 ---
Ride date: December 18, 2010
Go to: Permanent Results

December 23, 2010