"It was a slice, Mate!"
Perth Albany Perth 1200 km
(October 5-8, 2010)
by Gary Baker

It was last year at the GRR 1200 and again at the GA 1200 that Jeff M. and I heard Hans Dusink talk up the Perth-Albany-Perth 1200. If he could come to North America to ride two 1200s, Jeff and I thought we could go to Australia to ride PAP. For me the PAP was a great opportunity to make a long dreamed of pilgrimage to AUS and NZ.
Travel plans were researched, what a pain. The first rendition prepared by a travel agent had an $ 825 baggage levy to take one bike. We (of course Sheryl would be going) would be taking two bikes. Ouch! Being the computer whizz ( I'm not) I decided to try my hand booking the flights on line. With a bit of luck I found cheaper flights with no surcharge for the bike(s). Wonderful! Next was the issue of accommodation. Again the initial search was very disheartening. Perth is the most isolated major city in the world and the cost of living is a reflection of this. Everything was bloody expensive. I was going to have to take out a mortgage to make this trip. Again with a bit of luck I found the Budget Apts. The web photos suggested the building was old but clean. It was closer to the start than any of the suggested accommodations and the price was right. I booked a two bedroom unit with a kitchen.
The plan was for me to arrive first, five days before the start date with Jeff to arrive a day or two later as he planned to ride the Seattle-Klamath Falls 1000. Three flights and 30 hours later I was in the splendid warmth and sunshine of Perth. Then it was grocery shop, eat, and assemble the bike. It didn't quite work out that way. Shop, fall asleep for 5 hours, eat, fall asleep again, have breakfast 10 hours later, then assemble the bike. Time to go exploring.
Now which side of the road is the correct side to be on? Move the mirror to right side and I'm away. About 50 metres from the apartment it happened. I felt my head snap to the left, hard….it hurt!
What the hell just happened? Was it a rock, a bottle…I turned to see what was happening and wham, I got hit again and then again. I was eyeball to eyeball with a rather large very pissed off bird. I later learned it was an Australian Magpie. During the early nesting season these birds terrorize cyclists. Over the course of my riding around Perth and on the 1200 I was probably attached a dozen times, along with many of the other riders. The locals paint eyes on the back of their helmets or fasten zip ties all over their helmets, protruding in all directions like spikes. The birds hover menacingly inches about one's head but don't attack.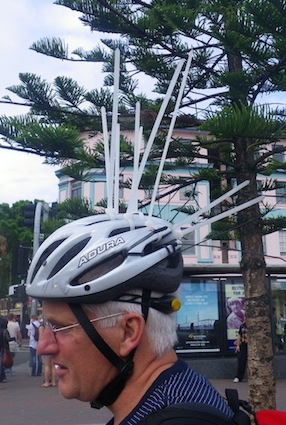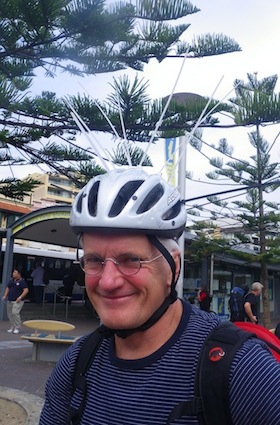 Local rider - Perthian magpie spikes
It was great to have Jeff arrive. He had great plans to get active, but sleep proved the necessary priority. Over the next several days we wandered about the city. Perth has a fantastic network of bike paths. We did a wonderful 60km loop along the Swan River to Freemantle and back. It was as good an urban ride as I have ever experienced.
The day before the start, there was the mandatory bike check, bag drop and welcoming BBQarbie. It was early to bed, breakfast at 3:30AM and a leisurely ride to the start. The first 80km of the route followed a beautiful bike path along the Swan River. The initial 10km we were lead out by two (quick) pace setters, who deliberately kept the pace down as they led us through the twists and turns as the path worked its way through the inner suburbs. Once we met up with the south bound freeway which the path paralleled, we were off! It was a beautiful path and route, but potentially dangerous at high speeds, and of course the inevitable happened, wheels touched and a rider went down, hard (it just happened to be the incoming President of Audax Australia, Kerri-Ann). I was about 300m behind the crash site and when I arrived there was complete confusion. She Kerri Anne was really shaken up, she was holding her arm and hand. Blood was everywhere. I stopped and asked if anyone had a first aid kit with them as I know my emergency kit would not be up to the task. Dead silence. As I have first Aid training I determined that there were not likely any broken bones. I used my compression bandages and tape to control the bleeding and stabilize a badly banged up knuckle. As she was riding with her husband who was at her side I decided to continue on. Her ride was over only 25 km from the start. (It turned out she had torn a ligament on one finger that had to be surgical repaired.) At the ride finish she was in good spirits and was eager to get riding again. (Note to self: carry a more complete first aid kit on EVERY ride!). That was enough excitement for one day. Soon we were heading towards Mandurah and the coast straight into what would be steady, often brutal headwinds that would be our companion for the better part of 200km. Thankfully the route was mostly dead flat along this stretch. Leaving Busselton we headed inland towards Margaret River (of wine country fame). By 6:30pm darkness descended the temperature fell like a stone. We sure didn't anticipate this! After 425kms we arrived at Pemberton, the targeted sleep control. The accommodation was a number of forestry bunk houses (6-10 to a room). The volunteers were great, all be it the toilet facilities were rather sparse (numbers wise). As the next day had a targeted 250+km to the next sleep control most riders had a leisurely start time. I rode out at sun up to a wonderful descent into the town proper and nearly froze to death. The air temperature was 2C. With the wind chill going down into the colder valley bottom it felt like -10C. Isn't Australia supposed to be hot!
This supposedly easier day was anything but. The rollers were endless and again as night descended the temperature became miserably cold. It made riding over the Okanagan Connector on the Okanagan-Okanogan 1000 in a blizzard seem warm. The lights of Albany were a very welcome sight as was the accommodation. This was mid-term break time for area colleges and universities. We were assigned individual rooms in the local college dorms. Heaven!!!!!!!
Day 3 was slated to be approx. 340km so most riders were up and about early. The day started with what would be the steepest and one of the longest climbs of the entire ride to a lookout only five km from the dorms. This was an absolutely gratuitous climb (up and back was a total of 10km) and the course was set at 1220km in length. A lot of riders were walking up as I headed down. Heading north on a major commercial highway we got our first real taste of ROAD TRAINS. These highway haulers are real brutes with 62/64 wheels and are between 36-50m in length (In Northern Australia these trains have 120+ wheels and are over 80m long). They make our 18 wheelers and B -trains seem like compact cars. The fact that the highways usually have no paved shoulders and the gravel shoulders tend to be very soft (bike tires sink in instantly) things can get very interesting in a hurry. At 110kph (the posted speed limit) these trains can take up to 1000m to stop! I can tell you they don't like to slow down as they approach hills (momentum is everything for these guys).
Some time ago while chatting with Susan Barr we both spoke of the surprises that seem to crop up on brevets, particularly on longer rides. Earlier in the year I couldn't burg for the life of me on brevets. Interesting as the third day rolled on I noticed I was having difficulty swallowing solid food no matter how much I chewed it first. As darkness set in and that bitter cold I was in calorie deficit and feeling lousy. Thankfully Jos (a Dutch rider) was graciously hanging back with me. It was one very lonely road as we rode toward Williams. Once in Williams the thought of food was the furthest thing on my mind. Sleep was in order but it was not to be. If that snoring machine has a partner he/she is either deaf or a saint. If I'd had a sleeping bag I would have moved outside, as it was I moved to the changing area and tried to sleep on the floor. Hopeless.
If I couldn't sleep I might as will be riding and try and get some sleep somewhere on the route. I headed out with Mark Thomas (a Seattle International Randonneur) and several other riders . When Mark finished this ride he would be the first person to successfully complete 4-1200km brevets on four different continents. He did it!!!!!!
We had only 210km to Perth, but the first 120km was a series of roller. Solid food was now out of the question and I was starting to dry heave. For the first time on an ultra brevet I truly wanted to quite. At an improvised control I just sat on the shoulder ready to throw in the towel. Fortunately we were in the middle of nowhere and the sweep vehicles drove off to find a missing control which they had reason to think had been set up 6km up the road in error. I pushed on. The missing control was where they thought it might be; it was one of the full mobile food wagons. I had to try and eat something, anything. In Aus they have this soupy rice concoction in a tin that packs about 1000 cals. It was my best hope. I took one tentative sip, which was promptly projected into the woods. So much for that. About a dozen riders had stopped to eat including Mark Thomas who happens to be a rolling pharmacy. He offered me some anti-acid tablets…they were worth a try. I pushed on, more hills, more road trains (they seemed to be getting bigger) but I was starting to feel better. Perhaps the tablets were working. At the next town I managed to down a half litre of ice cream, I was on the mend, I hoped. The next control was at a pleasant village. I tried eating an omelet with limited success, every bit of food helped. One control to go at Pinjarra. No soft food, so the pickings were slim, I nibbled on a hamburger bun. 80km to go, I felt that I could crawl to Perth home if necessary. Jos rolled in and we agreed to finish the ride together and were joined by Luke and Veve ( local Perth rando riders on their first 1200). The last 80km was on the bike path back into Perth. Boring as hell, but thankful we picked up a tailwind with about 50km to go. Then things got surprisingly interesting. it was approximately 4pm Friday afternoon and hundreds of cycle commuters were heading home, many were just flying, often drafting in groups of three or four. Combine them with the riders riding at smell the roses speed and it was rather scary at times. But, shortly after the 84hr mark we rolled into the local bowling club (the equivalent of our curling club) to good cheer and cold beer. FINI…!!!!!!!
---
Overall impressions/highlights (good and some bad)……..
- Those damned birds
- Nearly riding over two tiger snakes sunning themselves on the road (they can kill you)
- The beautiful countryside south of Perth (the Margaret River area and Albany coast)
- Best of all was riding with riders from around the world. At most there were only 2-3 riders from any distant country. The conversations were wonderful. Jeff said the intimacy that comes with the small numbers of riders made for an experience that was not present at PBP, and was more rewarding. I thought it was great and would encourage others to try these small international rides. It was a highlight of my rando riding!
No 1200 is easy IMHO. On paper this ride a didn't appear to be that tough (the GRR1200 and GA looked to be much harder), but elevation graphs can be deceiving. This was a challenging ride..the wind, the rollers, and the cold. Would I recommend others put it on their to do list?... you bet you.
See you all in the spring.
November 1, 2010