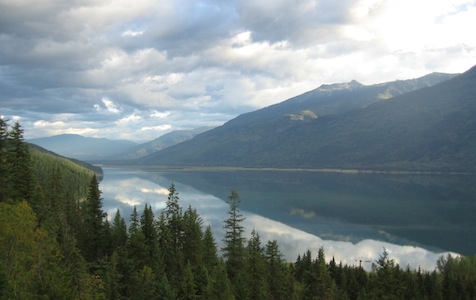 Kootenay Rockies 1000 - A ride of firsts
by Jim Runkel

This was the inaugural running of the Kootenay Rockies 1000 km route. It was also the first time Philip and I would have support at Controls, as prescribed by the rules, and this as it turned out would be our first successful 1000, completing the route in 69 hours and 23 minutes...

We had a goal this year of doing at least one 1000. Back in June, our attempt ended in the backwaters of Vancouver Island at the 600km mark, when the contents in my stomach no longer wished to continue the ride and so ended up on the highway near Woss.

We had two choices for this weekend, and the Kootenay Rockies route was chosen for various reasons. Our on the road support came in the form of Lorena Lennox and Kelsey Lennox, wife and daughter of Philip, my ride partner and my at home support came from my son Joel and wife Brigitte (they helped me prepare and also kept us in their prays as we rode). I can say with certainty we would not have succeeded without the excellent help provided us, in the form of both smiles, food and clothing, at each control along the way. I have the utmost respect for each of you, the experienced among us, who do these rides alone and unsupported...like Bob Goodison, the other finisher and organizer, who finished this route in a time we can only marvel at....

Because of two ferries on this route, one which if missed would end any chance of finishing, the ride started at 2 am in Salmon Arm. The evening was warm at the start, but temperatures soon fell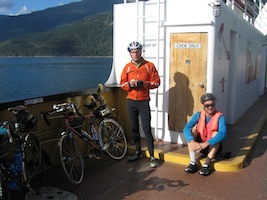 as we headed toward Three Valleys Gap and Revelstoke. Once you turn off Hwy 1 toward Nakusp, the terrain becomes breathtaking but no supplies can be had until the ferry at Shelter Bay. We made the second ferry at 9am. Gord Blair was on this one with us too. Crossing the lake gave us a chance to eat and relax. Soon we were climbing and heading toward Nakusp. The sun shone and the day warmed up nicely. As it turned out, this ride would be one of temperature extremes with the high being 27C in New Denver on Saturday, and the low of 6C at the summit of Rogers Pass on Monday (on both Sunday and Monday the temp never got above 12C at anytime).

Nakusp found us meeting our awesome control crew for the first time. We had a great lunch and then headed toward New Denver. We knew the climb from New Denver to Kaslo would be brutal,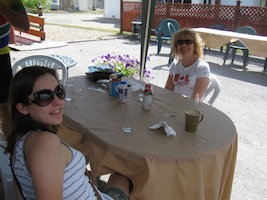 and it was. Right out of town you hit an 8% climb and for the next 20 km it varied between 6 and 8%...a very slow process...all the time knowing that missing the ferry at Balfour Bay would end the ride. Thankfully, once at the top and passed Bear and Fish Lake, a downhill greets you, that goes on for 20 kms and ends in the town of Kaslo, with not an up section all the way!

At the Kaslo Control, another quick meeting with our support crew took place. We had to plan for the night, a sleep stop in Creston with no help and the morning ride to our next control in Cranbrook. We knew rain was on the way and temperatures would drop. We also needed to think of food as nothing would be open on the trip to Creston. The big issue though was the Balfour Ferry. We realized the ferry we must take left at 750 pm (there is one more at 940p but that would to late to make Creston and sleep). So from Kaslo we flew, on a road that was more like a rollercoaster, as it followed lake, past all the happy people enjoying the hot springs at Ainsworth, toward Balfour Bay. It was one of the hardest parts of the journey...but at 740p we arrived at the terminal and made the boat. What made the section from Crawford Bay to Creston memoriable was the wind. It was "gail force" PUSHING us toward our destination. The predicted colder weather was moving down the valleys, and behind us we could see lightening but ahead was the stary night. I was so tired we needed to stop at driveway with lights and I lay on the side of the road and actually had a quick power nap ...snoring! (10 minutes???) but it was enough to get me going again. Creston arrived and we slept as the storm arrived with force. Bob told us he road throught that mess! The morning was cold but the rain had stopped for now. We headed out toward our next control in Cranbrook...On the way, we fueled our bodies with some coffee and pancakes at a nice roadside dinner...

About 16 k out of Cranbrook, the rain started...in Cranbrook, cold and wet we met our support team again, and the smiles and good cheer with great food, got us going again. Our next goal was the last Control before home , in Golden. On this section we faced a strong headwind, and rain, but both subsided, giving way to blue skys and beautiful scenery. The road became wide and flat and we made great time up through Canal Flats. Fairmont Hotspings was a glow in the evening light, with happy couples taking pictures and golfers finishing their round before nightfall. A stop in Fairmont, gave Philip a needed bathroom break, and I took the opportunity to close my eyes for another quick sleep (15mins).

Invermere had a nice Tim Hortons, where we could refresh ourselves before the long, dark night ride through Radium Hot Springs and on to Golden. A freight train in the night, saw our lights and gave us friendly honk as it passed into the darkness. This section felt very long and lonely...it was nice to have my friend Philip riding along side! The apparent towns mentioned on the map are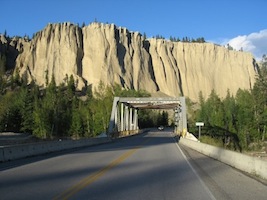 not more than one light by a driveway in some cases....so nothing to do but pedal, think, and dream of the bed in Golden. The night was so dark that we could see the glow from Golden a good 50 kms before we arrived. Thankfully, the few raindrops we felt passing Radium ended and the ride was dry all the way to Golden.

Safely in our room, and this our last Control before finishing, we made our plans for the last day. We woke to cold, hard rain. As it turned out, this rain would not stop until 20 kms before Salmon Arm...but for now we packed our merino wool and got dressed in our rain gear, for what would be an epic climb lasting almost the full 80 kms from Golden(800m) to the top of Rogers Pass. At least it was cool, around 7C, so climbing with rain gear on, we did not overheat. Two big spikes characterize this climb. Gently at first from Golden then a big gain to around 1100 m followed by a downhill into a valley followed by the Rogers Pass to 1330m Day 3 would be forgettable for its rain and extreme holiday traffic. Highway # 1 was wet and very busy, with motorhome, after transport, after travel trailer, bearing down on us as we navigated shoulders not wide enough. And then the snow barns...it sounded like armagedon was upon us as a transport would come up behind while we were focused on the narrow space avaialbe for us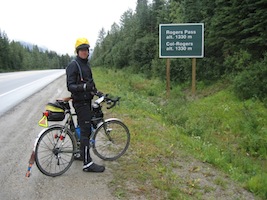 to ride in the shed. At long last the Rogers Pass Summit arrived and we warmed up in the Lodge. Although climbing was hard, going down toward Revelstoke was almost worse. Now we were moving at high speed, avoiding the crumbling shoulder areas, while at the same time avoiding the tons of transport truck passing on our left a mere foot away. I would say I have not ridden in more tense, stressful conditions than those presented us by the weather, traffic and road conditions. In Revelstoke we ate and warmed up. We met a fellow rando on a trip of his own. We chatted and he took some pics of us before we headed on the home stretch. With a 100km to go we were excited and motivated to get this 1000 km journey done.

By Sicamous, with a days rain accumulated, and night fallen, we stopped at Tim Hortons and I left there with 6 layers of clothing on...a cycling shirt, a merino wool vest, a merino wool sweater, a merino wool long sleeve cycling jersey, a cycling wind jacket and my gortex... lobster claw gloves, a merino wool cap under my covered helmet, gortex socks covering wool socks and shoes with covers finished my outfit.

At 1123 pm Philip Lennox and I finished our first 1000 in Salmon Arm.

Without the full support of my family back home, and without the Control to Control support from Lorena and Kelsey, we would not have made this goal a reality.

To my friend Philip...thanks for a great ride . When lost (mentally) and down we helped each other up and onward, finally finding our way home to happy smiles and heart felt congratulations from our awesome families!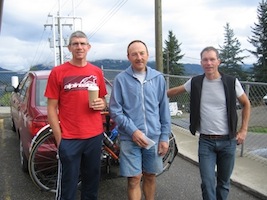 The Three Finishers
Jim, ride organizer Bob Goodison and Philip Lennox
---
Go to: Ultra Results Page (Scroll down)
Go to: Jim's Photos
September 11, 2010