Rando Rookie
by Guido Van Duyn
This past weekend I completed the Merritt Loop 600K to cap off a successful Lower Mainland Spring Brevet Series. After completing challenging climbs in the 300 and 400K brevets I was expecting a difficult climb on the Coquihalla. Having ridden the Hwy 7 section in previous events I knew what to expect and made good time riding from Mission to Hope with Ron Penner and Jerome Lavigne. Ron had the highest top speed down Woodside with 77K, lots of fun!
As a rookie I'm always thinking of ways to improve and learn about the sport and one of the things I tried to practice during this event was minimizing my off bike time. After a meal at the control in Hope I got back on my bike as soon as possible and started riding towards Othello Road where I joined Greg Todd and met Bob Koen, Manfred Kuchenmuller and his friend Alard Malek. We took a short break together at the snow shed on the Coquihalla where the toughest part of the climb begins, I set off and before I knew it I'd reached the summit and began a bit of a descent towards the Britten Creek rest area. When I arrived at the Britten Creek control I had my card signed and took off right away, lots of downhill followed to the Coldwater road exit where the route became very up and down with rolling hills into Merritt. In Merritt at the 7-11 I said hello to Ron who was just getting ready to head out and spent about 45 minutes eating cold pizza and talking to my wife on the phone. As I was getting ready to leave Manfred, Alard, Greg Todd and Dave Gillanders arrived and went to Subway for something more substantial to eat as Manfred and Alard had to ride 140K to their motel in Boston Bar. The best part of the ride for me was Hwy 8 to Spences Bridge. I rode alone and it was beautiful, up and down but mostly down, making it easy to carry lots of speed. I also seem to find renewed energy in the evenings; I think it was just after 11:00 when I reached the secret control at Spences and 11:30 when I reached Lytton.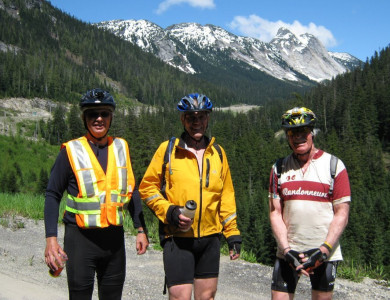 Guido, Alard & Manfred at the Coquihalla snow shed
I had a lousy sleep and I was annoyed that I had frittered away almost 6 hours in Lytton not departing until 5:15. I knew I had to consume at least 1000 calories before going to bed so I drank a Gatorade post work-out protein shake (500 cal), two Gatorade pre-workout drinks (330 cal), ate some beef jerky and more cold pizza. By now I felt like I had swallowed a basket ball. I watched some TV, turned out the lights at 12:30 and tossed and turned for 4 hours. When I woke I ate two breakfast cookies and drank two 473ml bottles of AMP orange juice with caffeine. I finally got out the door and on my bike at 5:15, Jeff was outside eating cold pizza and he offered to take a drop bag for me, I am still learning how the drop bag system works. I don't usually have stomach problems but the more I rode the more I started thinking I was going to end up like Alex Pope in the previous brevet "Beyond Hope". Lots of up and down and a climb up Jack Ass Mountain, I started feeling better and I think arrived at the Dogwood Cafe around 11:00ish. Jeff Mudrakoff highly recommends potatoes as Rando fuel so I took his advice and ordered an extra side of hash browns smothered in cheese with my breakfast. I felt so much better after that breakfast! Manfred, Alard, Jerome, Dave Gillanders and others arrived as I was getting ready to leave. I headed down the road and a little while later took the exit to the Haig Hwy. I needed to call my wife and let her know I was still alive, no cell service in the canyon, so I stopped at the rest stop on the Haig Hwy. I was on the phone when the group from the Dogwood Cafe went by. Damn! I don't want to be last I thought, I used the washroom got on my bike and rode the second last leg to Mission. It had started raining hard and I was soaked by the time I got to the Tim Horton's where the group that had passed me earlier where hiding out from the rain. I got my card signed and realized I had spent my last cash at breakfast so I put my raincoat on, drank a Boost plus and jumped back on my bike to ride the last leg to the finish. The traffic through Mission and Maple Ridge is pretty nasty in the afternoon, though the last bit west of the Golden Ears Bridge has a nice wide lane all the way to the Pitt River Bridge. Like Ron I had some trouble when I came off the pedestrian bridge in Poco at the end of Patricia, I rode right past the trail and ended up meandering down some dead end streets before I found my way. Guildford and Murray is a nice route to the Barnett Hwy, but by then I was starting to tire, I made it back to the Knight and Day with a respectable time of 37:33.
Best of all! No punctures in my Gran Bois Hetres for the entire Brevet Series! After suffering a flat during my very first brevet, the Early Bird, I became very paranoid about running over any kind of debris. Randonneuring is a lot harder than I thought it would be, but I'm having a blast! Thanks to Jeff Mudrakoff and all the organizers and volunteers of the Lower Mainland Spring Brevet Series.
---
June 10, 2010