DNF at 321 #:o(
Pacific Rim Red Eye 600km
by Steve Mahovlic
This story was originally on Steve's own web space, now off line. In June 2012 he transferred the story here. [EF]
Brevet entry fee - $15.00
Food to ride from Victoria to Tofino in 18 hours - $60.00
A night in Ucluelet - $100.00
Sighting a mountain lion cross the road, stop, watch us approach, then disappear into the woods - Priceless!
While that is the brief summary of the weekend it hardly tells the tale. The midnight start ensured the brevet would start with sleep deprivation. We are creatures of habit and try as I might the afternoon sleep was merely a couple of cat naps. Combined with threatening weather I ensured I had the phone numbers of a few friends and relatives along the route. I hoped my Tofino friend had not moved on in the past couple of years; however I would discover this was indeed the case.
Melissa drove out to the start. We decided she would not be support this brevet to add to the incentive for me to finish. Six riders started at 12:01 Saturday morning, the dark skies soon sharing drizzle as the air cooled. The ride down the Malahat started ominously when I hit an unseen obstruction sending the bicycle into bucking spasms. Reining it in, I awaited the dreaded thump, thump, thump of a slashed tire. Nothing. Relieved I crested the slight bump before the long descent and stopped to check tire pressure. All was well. Descending in drizzly darkness I was glad to have sufficient light to travel as fast as I dared having not inspected the bike for other issues.
Somehow I picked up a staple and flatted shortly after leveling out. Luckily I was close enough to a lamp standard that the repair went quickly. Dug Andrusiek stopped to assist with replacing the rear wheel on my bike. We would trade "last place" for a while until we finally settled in to ride together following the Tim Horton's checkpoint. The steady drizzle would lighten and return but not stop until we hit Coombs. This was where I had planned to stop if a steady rain forced me to put health ahead of completion. We continued.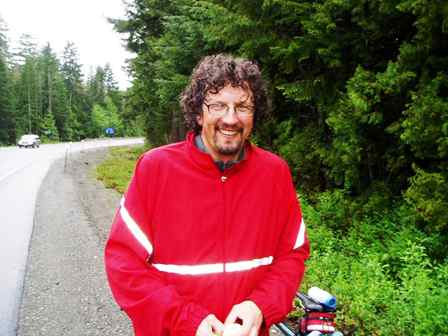 Steve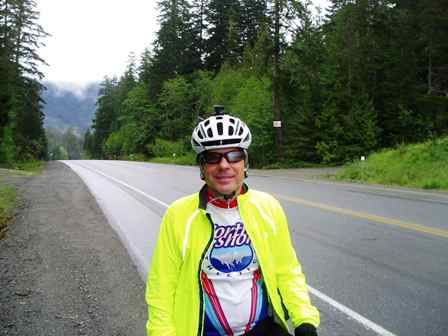 Dug
Both still cheerful after climbing the "Hump".
(All photos, Steve & Dug)
As we rounded Cameron lake the headwinds picked up, the trees on the roadside taking the brunt of the force allowing us to make reasonable headway. Climbing the "Hump" into Port Alberni was not an easy spin, but neither was it a deal breaker. An Espresso at Starbucks, breakfast at a café across the street from the "7-11" checkpoint before having our cards signed. With Sutton Pass and the odd hill in between us and Tofino, we stopped at the Somass motel to drop the gear we would not need on the way to Tofino and return trip.
As Melissa would say it was a Tak Tanabe day. Typical of a west coast spring, mist hanging in the air, the mountains shrouded in cloud and every shade of green surrounding us. The beauty of the countryside did not however keep us warm. That was left up to the steady rhythm of our pedals as we climbed hill after hill on one of BC's nicest stretches of winding highway. In a car the curves are too often and the scenery is missed due to speed. On a bike this is my kind of heaven. After summiting Sutton Pass we had Kennedy River singing to us on one side, the trees rustling in the light breeze; both rarely interrupted by a passing vehicle. This section of the brevet was far too short for my liking.
With the cold wet weather draining my energy, I finally bonked about 10 km outside of Tofino. I barely had enough of my wits about me to gobble down the last of my food supply. Instant recovery was rewarded with a quick spin into town (arriving at 6 PM) to replenish stock and discuss return strategy with Dug. Even after refueling and restocking supplies we made the decision to call it a day, head back to the junction and see if we could hitch a ride to Port. We soon discovered there was little love for "hitchers" on the Wet Coast. Or maybe it was the bikes that had folks accelerating as they went by us. A brief discussion of the potential to make it back over the summit to Port was nixed.
It would be a shared motel room in Ucluelet, and possibly a bus ride back to Port Alberni in the morning. As we wolfed down a pizza we called in our DNF at 321 km to let Mike and Brynne know we were not in the running anymore. End of our epic weekend? Not likely!
Epilogue:
Morning came with the promise of sunshine, just enough blue sky to deceive us into deciding a 90 km "recovery ride" to Port Alberni was in order. I arranged with Melissa to meet us at the Motel and we were off. Once committed to riding the weather gods snickered, and returned to the normal state of drizzle. As we approached Kennedy Lake the hills seemed to grow, my legs started whining. I was cresting a bump in the road, approximately 200 m ahead of Dug, when a mountain lion stepped out on the road a similar distance in front of us, then stopped, looked our way as if trying to decide his breakfast options. I motioned for Dug to catch up, and stopped a woman in her car from passing us. With that much commotion the cougar decided to head off into the bush. What a rush!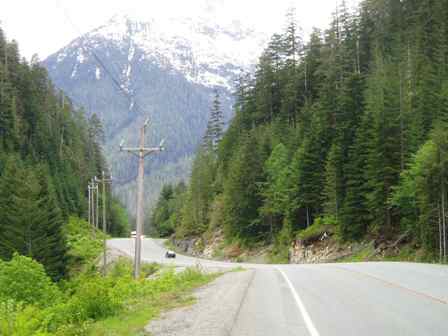 Sutton Pass looking back towards Tofino.
It is all downhill from here #;o)
Sutton Pass looking back towards Tofino, It is all downhill from here #;o) . Photo: Dug Andrusiek
With freshened adrenaline we were on our way. Even the 18% of Hydro hill was taken in stride. Photos at Sutton Pass and we were off, Dug leading. About halfway down two cars would pass me way too close, throwing my bike into speed wobble at 66.6 kph. Hanging onto an overly excited bicycle, for a second time, was not something I had been looking forward to.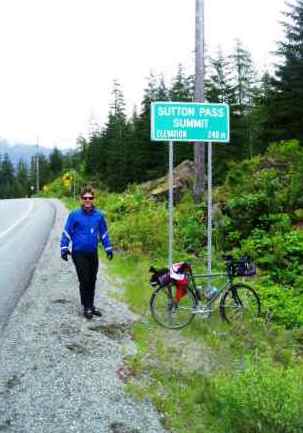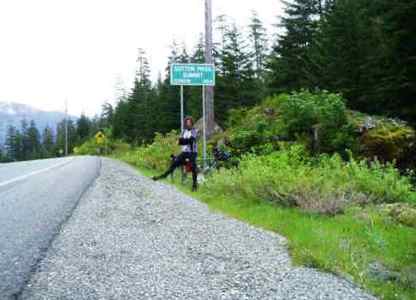 Sunday morning on the way back.
As we rambled along Sproat Lake I was not looking forward to the idea of riding into town. We rearranged to meet Melissa at the West Bay Hotel for lunch only to discover they were renovating. All was not lost as we were recommended "Pescatories" when we picked up our belongings from the Somass motel. A delectable lunch was a fitting end to our adventure.
Commentary on the Red Eye 600:
Would I do this ride again? In a heartbeat! With a night start? Not likely. For a beginner like me, this is an ideal ride to split in two. A 5 AM start, then spend a few hours sleeping in Tofino and return in the morning. This would showcase the wilds of the region.
---
Ride Date: May 29, 2010
May 31, 2010