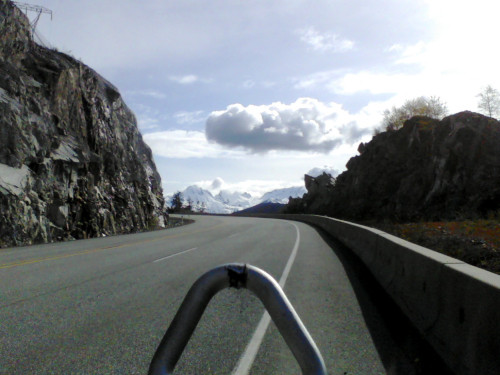 Pemberton 300
by Deirdre Arscott
A surprising number of riders (51) showed up for a cold and extremely wet start to the challenging Lower Mainland Spring 300 km. Within a couple of hours the sun appeared and so did the winds. All the riders battled strong headwinds between Pemberton and Whistler. The total elevation gain was far more than estimated – two riders reported 3600m at Brackendale with 67.5 hilly kilometers still left to ride. Over the last year, with the improvements to the Sea to Sky, many riders had requested this route. The scenery was wonderful but the condition of the shoulder is still questionable (and inexcusable) in a number of locations. Nearly all the riders enjoyed the challenge but for new riders (and some not so new) it was an extremely difficult 300. It was a relief to see the last riders arrive shortly before 2 am and have everyone safe and accounted for! Many thanks to our enthusiastic volunteers: Jacques Bilinski, Greg Todd, Nana Todd, Craig Premack, Maureen Premack, Barb Gillanders and Dave Gillanders.
---
Ride date: May 1, 2010
Link to Alex Pope's Garmin Connect ride/route info.
Link to Keith Nichol's Garmin Connect ride/route info.
May 2, 2010