Flesh and Steel
Part two: …. 300, 400, 600 of Hell Week
by Bob Boonstra
(<---Go to Part One - Don't miss Bob's prequel)
After enjoying the Tour de Cowichan, I was primed for the Alive are the Hills 300 to be ridden the next day.

This route is quite spectacular, with many substantive and steep climbs totaling over 12000 feet. I enjoyed the purple flowers on the rocks above the Malahat and saw them each time I travelled that section in daylight - though only once on the bicycle.

The views along the coast near Fort Rodd and again on the way to Sooke made this ride most enjoyable. Man Fred and Man Ford were my riding companions for the day and both proved to be strong steady climbers who kept me going steadily on the longer hills. Both were impressive in their abilities to pull steadily for a long time.

On the highlands north of Victoria the route follows a winding hilly section tightly enclosed in the trees. This section was very enjoyable.

The second climb over the Malahat proved to be rather relentless as we took forever to get to the top in the dark. I followed Man Fred who chugged along at a very steady pace and never let up! I thought my head was going to explode but it must have been a pressure point beneath the helmet - for it went away. Perhaps this was a foreboding of what was to come later. I laughed when Man Ford got a phone call from his wife while we were riding through Duncan. His gruff voice included the words …. "I'm in Duncan, riding my bike". Apparently, his wife thought he should have been finished much earlier. What was she thinking?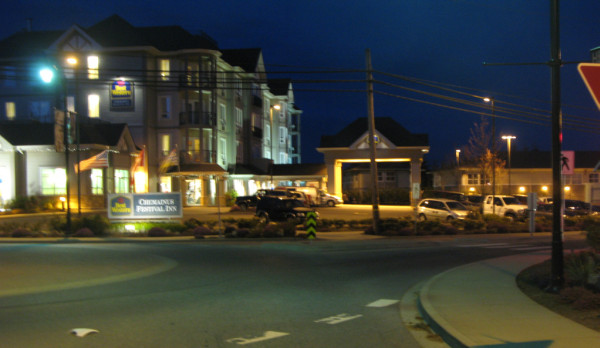 The final descent into Chemainus was not without incident. As I tucked into aero form to gain lots of speed and follow Fred and Ford down the hill, I could see that I was catching them, though one was 100 meters ahead while the other probably 75 meters ahead. This felt good! Both went around the traffic island turn towards the right but I made a rather fateful decision to slow and go across the road towards a fairly well lit sidewalk in order to simply "coast" directly from the traffic circle towards the hotel entry. This was a big mistake as I failed to see the dimly lit medians on both sides of the crosswalk leading across the road. I struck one of these island medians nearly dead on and first felt my pelvis striking the handlebars as my bicycle made a solid impact, then remember sliding on the corner of my head along the road. Not all was ever clear in terms of remembering how I fell though I understand the dynamic of this crash. When I managed to get up I was at least relieved to find that my body still worked, though there was a lot of blood from a gash over one eye. Man Fred helped me out though he refused to help me get the chain back on. We failed in this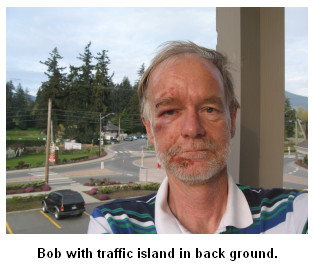 regard. After checking in at the finish control, I headed off to the hospital emergency to get checked out and fixed up. Things could have been much worse.
.
Inspection the next day revealed that my silver brazed rando rocket had been significantly damaged with a crinkled top tube, bent and deformed down tube, bent crown, flared rim and flat tire. Toe overlap had become extreme in that the pedals actually contacted the front mudguard. Thus, the bicycle had been made a few inches shorter! The flat tire will be the easy part to fix. The broken bicycle was taken next day to its birthplace on Quadra so that Sam can rebuild the front half. It will be a costly mistake.

Now, a week later, my stitches are out of the eyebrow, the black eye is gone, my shoulder has no pain or stiffness though some bruising and tenderness still exists where I first struck my bicycle.
My lesson from all this is to replace expired batteries in my bicycle headlights immediately and not continue to rely solely on a helmet headlamp. These batteries had expired about an hour earlier and I was carrying spare ones but didn't want to stop to change them! Better illumination of the road by my own lights may have been helpful. The other lesson is to slow down to get a good look at things before making any unusual moves across a roadway. I could have ensured safe passage by following my companions around the turn, or at least slowing right down, to doubly check to be sure whether I had safe passage or not.
In spite of this rather unfortunate end to the "Hell are the Hills" ride, I did enjoy the riding part and highly recommend this route to others who wish to challenge themselves.
Fortunately, I did not ride into the "Heart of the Sun" this time. I chose to "sit out" the 400 and replace my helmet instead. The flowers and scenery from the seat of my motorized set of 4 wheels were most enjoyable. I hope to continue to enjoy small pleasures.
The 600 km "Ride for Gold" was done on my old standby Raleigh bicycle and passed without incident. To not have tried this would have been a big disappointment. There was no reason not to try. I rode through the night and just had some trouble staying awake after the sun came up but persevered and eventually forgot that I had not slept at all! It was my best personal time on a 600 km event and the first time I have ridden this distance without sleep.
The Campbell River to Gold River section was dark and noisy with all the bullfrogs. A satisfying finish was enjoyed as we rode into Chemainus among great company.