The popular Tour of the Cowichan Valley route is the traditional Vancouver Island brevet season opener (April 10th) and is also the first component of Eau de Hell Week. Lee's pre-ride sounded a bit hellish...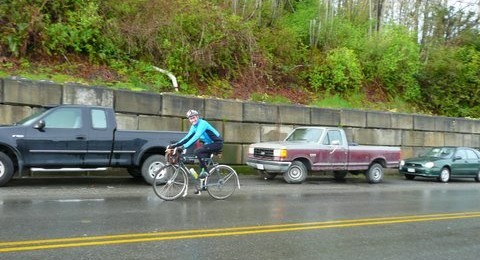 Tour Of Cowichan Valley 200 – Pre-ride Report
by Lee Ringham
The Tour of Cowichan pre-ride took place on Saturday April 3rd. As I am sure most of you know, the preceding day was one of mighty and prolonged winds, cancelled ferry sailings, lashing rain and blackouts. Saturday brought overcast conditions, the threat of showers, cool temperatures and a chilly south to southwest wind.
The original group of four participants was whittled down by health and power issues. Patrick and Jenny were recovering from a protracted and especially nasty cold. A chilly 200 km ride would likely have extended their recovery by several weeks, not a pleasant prospect. Dave MacMurchie suffered three power outages on Friday and was concerned about there being more, so he very sensibly elected to stay at home to deal with any consequences resulting from the lack of electricity. Accordingly, I set off alone from the Utopia Bakery in Chemanius, at 7:15 am.
The first portion of the ride passed quickly enough, although I noted two salient points. One, there was a large amount of debris along the sides of the roads. Enough debris that I was frequently forced to ride in the lane, rather than on the shoulder. I was pleased that all the traffic I encountered that day was courteous and gave me plenty to room to negotiate the downed branches and other detritus. The second point was that it was chilly. Really chilly. After learning the hard way that too few clothes are a bad thing, I had stocked my handlebar bag with an extra set of arm warmers,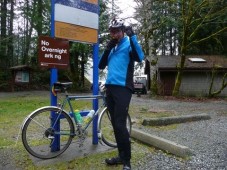 knee warmers, tights and a vest. At Cowichan Bay I stopped to add my winter arm warmers under my winter jacket and exchanged my light knee warmers for heavy ones under my winter tights. Cowichan Bay also brought my first sighting of the ride organizers, as Patrick and Jenny had stopped at the bakery for refreshments.
Along Cherry Point Road the wind induced carnage was notably worse than anything I had seen previously and I was stopped for the first time by a work crew. After a few minutes delay, they let me pass, as a huge machine chipped downed tree parts into dust. The stretch to Shawnigan Lake brought the first cold shower to hit me, as I had played hide seek with the rain to that point. I was happy to see Patrick and Jenny at the Shawnigan control. After a "Bonneresque" stop (likely less than a minute), I headed south around the lake.
The clouds parted as I rode south, allowing me to see the ridge west of the lake. I saw not only the ridge but a white line roughly 2/3 of the way down from the top. White line – hey that's SNOW! The snow line was evident along all the high areas from this point of the ride all the way up to Lake Cowichan. Did I mention that it was cold? Here was my confirmation. This section of road was also heavily littered with debris and I encountered my second work crew and stoppage at the north end of the lake.
By the time I arrived at the Glenora control, roughly halfway round, I was thoroughly chilled. The young lady behind the store counter recognised my control card, asking "Is it one of those days?" I told her that next weekend was the actual ride and did they have any soup on in the adjoining lunch bar? "Ask Stephane", came her reply. Stephane turned out to be a French Canadian, ex-navy cook who had prepared a delicious, core-warming carrot ginger soup, with curry. He added some toast to my lunch and I left feeling very much better. If April 10 is anywhere near as cold as April 3, I would highly recommend stopping!
The ride to Lake Cowichan was the usual grind – steady rolling, but rolling up. A familiar green Subaru passed me for the third time, its cheerful beep-beep serving to pick up my flagging spirits. On Greendale Road I stopped for a third work crew, who were replacing a power pole. Obviously the power was not back on here. Through the Village and round the south side of the lake I rode. The weather finally caught up to me here – stronger wind accompanied by rain, then sleet and finally hail. Hail? I thought it couldn't get any worse.
Patrick and Jenny were at the Gordon Bay control. As Patrick signed my card I struggled to add my vest under my jacket. At least I was now on the homeward stretch! The rest of the ride passed uneventfully and I was pleased to at last have a bit of a tail wind. Tired, cold and hungry I rolled into the Dancing Bean Cafe just before 5 pm. It was a long, hard ride in fairly trying conditions and I was pleased to have finished. Patrick reckoned the temperature never went above 4 or 5 degrees!
I was especially grateful that Patrick and Jenny had leapfrogged me around the route – their presence kept my spirits up. I felt like there was some help or support there should I have needed it, even though there were no other riders and it was very comforting feeling that I appreciated immensely.
This Saturday I will once again be at Gordon Bay control. I hope that the roads are somewhat clearer by then and the work crews are finished. I will try and offer some measure of support and comfort to the riders that sign up. And hopefully the weather will be warmer!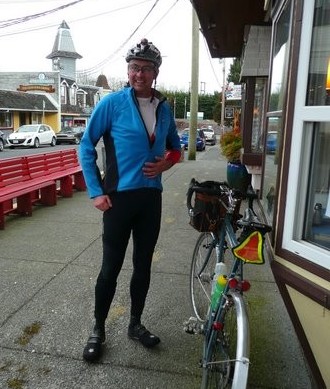 Chemainus - Finished
---
Pre-ride date: April 3, 2010
April 5, 2010