Early BC Randonneur Alan Ingham Dies at Age 61
Dan McGuire
We just learned that one of BC's earliest Randonneurs has died of cancer. He was living in the UK and was a member of Audax UK. Alan was a BC Super Randonneur in 1982 - Link. He completed PBP in 1983. EF
---
A few memories from Dan McGuire:
"We first met Alan in 1981-82 when he came from the University of Southampton where he taught economics, to Vancouver to teach for a couple of years at UBC. Alan was a cyclist and so joined us at the Vancouver Bike Club. He also came on the 1982 randonneur rides: 200km, 300km, 400km, and then Alan and I were the only ones to finish the 600km, so we became "Super Randonneurs" which merited a big medal from France.
1983 was a Paris-Brest-Paris year. Alan qualified for this in Britain with Audax UK, and I qualified in Canada, so we planned to ride it together. Ed and June offered to provide support for us, but Ed had to withdraw due to a family emergency. Alan organized a two-week tour in England and Wales prior to crossing to France, and Bob, Bernie and Ivor joined us for part of the route. We had a wonderful tour via Wells, Bath, the Welsh highlands, Ironbridge, Chester, the Lake District, Hadrian's Wall, York, Hull (stayed with Alan's parents) then took the train back to Southampton. Leading this tour Alan showed his incredible knowledge of history and geography.
Then after the ferry to Le Havre it was back on the bikes to the start of the Paris-Brest-Paris. With June driving the support vehicle, Alan and I cycled together, finishing in just over 77 hours. After P-B-P Alan, June and I cycled via Chartres and Blois along the Loire, visiting the chateaux, to Ambois, where June left to cycle to Munich and visit relatives in Germany while Alan and I headed via Cherbourg to Southampton. What a year that was!"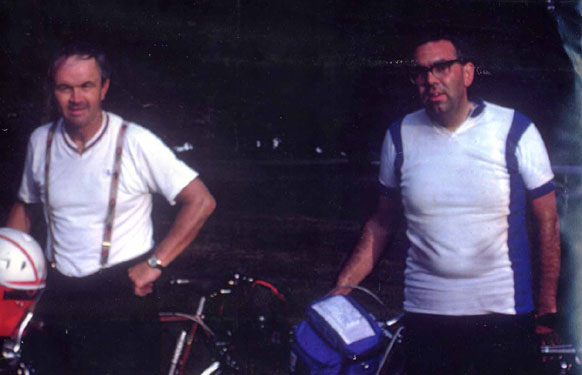 Dan and Alan, New Westminster in 1982 after a 600.
March 3, 2010
---
Some monthes after this posting, a friend of Alan's - Olga from Russian - found out about Alan's passing by reading this page. She sent along a few photos of Alan (& Olga) from Paris in August 2007.
August 26, 2010
---
Alan Sturk was a riding friend of Alan Ingham. He contacted us in July 2013. Here's his message and some photos he sent in.
"By coincidence and via your club site I have learned of the death of Alan Ingham. I live in Wales UK and was a regular companion of Alan. We rode a couple of Fleche Velocios together and many UK Audax Uk events. We toured to a few events together. I have a few saved photos in which he appears. I am attaching some for you for your club archive files.
All the best
--
From Alan Sturk"