Rivers, Mines and Vines
(Interior 600 km Report)
by Bob Boonstra
The Southern Interior 600 route was ridden June 13/14, 2009. This route is a new but challenging one - planned to accommodate riders who live nearby as well as to provide some alternatives on interior routes. It has at least 4 substantial climbs through mountain passes. Barbara Boonstra helped with the route planning and execution. I am much appreciative for her help.
Temperatures on the route ranged from 8-10 Celsius in the early morning to afternoon highs of about 30 degrees in the Okanagan and Similkameen valleys. Thundershowers proved challenging for riders on parts of the course.
Eight participants left the Orchard Park Mall in Kelowna, at 06:00 to complete a short introductory climb through the orchards and back down to Mission Creek before heading out on Hwy 33 for the big first climb on the way to Rock Creek.
Riders were challenged on the windy descent from Anarchist summit to Osoyoos and often by headwinds as they traveled along various parts of the route. A short but steep climb on Twin Lakes road didn't escape the attention of any rider. Night temperatures became quite cold with meltwaters filling the Similkameen river as well as clear overnight conditions.
The pothole on Twin Lakes road had been filled - but as Ken Bonner reported - "there were others…" This section of the route was rough but scenic.
All participants were required to obtain selected information from a sign at a self-control on the route in order to prove passage. They proved cognizant enough at 470 km to accomplish this task.
I was taken with the determination, and dedication that all riders demonstrated. Ryan Kurtz has now learned intimately - the importance of arriving at the finish WITH a control card - as do the organizers value the information contained upon it. His remarkable story is one of grit, angst, and finally - success! He reported riding as fast as he could in the latter stages of this ride - to try for a good time - and to stay awake! He barely managed both and achieved some rather stellar velocities in two directions! I was truly impressed with the map, elevation profile, and light run times all displayed between the brake hoods of his bicycle as a measure of his preparation.
Doug Fox and Peter Mair teamed up to ride together and looked like they had a good time. Doug duly reported on the course being very challenging. That's good! Unfortunately, Peter's truck had been broken into during the event and was later towed for service to the ignition and locks. Both Peter and Ryan lost personal effects - a most regrettable occurrence.
Doug Latornell and Susan Allen rode at a steady pace to ensure their arrival at the finish - given the hot conditions. Their presence on the course was much appreciated by Trevor Taylor who overlapped with them during his first completion of the series. Trevor completed in good time - arriving with his canvas bag with cotton drawstring closure securely attached to his vintage machine. Well done. Ken Bonner and Bob Goodison posted their usual speedy times and arrived as planned.They were found to be in much better shape than Ryan at the finish control.

Thanks to all of you. I had a good time supporting your great efforts.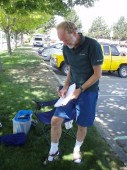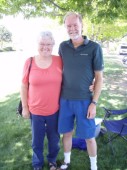 Bob & Barb Boonstra at the finish
Photo: Ken Bonner
---
Ride date: June 13, 2009
Go to: Event Results
June 16, 2009