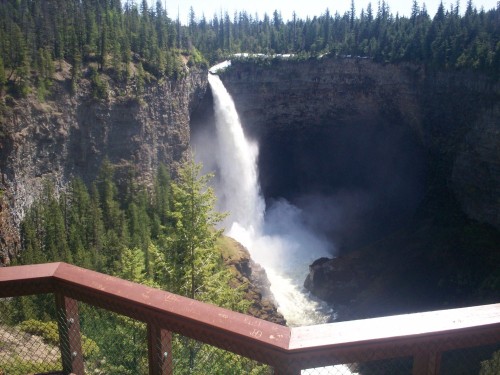 Bob's new 400 route is called "Highway to Helmcken"
It has just been awarded the "Rando Route Title of the Year" Award.
This is Helmcken Falls
(click)
Tale of Two Rides
by Bob Goodison
Let's compare two rides that took place in the interior on the same weekend, one day and approximately 120 km apart. The first was the BC Randonneurs Interior 400. Distance-400 km. Start time -5:00 am. Entry fee-$15. Cost per km-3.75 cents. No rider entry limit, although if we had had more than 15 we would not have had enough control cards. Nine riders total. The other ride was the Okanagan Shuswap century ride in Armstrong. Distance- 100 km. Start time 9:00 am. Entry fee $20.00. Cost per km-20 cents. Entry limit- 400. Number of riders-400. Number of idiots doing both rides-3.
Why is the other ride so popular? Maybe it is the late start time, or the feed stations every 30 or so km, or the draw prizes consisting of everything from water bottles up to a new road bike and a five day training camp in Spain. Maybe it is the opportunity to chug past a twenty-something rider on a sub- 20 pound carbon bike whining about leg cramps at the 65 km mark on your fully loaded rando bike the day after doing the 400.
The 400 route was a new one this year, something of an unknown quantity as I had never cycled, only driven the section from Clearwater to Helmcken Falls. People asked "How hilly is it?" "Looks ok from the minivan" I said. The ride started in warm weather, with a short out & back east on Hwy 1 to add a little distance before turning around to head up the North Thompson. One neat thing about out & back rides is the opportunity to see how other riders are doing. Peter Mair and I rode toward where Richard was manning the control at the turnaround, watching Ryan become a little red and white speck in the distance. Then we met Ian Fillinger coming back the other way, moving really quickly. After the control, we met Doug Fox and Peter Correy, then Erik Snucins and Mike Eder. Mike was doubtful that he would finish, with only 200 km total riding so far this year. But where was Trevor Taylor? We found him, ten km from the start, fixing the first flat of the day. We caught Ryan a short while after the turnaround, and expected him to increase our paceline to three, but when I pulled over to move to the back, he was nowhere to be seen. Not long after, he went rocketing past us. This happened a few more times, and I was reminded of the joke about the guy on a bicycle with his suspenders caught on the mirror of a passing car. Eventually he disappeared completely into the distance.
We were riding along discussing whether to stop for water in Little Fort for water when we came upon Ryan, using an inadequate pump to inflate his tire. We chatted for a bit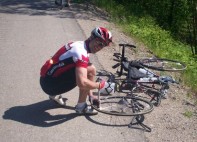 and continued on to Clearwater before stopping. It had been moderately windy all morning, but the direction kept changing- tailwind, headwind, crosswind, we had them all. We rolled into Clearwater with our average still well over 29 kmh. The Hub convenience store is just that- convenient. However, they tend to gouge on pricing- nearly double what you would pay at a 7/11. Since Clearwater's tap water tastes like iodine, we paid the price. Ryan rolled in and borrowed my pump to top up his tire.
Ryan left, but we dawdled a bit before starting up Clearwater Valley road. As I mentioned before, I had never cycled it. Damn, it was hilly. But there was very little traffic, everything was beautiful and green, and the pavement was in great condition, new in places. There were a few flat sections and a couple of descents to rest on. We passed a bunch of people with their cars stopped pointing cameras at a meadow. Peter said there were two bears in the tall grass, but I couldn't see them. Shortly after that we saw Bud Macrae and Sandy Caswell taking pictures. It was getting hot, and as we continued to climb, I began to fantasize that they would drive on ahead and meet all the riders at the falls with some nice fresh melon and orange slices. There was no reason to expect this, but it was a fun fantasy anyway. We passed the golf course and started up the final steep climb. The pavement got pretty lumpy near the top, especially the final four km on Helmcken Falls road, but no big holes to cause flats. About eight km from the falls we met Ian coming down, then Ryan about four km later. Funny, they should have been further ahead. I had pulled several minutes ahead of Peter on the climb, so I had a sandwich and went to look at the falls. What? THE SIGN IS GONE!!! This was to be an information control, the answer to be found by reading this sign, an enormous four foot by eight foot Plexiglas covered sign, firmly bolted to concrete anchors when we drove the route in April. Now only the anchors remained. I knew that Ryan and Ian had been to the control, and guessed that they had wasted a lot of time looking for an answer that was not there. (Somehow Ian had the right answer on his control card, where he found the answer is a mystery.) I decided the best thing to do was to stop the remaining riders as we met them on the way up and tell them the answer, and make them promise to go right to the falls. Their times reflect that they did this.
We began the descent. The first big downhill was not as much fun as expected due to frost heaves. I kept the speed down to about 50kmh. Ryan later told me he had topped out at 87.5, and had gotten airborne off some of them. Once past the golf course the road smoothed out and I let it creep up to 65. I stopped Doug and Peter on the flat stretch by the invisible bears, then Erik as I was descending and he climbing. He looked pretty tired and was low on water. With Trevor, I was not so lucky. I was climbing; he was descending fast so I had to backtrack down the hill to talk to him. Trevor still looked and sounded pretty fresh. We never met Mike, so assumed he had dnf'ed at Little Fort or Clearwater. Peter claimed to have seen another larger bear just below the road, and a tall, but very skinny looking bear crossed just in front of us. It stopped to look at us, then ran into the bush when I said "Hi bear" as we sped past. I was fading badly on the few climbs on the return to Clearwater. It wasn't until Peter pointed it out that I realized I had not been drinking enough.
After refilling bottles and having a Coke and some ice cream at Clearwater, we started back to Kamloops. There was a lot of debris the road shoulders here. Not much later Peter hit a rock and flatted the front tire. This was when he discovered his son had borrowed his tire levers and not put them back. He changed it with mine, and then we used my pump to inflate it. If you are lonely on rides, get yourself a Planet Bike Road Morph pump (the one with the gauge). You will be popular. Five km later, it was my rear tire that was flat. On the plus side, we had a strong tailwind, almost unheard of riding the valley in this direction. The tailwind lasted all the way to Kamloops, except for about two km of headwind before we crossed the river.
We finished in a good time and went for a well deserved burger at the Gateway restaurant. Ryan was not so lucky. He rode maybe just a little too hard on the return leg, and got sick. After stopping to throw up about 5 km from the finish, he got back on only to flat again. Feeling too awful to fix it, he rode in on the flat.
After a too short sleep, Ryan, Doug and I, tackled the century ride. Ryan had rebounded enough to tow his train - mountain bike with add-on tandem plus a trailer with two daughters - as far as the first feed station, where he elected to call it a day because the girls were tired. I rode with my son Jake who was doing his first 100 km, and Doug rode it looking like he hadn't done 400 the day before. Peter, the smartest of us, was out watching people struggle up the big hill. What a great weekend.
---
Ride date: May 30, 2009
Go to: Event Results
Go to: Event Photos
June 1, 2009