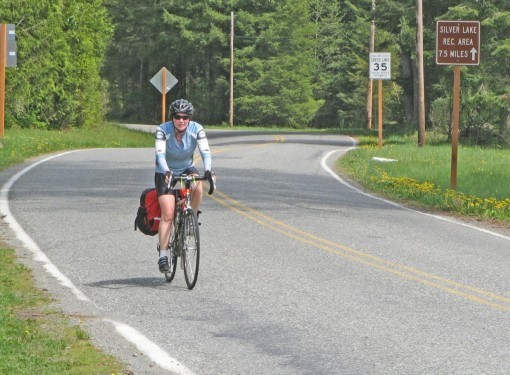 Teresa McKernan on Silver Lake Road (Click)
Photos: James Mikado
LOST, SMILING AND CONFUSED
(A trek without good maps)
by James Mikado
Cycling a scenic route from Burnaby to Maple Falls and back to Mission and Burnaby in pleasant company with the threat of rain in the afternoon was what I was expecting on the morning of Sunday, May 10. Rode over to Burnaby Lake with Teresa and started up in fog, which was cool but burned off quickly on the way to the Patullo Bridge. The sun was shining brightly enough for us to have dark sunglasses to ride through Surrey to the U.S. border. Crossing the border and seeing cows getting ready to calve and a friendly old Labrador crawling under a fence to check us out were enjoyable things to see on the road. We came upon Bishop Road which was gravel and went South and West contrary to the cue sheet, which made us doubt the turn and stop, backtrack and ask a local farmer who told us to go back to Bishop Road. We continued on the gravel Bishop Road which dead ended at a stop sign and came upon a Bishop Road sign with pavement.
We continued climbing Reese Hill Road with sunshine surrounded by Washington foothills and farmland. Relying on the cue sheet, without a better map we wanted to turn right down Kendall Road on the top of the hill which was unmarked. The kilometer mark was about right for the cue sheet but as we rode a few undulating hills we were gaping about, even stopping at a farm looking for direction to tell which road we were travelling on. It wasn't until the junction of South Pass Road and Frost we realized we were on Frost Road and we backtracked again to Reese Hill Road and rode on to what we thought was Kendall. Some local cyclists assured us that we were indeed on Kendall Road this time. A smooth, fast straightaway down Kendall to Mount Baker Highway and a lunch stop on some chairs out of the sun at the Maple Falls Grocery.
A scenic ride along roads free of traffic to end with a rush of downhills to the border with views of our mountains. Tempted not to squeeze the brakes at all, but you do use them and stay under control. Glorious conditions, sunshine, but not hot and no wind either. Crossed the border and continued up W Railway Street looking for Hazel Street to turn left, but W Railway ended without Hazel Street appearing. Rode in circles looking for Hazel Street and finally got some directions from a bus map a helpful girl waiting at a bus stop showed us to get back on route to Gladwin.
Teresa looked over to the water far below the Mission Bridge and compared the height of the Mission Bridge to the height that the Acupulco cliff divers dive off. We got to the last control in Mission before the end at the very temporary Tim Horton's trailer. A steady cycle on Lougheed Highway with its ups and downs to look at the views of the water past Stave Lake to finish at the Burnaby Lake Clubhouse with all our meandering while lost during the pleasant day. It just started to sprinkle at the finish and we resolved that for the next permanent to get good maps of the cycling areas. Better to be smiling, but not lost and confused during a ride.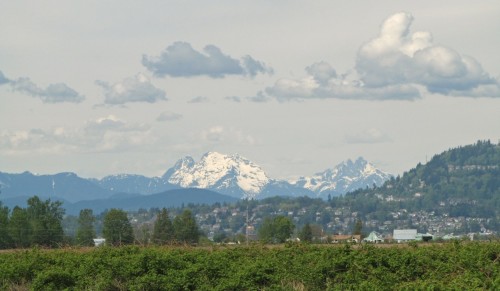 ---
Ride date: May 10, 2009
Go to: Route 28 (201 km)
Go to: Permanents results
May 13, 2009