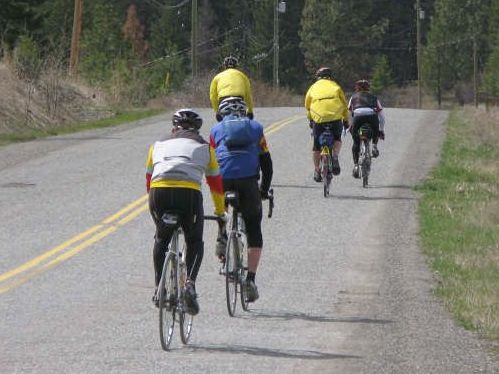 Photo: Barb & Bob Boonstra
Interior 200
(April 25)
by Bob Goodison
As we stood around waiting for the start of the Kamloops 200 km, we could tell that it would be cold and windy, because everybody was wearing warm clothes and saying things like "Boy, it sure is cold and windy". However, at least it was blowing in the right direction, so at 7:00, 23 riders headed East on Highway 1 towards Salmon Arm. I started out leading a large group for the first twenty or so km. I had no idea who was in the group for quite a while, but eventually we wound up with me, Peter Mair, Ryan Kurz, Doug Fox, and first time randonneur Tim Peacock from Rossland. I had thought Randy Benz would be with us, but he was nowhere to be seen. Although I knew we should wait for him the tailwind was too good to waste, so we continued, hoping he would catch up soon. At around Pritchard, Ian Fillinger and five other racer-types went by so fast we thought we must have stopped. Had they not turned around near Sorrento to look for two of their number who had disappeared off the back (flat tire), they would have been at the Salmon Arm control well before it opened. We pulled into the control at 10:05, only 21 minutes after it opened, with the average speed on my computer showing 32.8 kmh.
We left the Salmon Arm control without Doug, who was doing a major wardrobe change. What at first seemed to be a slight headwind, as we headed down the Salmon Valley, was in reality, a lesser tailwind, so we continued to make good time. The weather in that direction was looking decidedly stormy, but we were lucky. Only a few drops of rain, then after the turn onto Highway 97, a little hail or wet snow- we couldn't tell. Doug caught back up with us at that point, and we hit the headwind we had been anticipating/dreading. The first hundred had taken a hair over three hours. The next hundred and ten took us almost five. We took turns pulling into the wind, took turns bonking, and kept shoveling in the calories. We were getting very poor fuel economy. A strange thing though- while a solo ride in those conditions is exhausting and depressing, a shared headwind is sort of fun. At least we had someone to complain to. I hoped that Randy had found someone to ride with and felt a little guilty that we hadn't waited for him. After re-fueling at the Falkland control, we continued into the wind.
Just before the Barnhartvale turnoff we saw Bob Boonstra with his camera pointed at us- the first of many times as he leapfrogged ahead in his car to take more and more pictures. This was a great motivator. We couldn't be seen in the pictures looking as tired as we all felt. We eagerly looked forward to the descents on Barnhartvale. But no. A hill that was is normally a 55 kmh descent was now a 35 kmh middle ring slog. We did have some slightly scary fun here though- we stampeded a herd of half-grown cattle. They ran along beside us, a few of them trying to cross in front of us. Great, I thought. If we don't get taken out by hitting one of them, we'll slip in the cow plops and crash. We survived, and enjoyed the last fast downhill to the finish. Randy finished about 20 minutes later, having done the whole ride solo. Tough guy. Doug, Randy, Peter, Ryan and I, along with my wife Susan, and Peter's friend Murray retreated to the nearest pub for a well deserved burger and brew. Unfortunate DNFs were Paul Berry (lost control card), and Keith Fletcher and Harold Bridge who ran out of time, victims of the headwind from hell.
---
Go to: Ride Results
Go to: Ride Photos
April 27, 2009