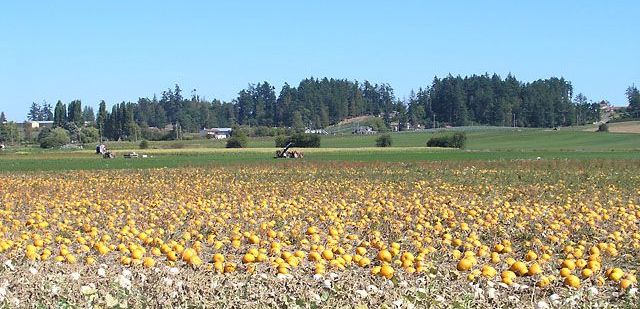 Ray sent this report to the discussion list. I hope he doesn't mind if I also put in the newsletter. [Eric F]
Fall Islander 200
by Raymond Parker
I'd like to thank everyone -- especially organizers and volunteers -- who made this year's "Fall Islander" the most successful yet.
As if to make up for previous years' soggy parades, the weather gods smiled and riders were treated to almost perfect weather. Who could complain about a little heat and headwinds? Not this rando nerd!
I managed to flatten the route a little more this year, leaving just under 1100 metres (3600 ft) of upness over the 200km course. Compared to 2,000 metres on the first "IsleLander" (which has now become the summer "Tour of Greater Victoria" route), this surely deserves the "Happy Trails" 200 title. And, aside from a couple of spills on the steep descents/ascents, out toward Sooke (we warned you!), it was a happy affair, out among the pumpkins, the dusty green arbours and blue
Pacific shores.
If you missed it, there is only one remedy. Pencil it in on your 2009 calendar now.
---
Top Photo: Ray Parker
September 17, 2008