Gold Rush Trail 1000
by Eric Fergusson
The Riders: Nigel Press was back to do his second 1000 after last year's remarkable 47 hour effort. This was Sorrento speedster Ryan Kurz's first ultra-distance event - he needed it to qualify for the Rocky Mt 1200. Michel Richard was doing this as an experiment to see if it was possible to complete an ultra with no training. And me... out for my annual 1000 km self-flagellation ritual.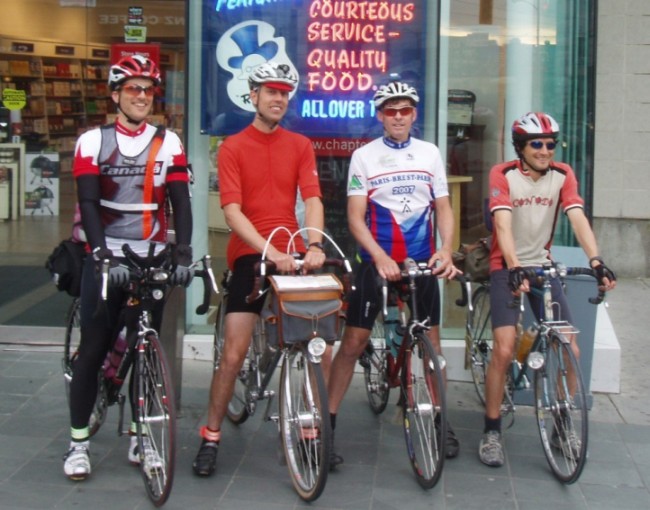 Ryan - Nigel - Eric - Michel
The Route: The Gold Rush Trail route was Michel's idea, proposed and mapped-out eight days before the start, replacing the scheduled Flatlander 1000. The route loosely follows the path to the Cariboo gold rush, and is a nod to the BC's sesquicentennial.
Start: Broadway & Granville, 07:00, June 21, 2008
Vancouver - Hope - Yale - Lytton - Lillooet - Clinton - 100 Mile House & return.
The Ride: Despite intermittent head winds and light showers all four riders made good time to Lytton (260 km), and were rewarded with tailwinds through the hilly, roughly surfaced Highway 12 to Lillooet (324 km). It was very weird to be on a ride where Michel was the slowest rider - well, he was supposed to be the slow anyway. With a combination of efficient controlling and steady riding Michel was keeping up, and we found ourselves all together on a patio in Lillooet in the early evening dining on pizza, veggie subs and smoothies. Also weird... all four riders turned out to be vegetarians.
Michel was first off to face the night (a short night - June 21) from Lillooet to 100 Mile. Ryan and Nigel rode away from me when the road tilted up after Lillooet. They seemed to be riding more or less together but there was no plan for any of us to ride together. By chance we found ourselves, regrouped at Clinton (~430km). The Clinton to 100 Mile stretch was a good one to do at night. The shoulder is a disaster, and so the low traffic levels meant we could steal a little good road space. Nigel and, surprisingly, Michel were driving this train towards our first dawn, while Ryan showed excellent manners by riding a few wheel lengths off the back because of worries about weaving into other riders.
We arrived at 100 Mile (506 km) around 6:30. A very sympathetic waitress at Smity's didn't seem to mind our clothes scattered all over her floor, our 23½ hours-of-cycling fragrances, our persistent demands for more jugs of water and the fact that we kept slipping in and out consciousness. Now back to Vancouver...
The new day seemed to help wake everyone up. Nigel blew up the hill out of 100 Mile and that was the last I saw of him. Ryan was up to speed again also, and was soon a dot on the horizon. My left knee had been niggling through the night, and somewhere after Clinton it blew. My ride was more or less over. "Less over" because of the usual problem: how do you abandon in the middle of nowhere? So I Ibuprofened the 400 km back to Vancouver.
The ride became rough for Michel also around the 600 km mark. He's a great climber... but not on this day. Finally his lack of conditioning caught up to him on the relatively gentle climb from Hat Creek up to Pavilion Lake. The descent from Pavilion is particularly nasty - it's one of the most poorly maintained, sloppily patched roads you're likely to find anywhere. How do you find a good line through a section of pavement that has no good line option? Sometimes you just have to grip your handlebars hard and take the jolts.
Michel and I rode together a little bit, but mainly separately through to Lillooet and over the agonizing 62 km stretch of Highway 12 to Lytton, and then we spent 9 hours off the bike at the Lytton Hotel trying to reboot. On that Highway 12 stretch (my vote for the worst cycling road in BC, by the way - yes even worse than that Pavilion to Lillooet section), I was surprised to be passed by Ryan. I thought he was way up the road. He had fallen asleep in a restaurant in Lillooet. Apparently a (another) waitress took pity. She went to her car to retrieve a pillow so Ryan could sleep more comfortably. Ryan was having Achilles problems, and said, as he climbed away from me, that he was babying it. Further up the same road he was DBB (delayed by bear), TWICE. They weren't around for either me or Michel.
The wind (headwind) was howling through the canyon when Michel and I turned in at Lytton. Somewhere out there Ryan and Nigel were fighting this monster, and maybe facing down hallucinations of crazed prospectors.
The next day Michel and I rolled home over the comparatively easy Canyon and Fraser Valley roads to Broadway and Granville where Karen and Siân, armed with cowbells, were waiting to cheer us in. 62 hours, 52 minutes. Michel had the usual aches and pains but rode strongly through to the finish. With some hesitation I have to report that the results of his experiment suggest that you don't have to train to ride a 1000 km brevet... well, if you happen to be Michel. As for me, I spent the entire last day junked up on generic Ibuprofen. The stuff really works, but my knee is shot, and my hopes of riding Rocky 12 in July have evaporated. Darn.
Over 10 hours earlier Nigel and Ryan had arrived. Neither of them had seemed to be in that much of a hurry out on the course, but they had impressive times - Nigel's 50:36 and Ryan's 51:07 are two of the fastest Mainland BC 1000 km times ever, and on a very challenging route.
---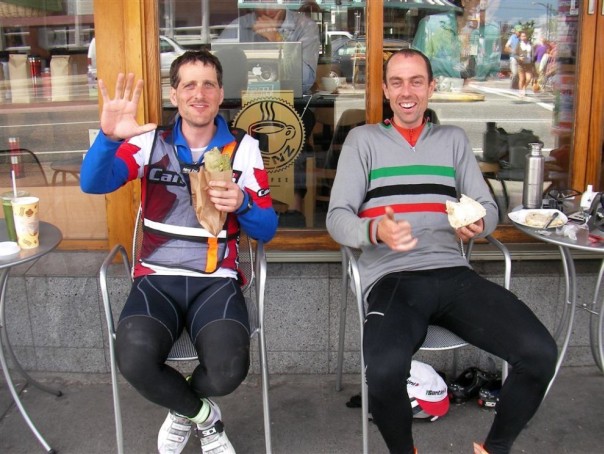 Ryan & Nigel at the finish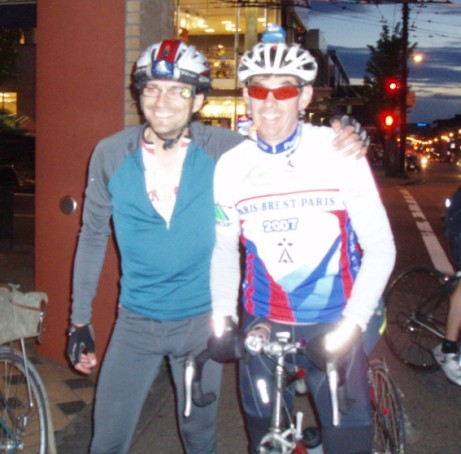 ...Michel & Eric came in by night fall
---
June 27, 2008