Eagles, Bears and Intrigue
Vancouver Island 600 km - May 31
by Raymond Parker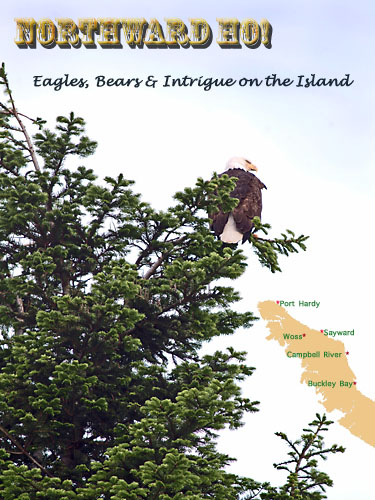 Having seen eight cyclists off at 6AM, on the 70 kilometre southward leg of the newly-created "Northward Ho!" 600 km brevet, Amanda Jones and I scurried back to the motel for breakfast.
At 7:30, we headed down the Inland Island Highway (19). The sun was shining and I was looking forward to getting some photos of the group, heading south to Buckley Bay.
I had conceived of this route as a chance for riders to see the hilly wonders of the North Island, without necessarily riding the Vancouver Island 1000. Moving the Spring 600 to the end of May was no guarantee of balmy weather up here, but so far the weather gods were smiling.
To our surprise, we had only to drive 13 kilometres before we passed Mikael Jansson and Mark Ford, riding along, side by side, chatting idly in the sunshine. Wow! I thought, these guys sure are taking it easy -- concerned especially for Mark, who has returned with determination, after last year's disastrous Monroe 600 DNF, which cost him the coveted Super Randonneur medal.
I learn later that tyre longevity tester Mikael, had merely been doing some roadside research and, once completed, they continued calmly on their quest.
Meanwhile, the other six took advantage of the generous tailwind to tear down the wide (albeit detritus-strewn) shoulder of Highway 19. Soon, however, we came upon Ken Bonner, doing his own roadside experiment. Look for his upcoming article titled "The Permeability of New Vectran Impregnated Polymers: An Expense/Time-Ratio Comparison," in the next issue of Vulcanization Quarterly. This will be paired with the results of Mikael's research, "Extending the Life of Carbon Compounds: A Study in Latex Frugality.
Amanda and I then scooted north, up 19A, along the sunny shores of Baynes Sound, to Headquarters Road, bordered by a bucolic stretch of farmland, at the foot of Mount Washington. Here, we set up a secret control and saw all the riders through before 11AM, during which time a bear strolled across the road a few metres away. This would be the first of more than 20 bruin sightings; from the cuddly cubs that sat on their haunches at the sound of Nigel's brass bell, to some hefty adults, munching roadside herbs.
Back at the Campbell River Mohawk Station -- site of Control #2 (140 km) -- Nigel Press signed through shortly before 11AM, followed minutes later by Raymond Wagner, whose plan it was to "finish in 24 hours."
There is something compelling about following a randonnée by motor car. One becomes a spectator, riveted by the "story" of each solitary rider, or "cooperating unit." It is almost as addictive as an episode of BBC's Coronation Street soap opera.
Amanda and I had planned to take a drive up to Sayward -- the 3rd control, (kilometre 204) -- then, down into Kelsey Bay. We grabbed some lunch, had a chat with Mark and Mikael, who had repaired to their van for some ... repairs, then headed Northward Ho!
We soon came upon Team Patterson/Scott-Ashe, bent over their machines in triathlete tuck. Fifteen minutes (riding time) north, Jeff Mudrakoff tackled the first series of considerable elevation variations. An hour up the road, we saw Nigel, identified by his signature upright riding position and the blinding reflection of his bike, lighting up the horizon. He caught Ray and they rode together briefly, before Nigel put on an astounding hill-climbing display and receded into the distance. He kept up this kind of pace right into Port Hardy (kilometre 374), arriving at 8:55PM.
But Bonner, back from rubbery interregnum, signed through at the same time. Anyone who knows Ken, has witnessed his lightning-fast passage through checkpoints. He was on the road before Nigel had time to eat the bunch of bananas from his cavernous Gilles Berthoud handlebar bag.
Back down the highway, mortals were dodging Zeus's own fireworks display -- punctuated by peals of thunder and sheets of rain. Ray reached the "far end" at 9:25PM; Jeff pulled in just before 11PM, followed by Keith Patterson and Julie Scott-Ashe, thirty minutes later. Mark and Mikael, having arranged a truce with the weather gods, arrived just before 2AM, Sunday morning.
While the sane slept, Bonner and Press pressed on, through the frigid night air. Nigel resorted to a space-blanket, under his vest. Ken maintained a half-hour gap, up until Sayward, sixty kilometres from home. Here, Nigel bought something called "yellow cake." Further intelligence -- found in a suitcase in Sicily -- has raised some alarming questions. If you study Nigel's bike, what appear to be water bottles are actually stainless steel centrifuges, used, it is claimed, to concentrate the aforementioned "cake" mix with banana puree. This, in turn, is used to ignite chrome-plated nuclear rockets, buried in the basement of his Berthoud bag. Nigel had his card signed at the Campbell River Mohawk, four minutes behind Ken, at 7:14AM, Sunday morning.
Shortly before, over at the Campbell River Lodge, the nail-biting climax of Ashley & Claire's Coronation Street crisis was interrupted by a phone call from Ray Wagner. He'd crashed (as in: slept) in Port Hardy. His goal now was to finish nearer 4PM.
This Ray's goal was to cruise up to Roberts Lake, just 30 kilometres north, towards Sayward Junction. I left Nigel, perhaps dreaming of teddy bears, set my computer to "Average Speed" and "time-trialed" up the hill out of town. The weather had indeed cooled, so I had to work hard to warm up. Continuing past the little lakeside store by 7.5 k -- descending steeply in the process -- assured an even 75K, by the time I regained Campbell River (and, to give the reader an idea of the terrain, I would climb 670 metres on this little jaunt!). Back at the store, I met Lorna Duncan, whose late, pioneer father Glen I'd interviewed some 16 years ago, during my "Three Borders" tour through Alaska,Yukon and Northern B.C.
On the way up, I waved to Jeff, who was rolling downhill -- no doubt a blessed respite -- as he neared the end of the quad-busting route devised by this dilettante, out for a Sunday jaunt. Jeff finished just before 12:30PM. I arrived back in time to greet Keith and Julie who put in a superb time of 33:15, made all the more impressive considering this was Julie's first 600. She was soon snoozing on the riverbank, after devouring a nourishing meal.
Ray arrived at 5:16, followed by Team M&M, at 6:47. They are no longer ordinary randonneurs; they are Super Randonneurs! Congratulations to all, both rookie and veteran, who completed an exceedingly challenging route in grande style.
---
June 4, 2008