Mountains & Deserts
& Passes & Headwinds
by Eric Fergusson
Here's a synopsis of the 2007 Lower Mainland June 1000. It was a modified version of Wayne Harrington's Mountains & Deserts 1000 km route from 2003. Nine riders, two start times:
Gary Baker (6 am start)
Manfred Kuchenmuller
Jeff Mudrakoff
Ross Nichol
Sigi Palme
Keith Patterson
Nigel Press
Eric Fergusson (8 am start)
Alex Pope
Right off the start Gary crashed. He carried on to the Huntington/Sumas border crossing (75 km) before calling it a day.
The 8 am start was less eventful, but... I couldn't believe my eyes a few km into the ride - John, Danelle, and Sharon were at the top of the Sperling hill cheering enthusiastically. They had been there for the 6 am starters also.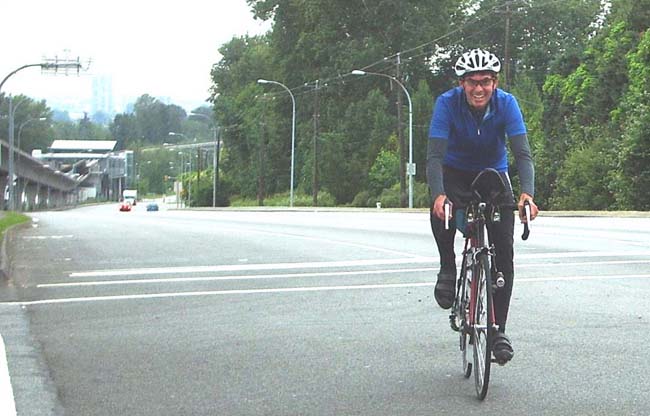 Still smiling. Me at 4 km. (Photo John Bates)
It wasn't looking good for Sigi when I saw him at the side of the road just past Sedro (145 km). He had had a couple of flats, and was now looking at two broken spokes - both rear wheel, drive side. Still no word from Sigi. I'm assuming alive but DNF. [This just in... Sigi managed to have a repair done in Burlington, but had already lost a lot of time. He continued through severe conditions to Skykomish, where he abandoned.]
I arrived in Skykomish (284km), the last town before the climb to Stevens Pass, cold and soaked after riding the last 10km in heavy rain. There had been a bit of rain earlier in the day, but this was different. In the Chevron a west bound motorist asked about the cyclists he had seen on the road to the pass. "Pretty rough conditions up top" he observed.
Those crazy maniacs, I thought. It was now past 9:30 and I wasn't sure it would have been smart for me to do this at night. Alex had arrived earlier and was thinking the same thing. We found a motel room to wait out the storm, or at least the darkness. We later wondered if 6 am would have been the wiser start time. Back on the road at 4 am., we were still facing rain, more like drizzle, but lightening skys. The descent was, of course, icy cold, but probably better for me and Alex than for last night's crew. Later I learned from Nigel that heavy rain hit him on this descent, and it was no doubt just as bad for the four other 6 am starters. (Their plan was to meet up with Keith's wife Julie and drop bags in Leavenworth (366 km)).
Alex was clearly not up his usual strength - probably a lingering virus - and after the descent, he called it a day. Nevertheless he pressed on an additional ~125 km to Chelan (453 km) before rendezvousing with Barb and kids.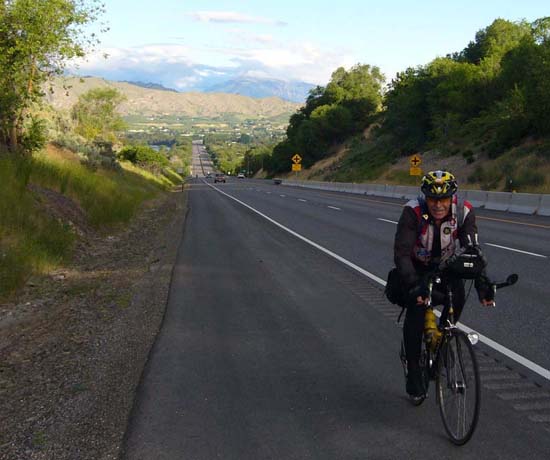 Manfred - near Wenatchee ~ 395 km (Photo: Jeff Mudrakoff)
The 6.5 hours off the road in Skykomish would mean that I would spend the rest of the ride playing chicken with the time limit. I made it to Chelan before the cut off, but then hit worsening head winds and then terrible loose surface chipseal roads after Pateros/Brewster. Mercifully the winds weakened before sundown, but I was still dancing with the time limit and couldn't risk sleeping in Osoyoos. No choice - I pressed on through the night to Princeton.
This turned out to be the toughest stretch. After Richter (682 m) I faced severe head winds. By Keremeos there were gusts so strong I was barely moving at all. I learned later that the conditions through here were just as bad for everyone else. The wind, she is a fickle creature... the week before on the Kamloops/Okanagan 600 we were going the opposite direction, and also facing headwinds (though not like these).
I arrived at Princeton at 6 am, finally comfortably ahead of the time limit, but slept long enough there to ensure that I would again be chasing the time limit to Hope.
I learned later that Gary was back on the route, now in his car, and watching out for the remaining 6 riders. He found Manfred on the road to Keremeos (Manfred slept in Osoyoos), but was a little concerned when he didn't find me - we must have missed each other when I was recharging in Princeton.
After the usual battle with elevation and head winds through Manning, I arrived in Hope... once in Hope, you're home free. It was a beautiful starry night, with crescent moon, and no wind - an easy ride home to the Knight & Day. When I arrived, Jeff was just leaving (he had stayed for a meal). He got me caught up on the others. Keith, Ross, Manfred and Jeff had all come in together, and not too much earlier. It made me wish I hadn't spent so much time eating in Hope and Mission. We might have all come in together. Except Nigel...
I got a call from Nigel the next morning. He had ridden straight through. Despite the same killer head winds in Keremeos and elsewhere he finished in 47:01, over 20 hours before the rest of us.
June 20, 2007