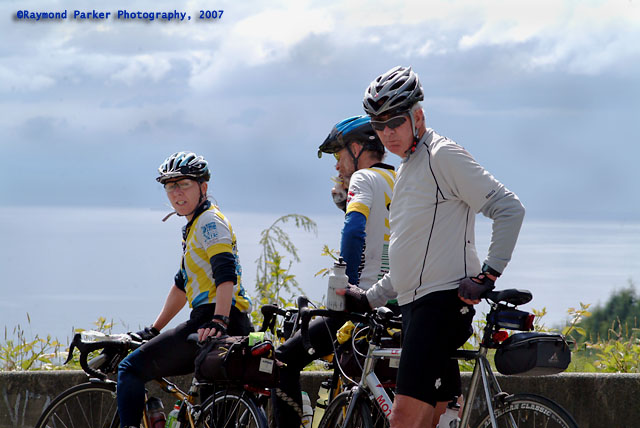 Entering the Zone: Tsunami III
by Raymond Parker
The route known as "Tsunami" was my first go at mapping, as nascent Vancouver Island route coordinator. Stephen Hinde encouraged me to create a 300 kilometre brevet that snaked up to Port Renfrew, north of Victoria, I think, as a kind of "parting gift" as he contemplated retirement from the position. At any rate, I eagerly anticipated filling the cleats of the man renowned as the author of some of the most "challenging" brevets on BC Randonneurs' calendar. Then it dawned on me that I would be expected to pre-ride the resulting creation!
So it was that my first 300 was the hardest on the Coast - harder even than Stephen's (3400m) traditional spring gut-buster, recently dubbed "The Hills Are Alive." That experience - shared with Jaye Haworth and Mike Poplawski - remains one of the most memorable among a lifetime of bicycle-borne adventures. What I can remember of it.
First-timers this year included the intrepid Mark Ford and the enthusiastic Chad Gottfried. Both excelled on the West Coast rollers. Tsunami survivors returning this year included Bob Frankham and Jim Fidler. Jim, at 14:50, wasn't far off his previous time, in spite of last week's 1000 kilometres echoing in his legs. Bob's ride unfortunately did not unfold as fortuitously as in 2005. We hope to see you back next year, Bob!
Tandem team extraordinaire Patrick Wright and Jenny Watson proved, as Jenny put it, that the Tsunami is "tandem friendly." The field was rounded out by veteran randonneurs Deirdre Arscott, Bob LePage and Ken Bonner.
Another first on the route this year is the recently rebuilt Port Renfrew Hotel - replacing the original, lost to fire in 2003, and the café up the road, which hosted our checkpoint in 2005-6. This venue really fits the bill as the outermost control, situated as it is right at the end of Parkinson Road, at the water's edge, overlooking Port San Juan.
Deirdre scolded the organizer for keeping the "mountain pass" back out of Port Renfrew a secret. But, fortified with hearty chowder and bread, powered up the six kilometre climb in the time it took me to snap a few scenic photos.
Ken, arriving in Port Renfrew shortly after Chad, eschewed the fine dining, wolfed a peanut-butter sandwich from his seat-bag and jumped back in the saddle, commenting: "the sooner I get back, the sooner I get to bed. I'm riding a 100-miler tomorrow."
The West Coast Highway, which claimed several ounces of David Lach's knee epidermis in year one, though somewhat improved last year, was back up to its usual standard, with plenty of its asphalt "skin" missing, on the last kilometres into Port Renfrew. This proved especially bone- and nerve-wracking for riders in the vicinity of the infamous 21 percent switchbacks. Signs threaten repair work but there is little sign of progress. Perhaps when the Sea to Sky Highway to the 2010 Olympic site is finished (assuming there's money left) some of B.C.'s other roads will be rescued.
Weather was a mixed bag, but fine overall. Read: no headwind.
Ken Bonner, who set a new bar at 12 hours 48 minutes, concurred with measurements made in 2005. This year's version - with slight modifications around road work in Victoria - added up to 3,947 metres of altitude gain.
Catch the wave in 2008!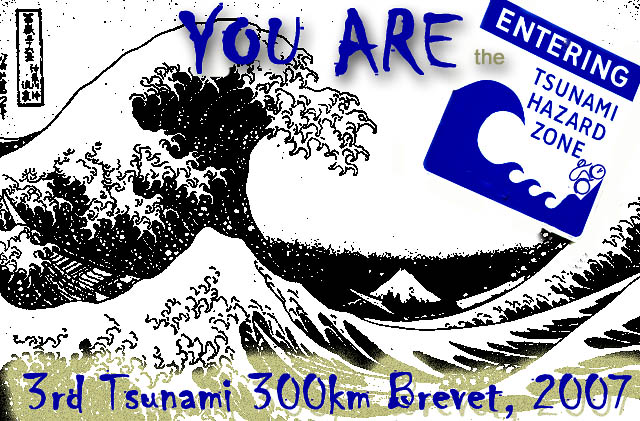 June 24, 2007