Info Page for the 2007 Tour of Cowichan Valley - 200 km, April 7
from ride organizers Susan Allen & Doug Latornell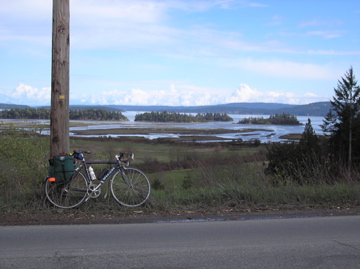 View from the route
The BC Randonneurs brevet season is about to begin with the Tour of the Cowichan Valley 200 on April 7. This ride is an old favorite combining rolling hills with lovely views. We will be starting and finishing at the Dancing Bean Café on Willow St in Chemainus. The café is opening at 6 am for breakfast especially for us. Each of the three controls will be peopled by BC Randos to sign cards, give out water and encouragement.
There are two important changes for this year:
1. The main highway up to Cowichan Lake is a mess so we will be avoiding it. Check your route sheet! We are going to Gordon Bay Provincial Park rather than Youbou for the third control.
2. Besides being the classic 200 km opener, this ride is also the start of the Eau d'Hell week and so we will have more riders from near and far!
Eighty riders rode the Victoria Populaire on March 25th. We are looking forward to seeing many new Randonneurs at this ride as well as all our old friends!
Doug and Susan
---
More information about the Chemainus 200: The Route (along with E d'H week 300, 400 & 600km)
(or e mail Doug & Susan )
More information on: Eau d'Hell week
(or e mail Ken Bonner )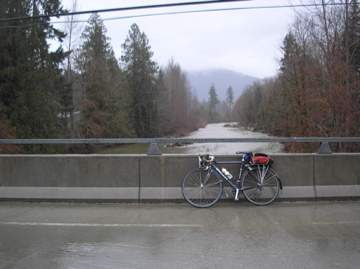 Photos: Susan Allen

March 29, 2007