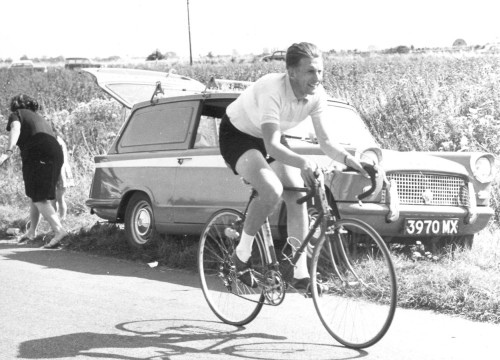 Harold Bridge - North Road - 1964
(click it)
Another selection from the Harold Bridge memoir...
Tales from North Road
by Harold Bridge
I quit racing in April, 1964 as I was tied up with preparation for emigration to Canada, even though we were not leaving home until October.
August Bank Holiday, first weekend of the month was the time when the classic Bath Road "100" (mile time trial) took place on roads west of London.
Wife & I chose to spend the weekend down there, partly to bid farewell to a number of the cycling fraternity.
The good weather and the ambiance of the occasion generated one of those "Mad Bridge" decisions I had become known for. I announced I would ride, once more, the the other classic, the North Road "24" (hour time trial) "for old times sake!". It was also, that year, the 24 hour National Championship.
Living north of London but working in west London gave me a 34 mile commute over some of north London's hills & I didn't go straight home, so was doing about 400 miles a week for 3 weeks.
My 24 aim was always 400 miles or more. But this time I doubted I would reach that.
I was lucky in that the weather was good & I had no trouble, apart from a softening tyre in the last hour or so.
The route was mainly through the fens with long straight flat stretches.
Soon after dawn on Sunday morning as I rode through Chatteris, I saw a poster advertising a Beatles film & I burst out laughing; it was "A Hard Day's Night"!
When I got to the sit down feed at Cambridge, Mal Rees was there & writing the report for the magazine "Cycling"
I told all & sundry my funny about the poster. I finished with 370 miles, about 100 miles down on the winner.
"Cycling's" report the following Thursday was headed; "A Hard Day's Night"!
December 9, 2009