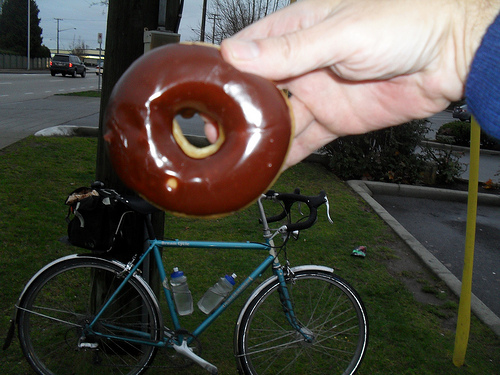 Donuts and Culture
by Kevin Bruce
Tim Horton was born in Cochrane, Ontario in 1930, played his first NHL game in 1950 and still holds the record for most consecutive games in a Toronto Maple Leafs' uniform at 486. It may be hard to believe, especially for hockey fans under the age of forty, but the Leafs actually used to win Stanley Cups, and Tim Horton was on four of those championship teams. He opened the first Tim Horton's donut shop in Hamilton, Ontario in 1964.
At six o'clock in the morning on Sunday November 23, 2009 Ryan Golbeck and I met up at the Tim Horton's restaurant on Commercial Drive for a 200 km permanent brevet; a ride we'd decided to do for no other reason than the dubious goal of completing the requirements for the year-round award. According to the local weather forecasts for the areas through which we'd be riding, the rain would end about 9 am in Vancouver, noon in Abbotsford, and mid-afternoon in Chilliwack. These predictions held true and we thus managed to ride with the rain as it receded inland.
We headed out of Vancouver along rain-slicked streets with flattened patches of wet leaves as the sky slowly turned from pitch black to a dark, dull grey. With little ambient noise other than the constant swish of rain water spray from our tires, we quietly slipped through the streets of Burnaby and New Westminster, then crossed the Patullo Bridge to Surrey. The official website of the City of Surrey says, "As the 12th largest city in Canada and the second largest in British Columbia, Surrey is able to offer visitors a rich blend of diverse landscapes, abundant parks, rich cultural opportunities and superb recreational choices." We passed our first Tim Horton's donut shop at the 22 km mark.
As we made our way along the Fraser Highway, more Tim Horton's donut shops appeared at 32, 35, 40, and 43 kms, and arrived in the City of Langley whose website claims the city has "a rich cultural heritage". Donut shops here were located at the 47 and 57 km mark. Ryan and I both noticed that there seemed to be more fried chicken outlets than donut shops, so next time I ride this out here I'll note the KFCs and Church's, and may have to re-christen the route 'The Fried Chicken 200'. Either way, the culinary choices in this part of the Lower Mainland seem limited to the types of foods that cause people to gain weight which may partly explain why they all need cars to get around. (One of my all-time favourite short stories is Brian Fawcett's 'The Fat Family Goes to the World's Fair' found in the collection Cambodia: A book for people who find television too slow (Talonbooks, Vancouver, 1986) (It changed my life and it'll change yours, too.)
After a virtually car-free ride down Bradner Road to Huntingdon / Vye through Abbotsford, we came to the 13 km stretch of South Parallel Road which runs alongside the motor vehicle madness of the Trans-Canada Highway. Whenever I ride one of the Parallel Roads I regard it as an opportunity to witness first-hand the human tendency to fetishize technologies so clearly evidenced by our dependency on the automobile. Even so, the straight and flat nature of South Parallel Road is a very boring stretch of pavement for cyclists with the possible exception of time-trialists who aren't really cyclists because they wear funny-looking helmets.

I'd been concerned about the actual distance of this route because I'd not actually ridden it all in one go but had pieced it together from brevets created by others and the 2008 version of Microsoft's 'Streets and Trips'. As it turned out, when we got to Yarrow, Ryan's odometer read 98.5 km (my odometer had malfunctioned earlier and was way off). So, we rode straight through the town and turned back at the point where we were confident we'd done 100 km giving ourselves a clear conscience. Riding all the way through the town before turning back gave us an opportunity to view our lunch options and we decided upon the Yarrow Deli where the food is good, and the staff consists of three attractive young women to whom a man my age represents neither a threat nor a possibility.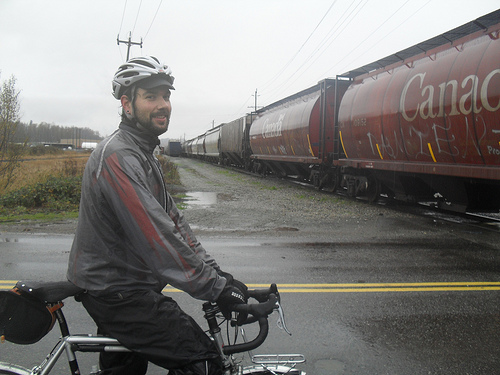 Ryan
By two o'clock two things disappeared: the rain and Ryan. As we approached a fairly substantial hill on Vye Road, Ryan chose to make the best time he could back to Vancouver and so we parted at that point and he leapt over the hill like a mountain goat with his ass on fire. I, on the other hand, wishing to savour the experience of being wet and cold as long as possible, shifted into my lowest gear, spun slowly up the hill, and at the crest could barely see Ryan in the distance as he disappeared from view.
Back in Langley, with about 50 km to go, I spotted a coin laundry-mat along the Fraser Highway so I decided to take an extended break and dry out my clothes. This, naturally, meant that I had to sit naked in the laundry-mat for about half an hour. Having no clothes on, I began to get chilled, so I climbed into one of the dryers, assumed the lotus position, and spun around for about fifteen minutes all the while chanting, "Hari Rando, Hari Rando, Hari Rando...". When I got out of the dryer, I thought that I might get strange looks from some of the other patrons, but they just carried on as if nothing out of the ordinary had happened. The proprietor, a soft-spoken East Indian fellow named Ravi, explained that what I did is actually a common occurrence in this part of Langley although he had never heard a mantra quite like mine.
The last 50 km of the ride were predictable and uneventful, and revealed only one Tim Horton's donut shop that I did not spot on the way out, this one being on the Langley Bypass. Night had fallen by the time I'd reached the Patullo Bridge and crossed into New Westminster, made my way through South Burnaby, and finally back to the Earles Bike Route to Grandview then home to East Van.
I remember when I heard the news in 1974 that Tim Horton, the man, the hockey player, the hard-knocking, indestructible Maple Leaf, died in a car crash just fifteen miles from where I grew up. And now, thirty-five years later, although his name is more widely recognized than ever, it no longer refers to a person but signifies cheap calories, hot coffee, and fast sandwiches. Emblazoned on iconographic electric signs from coast to coast, the name 'Tim Horton' has become a series of eternal flames along stretches of commercial roadway that are little more than pilgrimages to various temples of consumerism, through cities that describe themselves as having "rich cultural opportunities" or "a rich cultural heritage". Regardless of whether the cities we live in are "rich" in anything at all, my guess is that while he was still alive, no ever accused Tim Horton of hyperbole.
---
Go to: Kevin's Donut 200 photos (flickr)
November 28, 2009