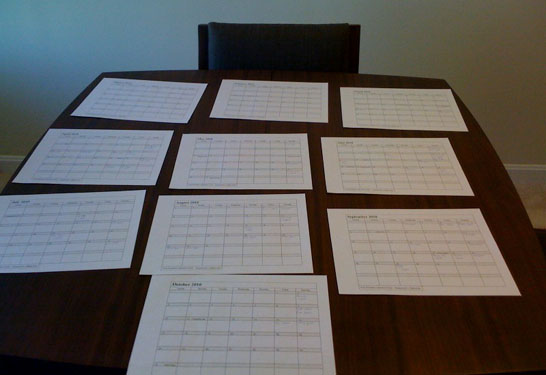 Photo: Scott
Our Dutch correspondent Scott Gater checks in with thoughts on scheduling,
and also shares a little international randonneur gossip.
2010 Scheduling, etc.
by Scott Gater
Hey Eric,
Well I thought I would shoot you an email with the one part of winter training no one seems to discuss - scheduling.
So here is the dining room table with the calendar laid out on it and as many rides as I can think of written on it. Ironman tri is on in the background as I try to figure out priorities etc. Thanks for putting up the BC schedule for next year- I think it helps :)
Just back from a week in the Netherlands. Melissa had work to do there so I went along to taste test the beer and fries there. I've got a couple more links to send you for long rides. The ride you have listed for 2010 through Paris and Reims is being run by the Belgian rando group and there is a 1200 being run by the Dutch next July, called the lowland 1200. I'll send more links and info next week.
Hope all is well with everyone,
Cheers
Scott
November 8, 2009