This ride made possible by Lanacane butt numbing agent. Don't leave the start control without it.
Granite Anvil 1200 km Ride Report
August 13-16, 2009
by Bob Koen
Ontario is boring and quite challenged from a landscape perspective. It was probably pretty nice before the last ice age. But then the great glacier came and sat upon the landscape and squashed it flat as a pancake. And now it all looks like the terrain between London and Windsor where the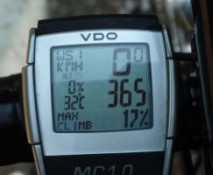 designers of the 401 highway had to put in the occasional unnecessary curve just to keep the drivers awake. At least that is what I used to think before riding the Granite Anvil 1200.
Was I ever wrong!
This ride intrigued me from the start because it would give me a chance to see some of the country that my family left behind when they migrated from Kingston to Detroit, and that I left further behind as soon after that as I could by moving west as soon as I was self supporting. It gave me a good opportunity to see relatives that I haven't seen in quite a while. And it gave me an opportunity to see a lot of new roads.
I arrived a few days before the ride and began acclimatizing to the heat and humidity by keeping my fluid levels up, generally with my Dad's liquid of choice. It's some stuff that comes in a can labeled "Labatts Blue". It didn't appear to be blue at all. Another case of misleading advertising. I also got to watch some intense thunder and lightning storms that dropped more rain in half an hour than we have had in Vancouver all summer. This was not going to be a fun ride if that kind of weather persisted during the ride.
Day 1

The weather dried out the day before the ride, allowing us to set out at 5 am into a very pleasant early morning. Miles of rolling farmland took us in a big arc north and west around the urban sprawl of Toronto. The roads were generally lightly trafficked and the terrain was pleasant. We had been warned that there might be some stretches of gravel, and we soon encountered a few. Apparently the Ontario definition of "gravel road" isn't the same as our own. As it turned out we had some unpaved roads to traverse on every day of the ride. In Ontario, there are so many jurisdictions responsible for maintaining the rural roads that it is nearly impossible for the ride organizers to plan a route in advance and know for sure that there will be continuous pavement.
Early in the morning I found myself riding in the company of Steve Royse from Kentucky. It soon became apparent that we were well matched in speed and temperament, and were both the type of rider who tended to amble along at the rear of the peleton on these long rides. We would wind up as a team for the entire ride. Steve was quite fond of Canada. Early on he told me that he thought that Canadian skunks smelled better than American skunks. He also thought that Canadian manure smelled sweeter than American manure. I am not making this up. He really said this. Personally, I think that the endorphins had kicked in early and hard in his case.
The day got considerably warmer as we continued west and then north. By mid afternoon the thermometer reached 30 degrees, with considerably more humidity than I am used to. I suffered quite a bit from the mugginess, though it was actually a pretty dry air mass by local standards. Late in the afternoon we left the second control and began riding up and down some sizeable, but not steep grades in the Georgian highlands. At one point I had some sort of mechanical glitch and hopped off the bike to take a look. I was just getting back on the bike when I got slammed into by another rider from Quebec. He had been dialing his cell phone and not watching what was ahead. We wound up in a pile on the ground with me on top of him and both bikes. He was unhurt, but my shoulder was quite painful. I had wrenched it in the fall. We untangled ourselves and he apologized about a hundred times. Then he took off. Only after he left did I find out that my rear triangle had been bent in the crash and now my rear wheel was rubbing against the chain stay. I was able to force the wheel to track reasonably straight by pushing hard on the wheel to center it and then tightening the quick release. The end result was that I rode the rest of the ride with a bike that wouldn't shift properly. I was unable to use the lower 2 gears on the cassette because the derailleur would not line up properly on the inside. Those lower 2 gears would have come in handy later on when we got into the steep hills. But on day 1 I was still under the illusion that Ontario only had easy grades.
Dusk fell as we rolled into the resort area of Wasaga Beach. This was most definitely party central in Ontario. We rolled through town to the sound of Hawaii music and the smell of what seemed to be good quality smoking marijuana. I was tired enough by that time to hop off the bike and join the party, but for some reason I didn't do that. We then entered a maze of roads in the dark where the route sheet was only useful as a general guidance for where to go. Fortunately, I had brought along a GPS for this trip and so had Steve. Henk Bouheyzen from Toronto had been kind enough to program his carefully crafter route into them for us. In fact, he swapped Steve's GPS for his own spare one when he found that Steve's version of the routable maps was too old to be optimal. This was the first rando ride on which I had a GPS mounted where I could see it at all times, and it turned out to be an incredible asset that first night, and for the rest of the ride. Between the GPS calling out the turns, and a really good headlight (EDelux) this was the first night ride on unfamiliar roads that did not turn into a slow crawl due to uncertainty about where to go, or inability to see the road, or inability to read the route sheet in the dark.
We finally arrived at the first overnight control to find a scene of near chaos. There was no sleeping space available, and the fire department had just left after the fire alarms went off and woke up all the earlier riders. Steve eventually slept in the front seat of a car, and I lucked out and got some space on a gym mat that someone else was just vacating. Other folks were sleeping on pushed together chairs. Others were just lying on the gym floor.
Day 2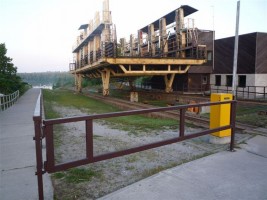 Day 2 started out with some gentle night riding along a bike path. Then we headed into the granite country of northern Ontario as the sun rose. We went by the Big Chute Marine Railway where they lift boats out of one lake and into another by carrying them over a granite ridge, and over the road, on the world's shortest railway.
We spent the rest of day 2 riding through farms and out onto a desolate stretch of pasture land that made me think thoughts of riding through the high lonesome of west Texas, or maybe the plains of Africa. It was hot, it was desolate, and it didn't even seem to be suitable for animals, of which there weren't any. Late in the day we came into the settlement of Wilberforce. I had heard of this place before, but always thought it was a joke, along the lines of Kalamazoo or Walla Walla Wash. But it is real and is quite a charming place. Sometime around midnight we arrived at the second sleep control at Bancroft. This was being manned by the one man tour de force of Peter Grant. He fed us dinner, which was excellent, led us a couple of blocks away to a motel for showers, and got us a place to sleep, this time with blue foam mats on the floor. Then he woke us up after an hour and a half of sleep and fed us an excellent breakfast.
Day 3
Day 3 was purported to be the hardest day, and it did not disappoint. We left Bancroft at 2:30 am and headed for the next control at Foymount, a mere 85 km away. It turned out to be the roughest 85 km of the ride. The pavement was truly awful for most of the way, and it featured numerous short but sharp climbs. I really started missing my granny gears during this stretch. One area was known as the 7 sisters for its 7 steep climbs in succession. Bill Olson christened it the 7 ugly sisters for the quality of the pavement, and I had to agree. This is the only stretch of riding that I have ever done where I never saw a single car for more than 3 hours. We finally arrived at Foymount after a long climb up to what was billed as the highest point in Ontario. According to the altimeter on my bike computer, it wasn't even the highest point on the route, that having been 20 meters higher back in the Georgian Highlands. According to Google, the highest point in Ontario is a granite ridge somewhere north of Sudbury that is 4 or 500 feet higher than Foymount. But Foymount has a road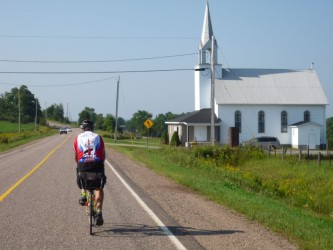 leading to it, and that's where the route sheet, and the GPS, led us.
After Foymount we descended to a junction where we stopped at a gas station for a coffee. There was a local woman hanging out in the gas station, opening the door for folks coming and going, and chatting to all who entered. She had no pressing concerns and her main source of entertainment was simply hanging out and talking. What a simple and uncomplicated life she was living! She had a look at our route sheet to see where we were going next and let out a good laugh. "So they are sending you up that hill!" she said with another laugh. Many kilometers up the road we came to the longest and steepest hill yet and figured this was the hill she was laughing about. We were glad to be up it, until several kilometers further on we gazed across a valley at an even longer and steeper hill. That one must have been the one she was laughing about. It turned out to be the king of the hills on the ride.
A little while later we came to Hwy 41 and found an open restaurant for lunch. The ride organizers had made it clear that we were responsible for feeding ourselves outside of the overnight controls. Fair enough, except that the route was so rural that there didn't turn out to be many opportunities for doing that. There were snack foods in quantity at all of the controls and for the most part we ended up riding the entire way on snacks in between a very late dinner and a very early breakfast.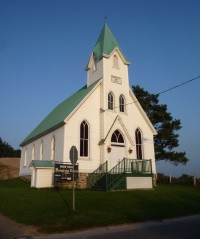 After lunch we rode on some more remote, generally traffic free roads down to Plevina. One of the control volunteers in Foymount had told us that the last 20 kilometers of this section were all downhill. I could still do math well enough to know that a 20 kilometer downhill starting at 400 meters and ending at 200 meters (at best) would result in a slope so gentle that it couldn't be considered a downhill at all, but I still had my hopes up for this descent. Of course, it never materialized.
We went through the control at Plevina and carried on to the next control at Sharbot Lake. It was just getting dark at this point but there was an open restaurant here. We had an excellent pasta dinner with a salad and then decided to grab a motel room rather than push on to the official overnight at Tyendinaga, still 94 kilometers away. The prospect of a real bed and a shower appealed strongly. There was an alarm clock in the room, but it didn't work. Steve had an alarm clock on his cell phone so he set that and then plugged it in to recharge. Apparently cell phones don't do anything useful while recharging, so he effectively turned off the alarm. I also set the alarm on my wristwatch, but it is so silent that I never hear it anyway. We had 3 hours in the bank at this point and wanted to get up at midnight. I put in some earplugs to mute out the noise of the air conditioner and promptly fell into a deep sleep. So did Steve. We now had the makings of a classic disaster, that being the "damn, I overslept" DNF. But it didn't happen. I popped up out of a 2 hour deep sleep at 3 minutes to midnight and checked my watch. It seems that my brain wasn't going to let the DNF happen even if my body was desperate for sleep. So we got up and hit the road at the exact closing time for the Sharbot Lake control.
Day 4
The road had now leveled out and had been freshly repaved as well. It made for a fantastic night ride into Napanee and on to Tyendinaga. We passed through Godfrey and Harrowsmith, two place names familiar from my childhood on Loughborough Lake, which was nearby. The GPS came in really handy on this stretch also.
We got to Tyendinaga just at dawn and had a great breakfast. It had become very foggy, likely because we were now very close to Lake Ontario. As the sun rose so did the heat. I generally associate fog with chilly riding, but that wasn't the case here. We rode over a long bridge and out onto Prince Edward Island. The map doesn't show this as an island. I guess it became an island when a canal was dug at the western end of what was once a peninsula. We had more flat and easy riding punctuated by one short thirteen percent grade on a gravel road. By now the fog had dissipated, but the moisture hadn't. The heat was steadily rising and by 9 in the morning had already reached the 30 degree mark. The humidity must have been close to 100 percent. By the time we reached the penultimate control at Colbourne the temps were still rising. It was like riding in a sauna. However, I wasn't suffering from the heat and humidity nearly as much as I had on the first day, even though it was now hotter and much more humid. I guess that I had acclimated to the conditions. The heat had by now taken an awful toll on my butt however. I never would have finished the ride without liberal applications of Lanacane at ever decreasing intervals.
We rode this stretch with several others. A discussion arose as we rode along about the merits of using a GPS for navigation. Some of these folks had gotten lost more than once and one fellow in particular took it hard that we had not been lost. Not a level playing field, in his opinion. Perhaps so, but the playing field also wasn't level between the Ontario riders who know these roads, and the visitors who don't. It must be said that the route sheet for this ride was the longest I have ever seen, but was also not nearly long enough. In some sections it seemed to offer more in the way of general guidance rather than precise instructions about where to go. There were a lot of turns not described where roads jogged left or right but didn't change name. At any rate I became quite fond of the GPS and will use it on complicated and unfamiliar rides from now on. It is particularly useful for me at night because I need glasses to read but not to ride. At night it is painful to navigate by cue sheet for me simply because I cannot read and ride. The GPS eliminates that problem. But it also introduces problems to be aware of. I saw one case last year where two people DNF'd the Cascade 1200 because they followed a preprogrammed GPS route and didn't check it against the cue sheet. The route had been changed the day before the ride and they didn't pay attention and missed a secret control. The cue sheet is the final authority, and the GPS is a wonderful navigational aide.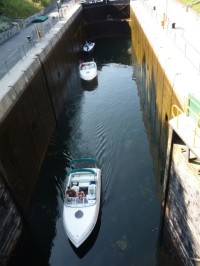 We had lunch in Cobourg and then headed out into the final set of hills on the ride. This was the route of the Bewdley Glutebuster, an Ontario brevet that I had heard of. It dispelled once and for all the myth that there aren't any hills in Ontario. It was also completely obvious that the road system here was designed by a civil servant sitting in an office somewhere, completely oblivious to the nature of the terrain. The roads were straight; as in straight up every hill in the area, and then straight down the other side. For BC riders, picture our much loved Mt. Woodside climb. Then make it half as long. Then multiply it by 5, or maybe 10, I lost count. It wasn't extreme, but it was a nice sting in the tail for a pretty tough route that had gone soft for the previous 200 kilometers. To add to the difficulties the temperature had reached 37 degrees.
At one point we came to a spot where the route sheet said "Tr-TL to stay on conc. Rd. 7". We both had the GPS turned off at this point but managed to decipher this correctly. The continuation was hidden by the crest of a hill, but we found it on the other side. A while later some riders came by who we had seen leaving the previous stop as we arrived. They had misinterpreted the instruction and had turned left down the longest hill in the area. As they came by again the fellow who thought that he GPS was a bad idea asked for confirmation of the next turn according to the GPS. Apparently he had changed his mind on the long slog back up the extra hill.
This section confirmed for me a suspicion that had been growing over the course of the ride. I always thought that the main crop grown in Ontario was corn, or perhaps tobacco. Not so. Now I know that it is grass. And not the smoking kind, as it might be in BC. In Ontario the most prominent crop is lawn grass. People have acres of it around their homes. I saw one fellow whacking golf balls in his front yard. The balls were landing in his front yard. There must have been at least 5 acres of grass there. And all of the lawns seemed to be perfect. I can't imagine the amount of chemicals required to keep Ontario lawns weed free.
The last hill was the longest; then we had a long, long, straight concession road that led us back into Oshawa. We arrived at 8 pm, 87 hours after starting. There were a couple of volunteers outside the entrance cheering as we arrived. Then we went inside to get our cards signed. The after ride party had started two hours earlier, and by now the food was mostly gone and the keg was pretty near dry. I guess they didn't expect any riders to take more than 85 hours, but several did. Steve and I were last on the road but one. It took us a while to find someone to stamp our control cards, shake our hands, and hand out our medals. Then we found our families and proceeded (in my case at least) to help finish off the keg. While talking to a ride volunteer a little later, while they were closing down the party and cleaning up, it became clear that they didn't know that there was still one rider out there. This was Ken Knudsen. He comes last as often as Ken Bonner comes first. I like to think of them as a pair of Kens, like bookends. Ken Knudsen is about as reliable a finisher as Ken Bonner, and I pointed this out to the volunteer. I volunteered that I would wait up for Ken to make sure there was someone there to welcome him home. It turned out to not be necessary as he arrived just about then.
Epilogue
This was a very fine ride. It was quite different from most of the other 1200's that I have ridden. If anything, it was more like PBP than our mountainous western ultras. There was only one named hill that we climbed, just as in PBP. And just like PBP, this one got all of its elevation gain from relentless small hills. It was more of a "you're on your own" kind of ride than most 1200's, but I didn't mind that. This was a fine effort by a club that didn't have nearly the number of volunteers available that some of the more established 1200's have to call on. They all worked really hard and put on a great show.
I really enjoyed it. I would recommend it to anyone.
---
Go to: Results
August 30, 2009