Ace reporter Ken Bonner's LEL write-up can be found on islandsportsnews.net. Posted August 28, 2009.
Here's a link to the on-line source page:
Article Source
London Edinburgh London Results
[Excel]
---
ON THE EDGE - LONDON-EDINBURGH-LONDON 1400 KM RANDONNÉE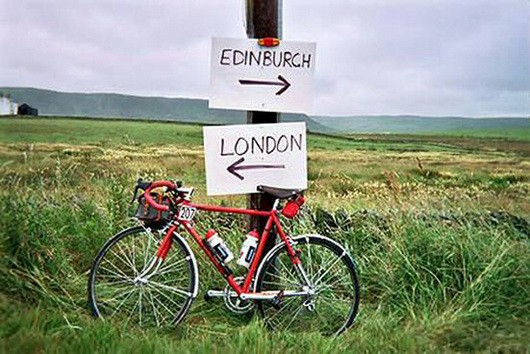 By Ken Bonner
Three Victorians, the only cyclists from British Columbia, joined 500 other endurance ultracyclists from around the world to participate in, and complete, the 2009 edition of the London-Edinburgh-London (LEL) 1400 km timed cycling event.
Jim Fidler, 58 years old, a bus driver and an experienced veteran of 1200 km randonneur brevets, including B.C.'s Rocky Mountain (RM) 1200 and Paris-Brest-Paris (PBP) 1200 was the youngest of the trio.
Mark Ford, 68 years old, computer program consultant approached the LEL as a relative neophyte, having only completed his first 1000 km brevet in June of this year.
Veteran randonneur cyclist Ken Bonner, 66 years old, has a 20-year history in the sport of ultracycling, holding a number of course and point-to-point records.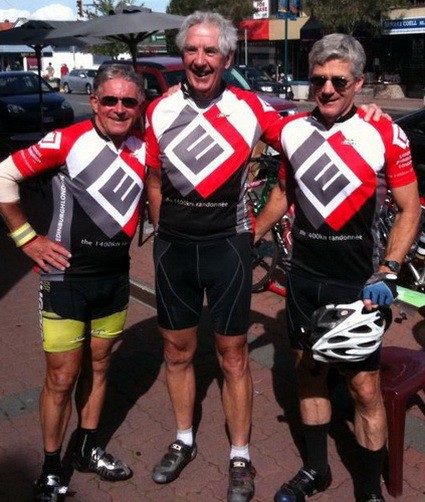 Ken Bonner, Mark Ford and Jim Fidler completed the gruelling
1400k London to Edinburgh to London trek
photo by Ken Ross
The maximum elapsed time permitted to complete the LEL is 118h 40m.
Fourteen hundred kilometres is a long way to cycle with a clock running, but weather is also a major factor in ultra-endurance cycling events and it was definitely the major factor in the 2009 edition of LEL.
The weather forecast was poor. This resulted in only 500 of the 600 registered ultracyclists showing up to the start!
The 'did not finish' rate for those riders who do start such an event is usually close to one out of five riders.
Overcoming many navigational challenges, strong winds; heavy rain/hail; cold temperatures, 10 degrees C in the middle of the day; and road-flooding in Scotland, the three sleep-deprived Victoria cyclists successfully completed this scenic route through the country-side of England and Scotland.
Partial Results:
A German cyclist was the fastest rider, completing the route in slightly over 65 hours.
Ford and Fidler stayed together and completed the route in 118 hours and 10 minutes.
Bonner was in 25th place until the last 200 km. when he got lost (again), finally finishing in 86 hours.
High Points:
Ford: "Climbing 2000 foot (600 metre) Mount Yad Moss and looking back down the valley to enjoy the splendor of the English countryside" (In a rare moment of sunshine). Sharing the experience with Jim Fidler whose long distance cycling expertise was invaluable to my completing the ride.
Fidler: "Stopping at the roadside in Northern England in the middle of a misty, moon-less night and talking at length with my grandfather who hailed from that area. This was a definite high point because he died in 1929. Who says you need drugs to hallucinate? Five nights with a total of five hours' sleep will do it!"
Bonner: Motorists who do not pass until they have at least a car's width between the cyclist and the motorist.
Why?
Ford: "While living in the U.K., I had often driven from London, where I lived, to Edinburgh... So for this reason I thought it would be a good idea to ride a bicycle from London to Edinburgh - I never considered that I would have to ride back!!"
Fidler: "I 'enjoy' learning how, or whether, I can carry on under adverse conditions after the body is pleading with me to stop. I discover more about myself with regard to my strengths and weaknesses, and what I learn is not always pleasant!"
Bonner: "The LEL is a classic route which tests one's limits - how far can I go fast."
Links:
London-Edinburgh-London 1400 - photos -- http://www.aukweb.net/el/index.htm
One LEL rider's Youtube video clip -- http://www.youtube.com/watch?v=UNuL70xHyH8
More about randonneur cycling, the toughest cycling you will ever do:
British Columbia Randonneurs Cycling Club -- http://www.randonneurs.bc.ca/
Vancouver Island Co-ordinator: Raymond Parker -- randoray@shaw.ca or telephone: 250-388-5365
Vancouver Island Hell Week and long brevet organizer - Ken Bonner - kenbonner@telus.net or telephone: 250-598-4135
Editor's note: Following the London-Edinburgh-London 1400, Ken Bonner took part in the Ontario Granite Anvil 1200 and was the first finisher in 63h 39m.
"This is a challenging course. In the first day and night, three long stretches of hard, and soft, packed gravel, plus one 200-metre stretch where the highway was dug out (about an eight-foot drop!) around which we carried our bike cycle-cross style, thank goodness for pedal clip covers! Mostly, the 1st 24 hours was boring, undulating farmland. The remainder of the trip was about hills, and broken up pavement.
"Navigation was a challenge, as it was on the LEL - incorrect mileages, missing road signs. At least I had a basic download of the Granite Anvil route, so I had some idea where I should be, but I still lost a lot of time figuring out where to go.
http://ontariograniteanvil1200.com/
His next randonnee is the Colorado Last Chance 1200 on Sept. 10.
"I held the record for this course for a number of years (set the 1st course record about two days after doing a 1000k brevet from Abbotsford to Boise, Idaho in about 65 hours, then drove the rest of the way to Boulder and completed the 1200k.
"Last year, conditions were much cooler and headwinds were at a minimum. Two riders worked together to set a new record of just a couple of minutes under 50 hours. I finished 1 1/2 hours behind them."
http://www.rmccrides.com/lastchance.htm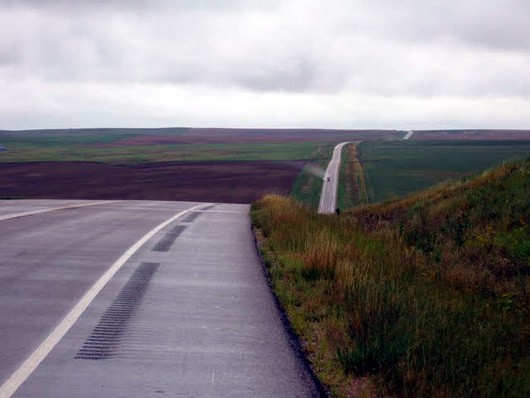 Beyond Last Chance
August 29, 2009