Top cyclist faces long night's journey into day
by Kevin Griffin
The Vancouver Sun, August 18, 1995, B.6
VANCOUVER, B.C. -- Monday, Keith Fraser will start cycling at 8 p.m. in Paris. If everything goes well, he won't stop until 2 a.m. Wednesday morning. That's 30 hours of continuous cycling. Of course, if he's not feeling too tired at that point, he might even try to keep going for another five hours until 7 a.m. -- when he takes his first 20-minute break. Fraser is probably the finest randonneur in British Columbia, a consistent placer in endurance cycling. In this race, which many might think of as sheer craziness, he won't be alone. Along with 3,000 other long distance cyclists, or randonneurs, Fraser will be competing in the Paris-Brest-Paris Randonnee.
Held every four years, the first ride was in 1891, making it a little older than the better known Tour de France. Although the randonnee started as a professional race, by the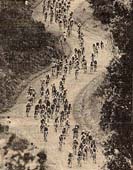 1940s it had become a long-distance ride for amateurs. Since then, it has become the number 1 marathon cycling event among the small international community of randonneurs, Fraser said. Participants must cycle 1,200 kilometres (about 750 miles) within 90 hours. The terrain to and from Brest is similar to Highway 99 from North Vancouver to Whistler -- lots of hills but no long, tortuous climbs up mountains. To qualify, Fraser and 17 others from B.C. who are riding in the race had to cycle in rides of 200, 300, 400 and 600 km. To train for the event, the 36-year-old Fraser cycled about 25 hours a week for the past five months. On weekends, he'd ride for up to 10 hours.
He knows what kind of physical demands the ride will place on his body. Fraser rode in the Paris-Brest-Paris in 1991, finishing in about 200th place after 67 hours. And, in 1994, he competed in a similar long-distance event -- the 1,200-km Boston-Montreal-Boston ride -- but had to drop out when his knee became swollen after 900 kilometres and 33 hours of cycling. If everything goes well this time and he doesn't experience any injuries or bike problems, Fraser feels he could finish in 50 hours, good enough to put him in the top 25. Four years ago, the fastest rider didn't sleep a wink and finished in 44 hours. The last time around, Fraser rode solo through the French countryside, cramming all his extra batteries and power bars on to bags on his bike. This time, he's sharing a crew with Ted Milner, a kinesiologist from Simon Fraser University. They'll tag along to provide support, including food snacks, to the athletes.
As for being able to cycle for a length of time most people can't imagine, Fraser says it's all a matter of being in shape. After a certain point, you reach a level where you can maintain a steady pace for hours. The fatigue sets in, he says, only when you stop. What keeps him going is the appeal of setting a goal and doing his best to reach it. For the Paris-Brest-Paris ride, there's also the French attitude toward cycling. ``You get a lot of support from people along the way,'' Fraser said. ``You'll be cycling in a small French village at 2 a.m. and someone will be out there to cheer you on. In France, they really do appreciate cycling.''
In other cycling news, it looks as if Vancouver taxpayers could save as much as $13 million on the proposed Burrard Street Bridge upgrade. So far, the engineering department has narrowed the options down to two: $2 million for turning an existing lane of traffic in either direction into lanes for cyclists, in-line skaters and other non-motorized forms of transportation; or $15 million for a freeway-style off-ramp and modifications to the outside of the bridge to accommodate cyclists et al. Most community and interest groups favor the $2 million option. If all goes well, council could vote on the plan this fall. Construction could start almost immediately afterward.