Detour doesn't stop cyclist from setting personal record
by Kevin Griffin
The Vancouver Sun, September 15, 1995, B.8
VANCOUVER, B.C. -- A note on Keith Fraser, the local cyclist entered in the 1,200-km Paris-Brest-Paris Randonnee that we told you about a while back. Fraser broke his own personal best by 17 hours and the Canadian record by 14 hours. At an average speed of 24 km/h, he finished the race in 50 hours and nine minutes, good enough for 47th place out of 3,000. The best Canadian long distance cyclist, or randonneur, was in the lead with two other French cyclists when they took a wrong turn in the countryside early on the first morning of the race. Fraser estimates the 12-kilometre detour cost him about an hour. This year, the fastest time was 43 hours and 20 minutes for men, and 45 hours for women -- both new records. During the 50 hours it took Fraser to finish, he didn't sleep a wink. It was on the second night he started having difficulty staying awake. He monitored himself at each checkpoint and decided he was alert enough to finish what's considered the world's elite event for randonneurs. After he finished, Fraser was so tired he fell asleep at dinner. He woke up 12 hours later.
On the last day of this month, sometime around mid-morning, my thighs will be screaming as I try to conquer some unnamed hill in the Cheakamus Challenge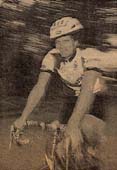 mountain bike race. To say I'd be competing would be inaccurate, because the race has attracted top mountain-bike racers such as world champion Alison Sydor and national champion Andreas Hestler. No, I'll be doing something like trying not to embarrass myself. The Cheakamus Challenge is billed as ``North America's Toughest Off-Road Race'' and ``a celebration of pain.'' Starting at the Sunwolf Outdoor Centre in Brackendale around 9 a.m., cyclists ride off-road for most of the next 65 km, except for a 7 km stretch on Highway 99. The idea is to reach the Longhorn Saloon in Whistler as fast as you can. On the way, we'll climb about 2,000 metres in elevation, including a few hills with a 23-per-cent grade and one whopper called The Wall that's about 30 per cent. To put that in perspective, the hill on Taylor Way from Park Royal up to the Upper Levels Highway is around nine per cent. Last year, the top pro finished the course in 2 hours, 39 minutes. Mere mortals took an average time of 4 hours and 25 minutes; one determined soul took 7 hours and 12 minutes. The organizer of this annual madness is Grant Lamont.
He says 470 people have already registered for the race. Once the numbers reach 1,000, that's it. Last year, 850 riders paid for the privilege of being tortured for several hours. In the Lower Mainland, you can register at The Bike Cellar in Vancouver and North Vancouver until Sept. 28 at 6 p.m. Registration costs $45 and includes a T-shirt; unlicensed riders must pay an additional $10 for a one-day licence. For more information, call 932-4554. Until now, I've only told friends that I was training for the Cheakamus Challenge. Now that it's public, there's no turning back. A future story will reveal the grisly details.