Tim's official duties as Secretary, Treasurer, Database, etc were in no way the limit of his involvement - he was always quietly filling the gaps when something needed to be done. This extended to ride day also. It seemed to me that he was on the course manning controls for virtually every Lower Mainland event in the mid 1990s. I'll never forget his cheerful greetings and especially his big friendly smile as we cruised into his controls.
As Tim's involvement with the randonneurs began to wind down, he began to focus on another passion of his - the BC Lung Association. In 2000 at the age of 75 Tim rode his bike across America to raise money for the organization - Rita forwarded regular updates of his progress.
He was a mentor and a friend to me, and the backbone to this club for many years. Those who knew him will miss him greatly and remember him with great fondness.
Tim is survived by his wife Rita. He had seven children over two marriages - details below.
August 11, 2006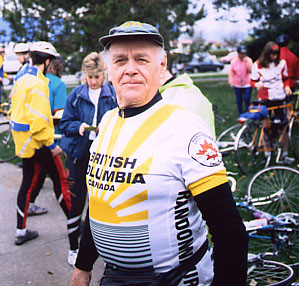 ---
After posting the above, Harold Bridge added some additional information about Tim's earlier life that I hadn't known about:
Date of Birth: December 26, 1924. During WW2 he joined the RCNVR & served as an AA gunner on Corvettes escorting convoys across the North Atlantic. The most dangerous part of that was sailing in those awful tin cans across to Britain. Not satisfied with that he joined the army in 1950 to fight in the Korean campaign and was in Korea until 1956. He was a long distance trucker until the railways started the container service & he was one of 4,000 truckers put out of work. Thus he became an auditor for one of the Unions keeping tabs on the pension funds.
August 13, 2006
---
Harold asked Rita Pollock for more information about Tim's family and we immediately received this lovely response from her, which also contains more details about Tim's earlier life:
Tim's first marriage was to Marjorie in 1955, who brought with her two daughters, Florence Avis and Patricia Joanne. They proceeded to raise four more children of their own, Timothy John Douglas, Patrick Edward, Dorothy Emily Grace and Robert Michael. When his first marriage was severed he met Rita and took on her daughter Cassandra Reddemann as well.
From a farm boy in Grindrod, gentling horses, blacksmithing, knitting, and horse logging with his father, he joined the Royal Canadian Navy in 1942 serving in the North Atlantic. When the Korean War broke out he joined the Canadian Army Horse Artillery as a gunner and technical Assistant in 1950 serving until 1956. He then became a long haul truck driver until the trucking industry downsized and in his forties returned to school to become an accountant. He finally progressed to becoming the Field Auditor for the Operating Engineers Welfare Pension Plan, protecting the wages of the employees. He was the only one in the industry who was successful in recovering large sums of money for the workers from recalcitrant employers. One of the big unions asked him how he was able to be so successful when other unions were not. He said it was because he took only what was due, nothing more, nothing less, right down to the last cent. He would not make "deals" with the members' money. Even his opponents respected him. He retired at age 67 because his expertise was so in demand.
Whatever he put his hand to, he excelled and did all with enthusiasm and great humour. Even to his last day on this earth, he joked with his doctor. Several hours later he passed away with his family surrounding him.
I miss him dearly and will for a very long time, but I treasure our memories and the involvements we have had because of his indomitable spirit and his encouragement for me to step out of my comfort zone.
August 13, 2006
---
More on Tim:

Tim Pollock: forever #1
from "Your Heath" Volume 85, no 2
Fall, 2006
BC Lung Association publication
(Photos and Article uncredited)
---
Top photo: Eric Fergusson, other 2 photos: Harold Bridge