2014 Southern Interior Spring Brevets
Nimpomaniac
600 km
June 7, 5 a.m.
Ride Organizers:
Richard Blair & Christine Kraayvanger
Start/Finish: Williams Lake: Sandman Hotel, 664 Oliver Street, 250-392-6557
Route Sheet
(Excel)
Richard's Route Description
(Newsletter)
Christine's Route Notes
(bottom of this page)
Route at a glance: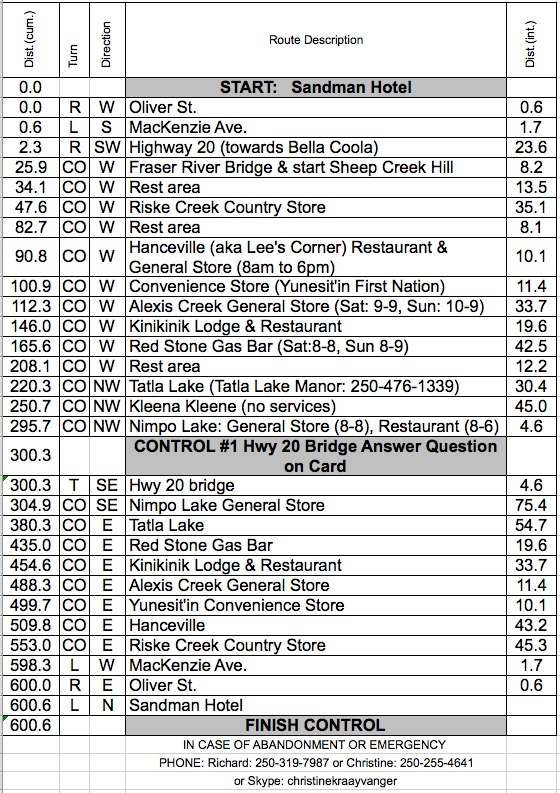 Note: This is not the official route sheet. Ride organizers may make last minute changes because of road closures or other problems. The route sheet you receive at the start of the ride is the official one.
Christine's Route Notes:
Hello everyone thinking of coming up to Williams Lake for Nimpomaniac, the SI 600 on June 7 & 8. Here are a few bits of info you many find interesting or useful:
Sunrise in Williams Lake will be 0450, and sunset at Nimpo at 2140. There will also be 126 minutes of twilight. The moon will be over half full & rise over Williams Lake at 1509, then set at 0222 Sunday morning. So there will be lots of light in one form or another!
One thing I've learned about randonneurs... they generally don't stop much. Which is good on this ride as in my experience bugs only bother you when you stop. If you do plan on stopping at all, you may find bug dope useful.
When Richard & I drove the route in late March we saw probably a couple hundred deer between the Fraser River Bridge & the top of the hill west of Williams Lake, so keep your eyes peeled for them. This is also the time of year we are most likely to see bears. Usually they are busy eating dandelions along the side of the road, and either turn & run away, or ignore passers-by. You may choose to bring some bear spray along, or perhaps a small marine air horn or whistle to alert them to your presence from a distance.
Tatla Lake has been designated a support location and I plan to be there with some supplies. If you would like a small bag of your own things brought to Tatla Lake Manor, I will happily bring it with me. Otherwise, places to purchase food are few & far between at that end of the ride. There is a gas bar at Red Stone (km 165/435), and Kinikinik Restaurant and Lodge at km 146/454, and then Nimpo Lake. The Nimpo Lake Store opens from 8 to 8, but the restaurant hours are 8 to 6. I have been unable to reach the store in Tatla Lake, but local contacts suggest it is not likely to be open either Saturday or Sunday.
The Restaurant at Hanceville (km 90/510) used to be well known for it's cinnamon buns, and as far as I know that's still the same.
It's a beautiful ride, and I hope you all enjoy it. See you there!
_